An Economy for People, not for Profit
Build a democratic economy by restoring and expanding Public Ownership in Scotland.
Turn Scotland's economic potential towards meeting human needs and ending poverty, not private profiteering and austerity.
Kick-start the socialist recovery plan with a major investment in new public jobs.
Public ownership in care, health, transport, energy, housing, and infrastructure development.
Public Ownership is the route to a democratic economy that turns Scotland's economic potential towards delivering on human needs and real change for all.
Energy Democracy
Electricity is a basic human need. Yet the energy source which provides this electricity can have a huge impact on our environment. We need energy sources that are renewable, sustainable, affordable, and reliable if we are to properly meet our human and environmental needs. The resources to meet our needs sustainably are there – but we are not using them.
The Scottish Socialist Party knows that the wealth of Scotland's energy industry should benefit us all. Scotland needs an energy industry that is democratically run through a system of Public Ownership.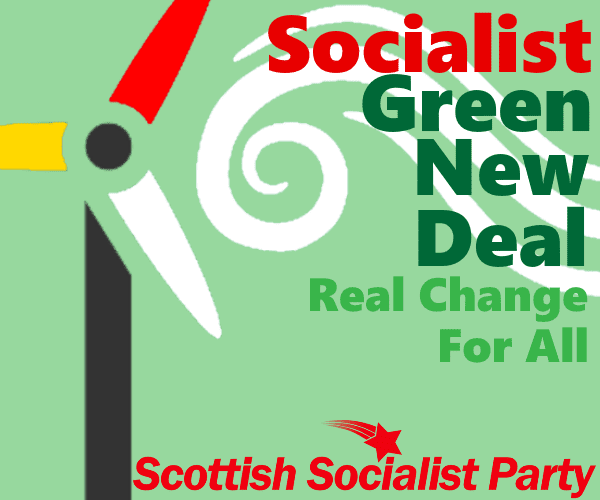 Our energy industry is controlled by private companies that dictate how and at what cost our energy is produced. This is having a disastrous impact on people and our planet. In Scotland, we still have a huge and politically-powerful fossil fuel extraction industry. In 2019, more than 80% of Scottish energy consumption was attributable to the burning of fossil fuels, renewables only supplied 17.8%. This is while a quarter of all households in Scotland live in fuel poverty.
Fuel poverty should not happen in a country rich in renewable energy potential, such as wave, wind, hydroelectric, and solar. We can afford to end fuel poverty and ensure that nobody has to choose between heating and eating – but we cannot afford private profiteering.
Energy Barons put profit before people. This is happening in the renewable and fossil fuel industries. When a £2 Billion wind farm was being built off the coast of Fife, Bifab, after a hard-fought trade union battle, only received a tiny percentage of the contract to build parts. The majority of the wind turbines were built in Indonesia and transported halfway across the world – undermining the environmental benefit brought by the wind farm. And this pales in comparison to what the tax-dodging Oil and Gas corporations do on a daily basis.
Instead of outsourcing industry to Indonesia and maintaining global transport emissions, the Socialist Green New Deal requires a Just Transition that creates clean, green jobs here in Scotland. Workers in fossil fuels will have the option of retraining and transitioning to sustainable industry without loss of income. Public Ownership gives us the tools to prevent climate disaster by moving to renewable sources and sustainable production, without the barrier of private profiteering.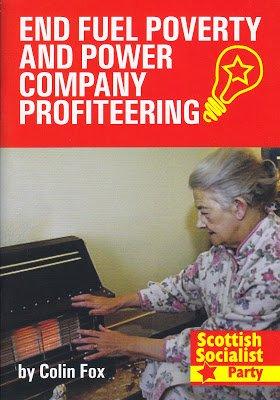 These jobs are desperately needed if we are to avoid climate catastrophe and create a fairer society. The Scottish Government's strategy of 28,000 low carbon energy jobs has only delivered 6% of its already insufficient promise. We can't rely on politicians at the whim of bosses to deliver the radical change we need; we need democratic public ownership and a Just Transition now.
The Scottish Socialist Party will deliver a Just Transition through a Socialist Green New Deal, with the creation of 100,000 green jobs to transform our economy. The first step is democratic public ownership that puts people and planet before profit.
Democratic public ownership will allow us to build an energy system that works for all. We can end fuel poverty and reach zero carbon emissions by bringing democracy to our economy.
A Transport Revolution
We all rely on public transport in one form or another. Public transport is an essential social and economic utility – but privatisation, deregulation of routes, and soaring rail and bus fares create exclusion and transport poverty. That's why we're bringing rail, bus, and ferries back into public ownership. Free public transport is the future, and it's time Scotland got on board.
Glasgow City Council's Climate Emergency Working Group has found that "People are deeply unhappy with the current state of public transport and want to see a more rapid transition made to a city where walking and cycling are the norm. They also want a high quality, low emissions public transport system developed under the city's control – and potentially one which is free to use. A radical change to the transport system clearly needs to take place."
We completely agree. That's why the SSP has been a pioneering, long-time advocate for publicly-owned, free public transport for everybody: an initiative that will cut traffic, end transport poverty, and return on the investment in improved economic activity. Free public transport is tried and tested in European cities, and in 2020 Luxembourg became the first country to introduce free public transport nationwide.
Scotland needs publicly-owned free public transport, a better deal for transport workers, and urgent action to bring down transport emissions.
Public ownership is Scotland's route to more jobs, and better jobs. It is wrong that situations such as job losses at Falkirk's Alexander Dennis can occur when Scotland has such significant transport needs. From drivers to mechanics, transport workers need public investment in public jobs by bringing infrastructure and fleet renewal back to Scotland's industry.
The National Care Service
Scotland's care needs are only going to keep growing. We're building a resilient, well-funded, needs-based, publicly-owned National Care Service to make sure we have a suitable system of care.
The public already pays the bill for private care. Scotland's big private care firms move money taken from the NHS, local councils and residents to secret tax havens – using Scotland's wealth to subsidise private profit, and creating poverty pay and austerity. Tax havens take the wealth you create out of your pocket. Instead, we'll return it to public control to fund a National Care Service.
In 2019, the Centre for Health and the Public Interest revealed that at least £1.5bn "leaks" out of the care system through tax haven scams and into private hands every year. Large private care providers hide profit, and therefore pay less tax, by paying rent to subsidiary companies in the same corporate network, but which are based in tax havens. Scotland's wealth is being plundered.
We can afford a National Care Service – but we cannot afford tax havens and private profiteering. Instead of letting private profiteers take the wealth and deliver an inadequate service, public ownership will deliver a democratically-controlled system that puts need before profit – and that ends poverty pay, insecure jobs, and unsafe work in care.
We will bring the care sector and care homes back into public ownership to build the National Care Service. A publicly-owned National Care Service is not a charity, but instead of putting the burden of funding it onto vulnerable individuals we'll spread the cost fairly through progressive taxation, and run this vital service democratically.
Restore Public Housing
Scotland is in the middle of a housing crisis and, as the economy struggles, we're on the brink of an evictions catastrophe. We need real change for tenants in Scotland.
Private rent is rocketing across Scotland, but incomes are stagnant – or falling. In summer 2020, MSPs – landlords among them – abused Committee procedure to bury a bill to control rent increases at a fair level. The SNP have been breaking their promise to implement controls on rent. We've had enough broken promises, and we don't need landlord parties offering more of the same – we need real change and a restored system of Public Ownership.
People are pushed into homelessness because the private landlord decides to sell a property. We believe tenants should have the automatic right to remain in their home, and not have it sold out from under them – even if that means bringing those homes back into the public sector.
The Tory "right-to-buy" scheme and the dangerous dependency on the "housing market" have turned a public utility into a private, for-profit commodity – excluding millions from access to a suitable, safe, and stable home, and putting over £4bn worth of property into the control of firms based in tax havens.
Housing is a social need, and should not be a source of private profit. The SSP will build 100,000 suitable, affordable, and environmentally-sustainable for-rent public-sector homes per year until demand is fully met – including 20,000 per year in rural areas. We'll also bring long-term empty or dilapidated homes into public ownership, and restore them for social rent.
A National Construction Company
The SSP has long campaigned for a publicly-owned National Construction Company in Scotland, to deliver a better deal for workers and build a greener, more sustainable, modern infrastructure for Scotland – and ensuring public ownership, democratic management, and worker-led accountability in the construction industry.
Scotland has significant, critical infrastructure needs in housing, energy, trade, and transport. We can't rely on the private model, utterly discredited by decades of PFI robbery and declining working conditions, to deliver.
In January 2020, Audit Scotland confirmed that Scotland is being ripped off by PFI robbery – Labour mismanagement continued by the SNP. They found that for the £9 billion worth of public infrastructure built through PFI contracts, "the Scottish public sector will make payments worth over four times the capital value of the assets built (over £40 billion) with £27 billion still to be paid between now and 2047/48".
"The Scottish Government accepts that using private finance to pay for public buildings is more expensive than other forms of funding" – but it is still strongarming local authorities into schemes that rip off taxpayers, plunder public funds, and lead to cuts in public services.
Extended delays in opening Edinburgh's Royal Hospital for Children and Young People are a failure of the relationship between public services and private profiteering. We urgently need a new, more accountable model of developing public infrastructure.
Exploitative, insecure, and poverty pay contracts present a crisis in construction – and younger workers are at the biggest disadvantage. That's why we're winning real change for workers.
We Need You to Support Real Change
We don't have or want billionaire backers and big corporate donors: we only seek our support from Scottish Socialist Party members and the generosity of working-class communities. We need you to support real change.

Scottish Socialist Party members are card-carrying ambassadors for the working-class movement, and the most important resource we could ever have. Comradeship is the heart of the socialist movement.

Come rally; support real change today.