People and Planet Before Profit
Renew the economy with a socialist recovery plan – delivering real change, for all.
Free the country from car dependency and transport poverty – provide free public transport and renew transport infrastructure.
Open up land to community ownership and public control – end food poverty.
Lift people out of fuel poverty with public ownership.
Secure health defenses against another pandemic.
A Socialist Green New Deal for Scotland will not only renew the economy by putting sustainability before profit but deliver a Just Transition and a fairer country: real change for all.
We are in an environmental and economic emergency and need real change across the economy – right now. Scotland's emissions must come down much faster, and we will prioritise a Just Transition and a socialist recovery plan to make sure it happens. We don't have time left for corporate greenwashing and political inaction – we need socialist solutions to capitalism's climate crisis.
Socialist Recovery Plan: A Just Transition and Real Change, For All
The Tory and capitalist response to Coronavirus has been an unprecedented assault on jobs, pay, conditions, and public spending. A Socialist Green New Deal and a socialist recovery plan go hand-in-hand. A Socialist Green New Deal for the economy will create sustainable jobs, improve pay and conditions, restore public services, and bring living costs down – a Just Transition taking people out of food poverty, fuel poverty, and transport poverty.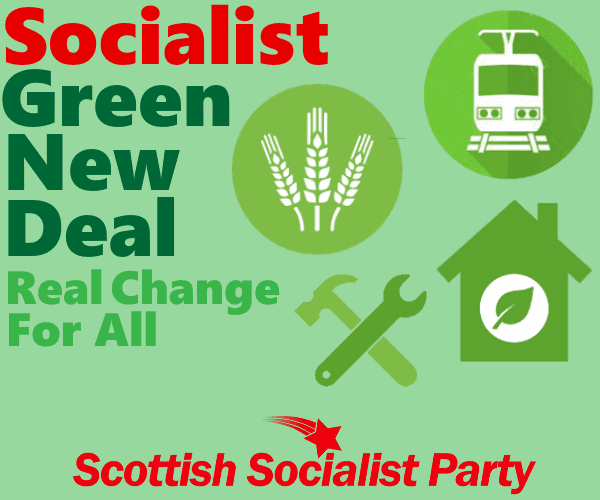 By moving Scotland's economic focus away from unsustainable capitalist growth measured by GDP, we will plan a new, publicly-owned, needs-based economy with a focus on life quality.
We will rebuild the economy with green jobs guarantees in construction, energy, education and scientific research, public transport, land management, and publicly-owned agriculture. Workers in petrochemicals will be given fully-funded retraining and a jobs guarantee without loss of income.
A new National Construction Company will bring responsibility for renewing Scotland's infrastructure into public hands – and fund public jobs with better conditions. Every new build will be carbon neutral as a priority. In renewing the built environment, public housing, and national infrastructure, we'll tighten building regulations to compel construction to use local and sustainable sources for materials and to ensure that energy efficiency is built into the design of buildings and appliances fitted. The procurement of supplies to the public sector will be legally required to use biodegradable and recyclable goods.
To keep Scotland's skill base well equipped, environmental and ecological learning, in both STEM and Humanities, will be incorporated into the curriculum of Primary, Secondary, Further, and Higher education.
#FreePublicTransport: Cut Emissions and Car Dependency
Transport is the largest single contributor to Scottish greenhouse gas emissions – and total transport emissions keep rising. At the same time, we have a crisis in transport poverty: rising public transport costs and cuts to services creating exclusion.
We need a Socialist Green New deal that will deliver real change for transport to bring down emissions, free communities from car overdependency, and end transport poverty.
We're committed to free public transport for everybody: an initiative that will cut traffic, end transport poverty, and pay its £800m costs by generating £1b in improved economic activity. Free public transport is tried and tested in European cities, and in 2020 Luxembourg became the first country to introduce free public transport nationwide.
With Abellio's contract as ScotRail franchise operator being terminated early, it's time for real change in our railways. Instead of another unpopular private service that fails to meet our needs, we'll bring the franchise back into public ownership.
We'll make sure the Scottish Parliament prioritises winning devolved power over the rail network, so we can bring every part of rail infrastructure up to date.
The SSP will introduce a publicly-owned municipal National Bus Corporation for every region in Scotland, bringing buses and bus routes into public control – and expanding services to meet the needs of every community and cut reliance on the car.
Reducing car traffic will open up city centres and main streets to re-pedestrianisation, re-greening, and publicly-owned social space – more open, cleaner, more enjoyable, and more democratic.
All money raised by the government and local authorities from parking meters and car parks will be ring-fenced for public transport.
In order to make our public transport carbon neutral, we'll fund a new start for Scottish manufacturing by remodeling or replacing the rail, bus, and ferry fleets to meet the cleanest possible standard – creating STEM jobs in Scotland, and cleaning up our polluted cities.
Instead of building unnecessary new roads, we're prioritising road safety improvements and better road maintenance over bigger and faster roads. We'll establish a national cycle strategy with cycling organisations to develop an extensive network of safe, well-maintained, and well-lit cycle tracks, as well as high-quality cycle training for all primary 6/7 pupils.
Local Democracy, Land Ownership, and Sustainable Use
70% of rural Scotland is owned by just 1,125 landlords – land used for grazing sheep and hunting deer, instead of housing people and feeding communities. By breaking up private, often anonymous, landlord monopolies and returning land to community ownership, we're putting land back into democratic hands.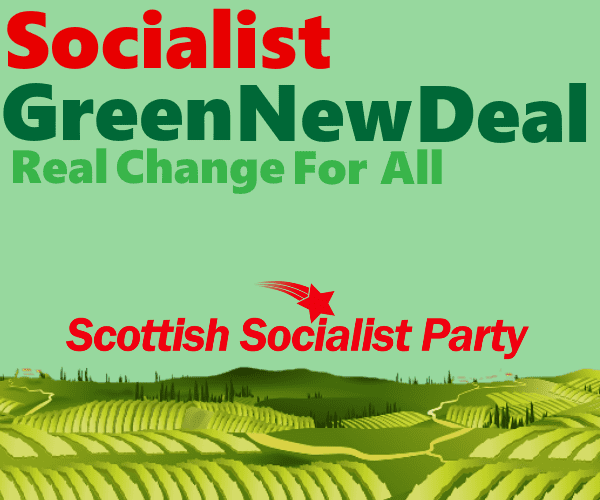 35% of rural land will be ecologically restored and/or protected, increasing biodiversity and carbon sequestration – with public funding for public jobs in land management to meet this target.
Scotland has a crisis in food poverty, with foodbank use increasing year on year. Land reform will bring landed estates and corporate farms into public ownership. We'll change them to end food poverty in Scotland – producing for local and national needs, not private export.
Plant-based agriculture halves the greenhouse gases and pollution caused by food production and cuts the use of land by 76%. We will make nationally-grown fruit and vegetables free for those who need it, ending food bank dependence and food poverty, and building a healthier Scotland.
National zoning will be implemented to ensure land is managed properly in restoring Scotland's ecosystems to a sustainable state and that sequesters CO2 at a rate that mitigates climate change – all while providing a sustainable, free source of food for the people of Scotland.
Land Management Councils – consisting of publicly-employed gamekeepers, rangers, Scottish Natural Heritage, SEPA, local residents, farmers, Unions, hunters, and scientists – will be established to democratically manage the national zoning system.
Scotland should cease to participate in the EU Common Fisheries and Common Agriculture Policies, with a 25 mile offshore limit reserved for local fishing needs – with sustainable fishing practices. Management of sea fisheries will be returned to local communities, based on the Finnish model, prioritising sustainability.
Elected anti-pollution boards will be formed at national and local levels to monitor and enforce emission and pollution controls, with the power to impose penalties.
We'll tighten the ban on Fox hunting with dogs and close existing loopholes.
Fuel Poverty, Public Ownership, and Energy After Oil
It might be "Scotland's Oil", but it's the world's crisis. We need to move past the political dependency on petrochemicals – and we need to act now. A Socialist Green New Deal will move public funding into sustainable energy solutions, and return both energy and the resources to produce it back into public ownership.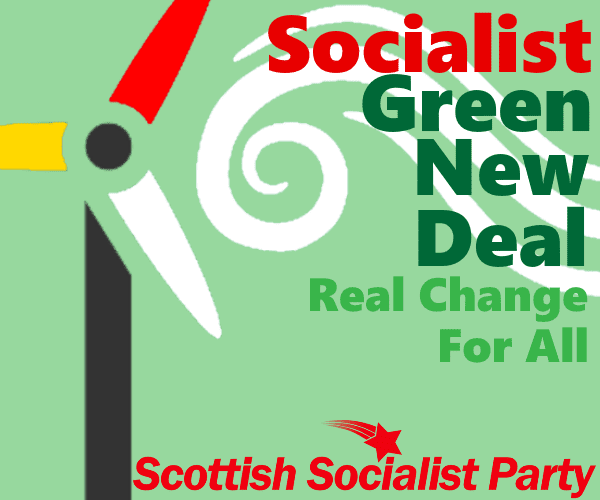 The Scottish Government must make it a priority to demand the devolution of energy to Holyrood, so that a National Energy Company can bring energy into public control.
Until then, we'll open up funding to bring every existing home and building up to the highest possible standard of energy efficiency – including 100% grants for insulation and double-glazing in private homes, to bring fuel costs down.
Scottish Government subsidies for petrochemicals will be withdrawn and moved to cleaner energy technologies, including community-owned wind farms and tidal power. Oil sector workers will be given a jobs guarantee without loss of income, and full retraining without cost.
Scotland has a fuel poverty crisis. A Socialist Green New Deal will lift people out of fuel poverty through a publicly-owned system without profiteering, and investing in sustainable, local, cleaner forms of energy.
There will be an end to the imposition of pre-payment meters on those who owe debts to gas and electricity companies, and refunds backdated by five years to households which have been forced to pay the higher charges associated with pre-payment meters.
Coronavirus: An Environmental Emergency
SARS-CoV-2 isn't the first zoonotic health emergency or even the first Coronavirus. It will not be the last emerging environmental health crisis that we face. In an increasingly connected world, it is getting harder and harder to stop outbreaks from becoming pandemics. The Socialist Green New Deal will make sure we have a relationship with the environment that puts human health before private profit.
Industrial, for-profit, intensive animal farming and the destructive expansion of farming into wetlands and rainforests have made the possibility of a zoonotic pandemic a known risk. But governments weren't paying attention.
By restoring land and biodiversity in Scotland, and employing radical, sustainable, publicly-owned, plant-based agriculture to meet our food needs, we're moving Scotland into a world of putting regional sustainability before unsustainable capitalist growth.
The Coronavirus crisis has caused serious economic disruption – and changed perceptions about what's important, and how we provide for our most important needs. We can no longer justify the carbon footprint, pollution, and waste of the overproduction and shipping of things we just don't need.
Putting short-term profiteering before long-term sustainability and resiliency is at the heart of the climate crisis – and the Coronavirus crisis. Instead, we're building a Scotland with a needs-based economy, resilient enough to meet the challenges of the 21st century.
We Need You to Support Real Change
We don't have or want billionaire backers and big corporate donors: we only seek our support from Scottish Socialist Party members and the generosity of working-class communities. We need you to support real change.

Scottish Socialist Party members are card-carrying ambassadors for the working-class movement, and the most important resource we could ever have. Comradeship is the heart of the socialist movement.

Come rally; support real change today.