The Scottish Socialist Party stands for
Independence
The SSP is striving to create an independent, nuclear-free, multi-cultural, Scottish republic.
We believe that breaking free of the suffocating stranglehold of the British state will benefit working class people across these islands.
Working for a common goal during the 2014 campaign, in Yes Scotland, we helped raise the demand to where it is in modern Scottish politics.
Scottish Independence
Internationalism
We build solidarity with workers in struggle throughout the world, forge links with fellow global anti-capitalists, to fight against capitalist globalisation.
In doing so, we reject all attempts to blame migrant workers, refugees or asylum seekers for Britain's economic, social and cultural problems.
Class Struggle
If you seek a way out from an emboldened Tory regime - then organise.
Resist austerity, imposed by Westminster or by Holyrood — and strive to put working class people at the steering wheel of a new independent Scotland.
See you on the streets!
Support The SSP
Defeat Zero Hour Contracts
Help the SSP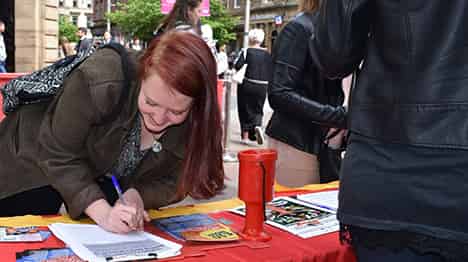 You can help the SSP campaign - starting today!