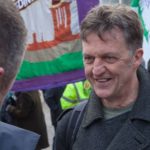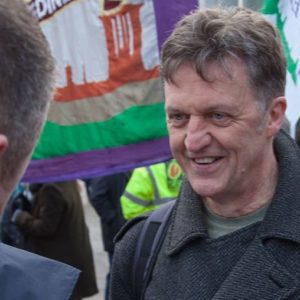 by Richie Venton, SSP national workplace organiser – reporting from the Glasgow strike
This will be history. Today we are making history.
There's no exaggeration in these words from a woman who works in the language unit for kids. 8,000 members of Unison and GMB unions on strike for equal pay, mostly women, makes it the biggest action of its kind, ever, in the UK.
Every one of the city's hundreds of primary schools and nurseries were shut down – a timely reminder of the critical role in children's education played by these workers – and care services severely disrupted, but with the unions ensuring 'life and limb' cover for the most vulnerable service users.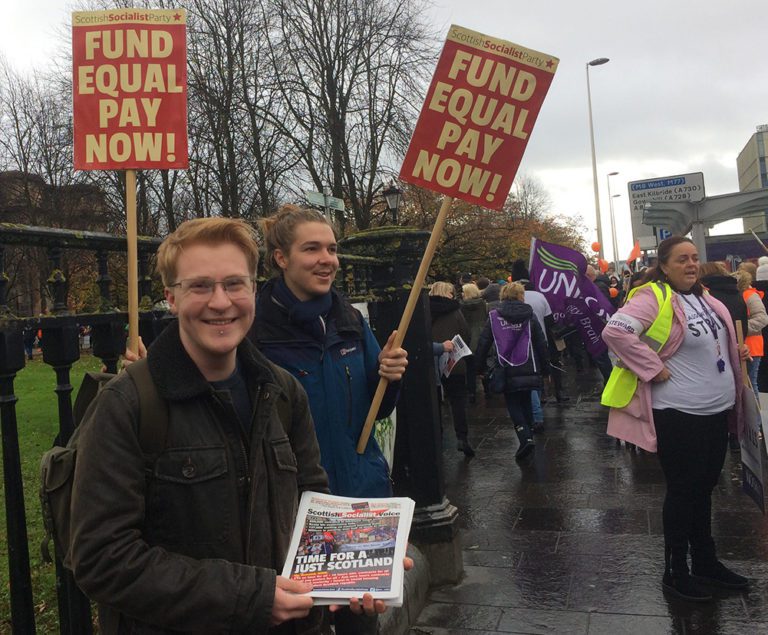 A huge proportion of the 8,000 marched through the city centre. But what is difficult to convey, let alone measure, is the depth of feeling and class solidarity on display.
This wasn't liberal women demanding more overpaid positions on company boards of directors! It was wall-to-wall working class, organised by pitifully low paid workers who do caring jobs that have been obscenely undervalued and underpaid for decades, particularly since the 2006 Workforce Pay and Benefits Review, under the previous Labour council.
"All we are asking for is equal pay. It's what we deserve. It's our right. And we've been waiting for this for years and years."
Several of them told me their wages are £3-an-hour less than they should be if equality was applied.
Another stated, "Striking is the last thing on earth we wanted to do, but we are left with no choice, after years of getting nothing. Even if my wage was raised £1-an-hour it would make me £1,500-a-year better off."
Another care worker told me, "It's my day off, but too right I'm on strike, after the way we've been treated."
What Spirit!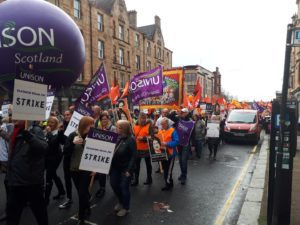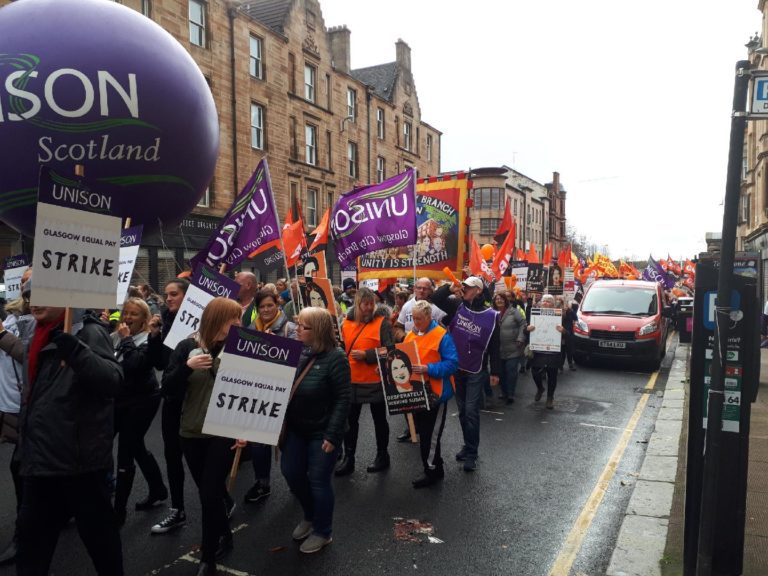 The spirit of the strikers is remarkable. They feel justifiably angry, seething, at being undervalued and underpaid for the vital work they do, including with children (some with complex needs) and elderly vulnerable people. They feel the power of collective action: "This has been a long time coming. We should have been on strike long ago. Solidarity is the thing."
Far too many trade union marches of late have been muted strolls through the silent streets, lacking any energy. Not this one! The thousands on this equal pay strike demo raised the noise to deafening levels, not only with whistles and horns, but chants and singing. Stewards couldn't be heard on their megaphones!
Their spirit and strength infected thousands of shoppers and city centre workers on their lunch-breaks, who stood on the approach roads applauding, faces aglow, lifted by these battlers. And when the demo reached the rally in the Square, they danced and sang along to Abba's "Money, money, money, it's a rich man's world." And yet there wasn't a hint of hostility to male workers; on the contrary, hundreds of them were on strike, part of the demo, absolutely united with the predominantly female strikers; others refused to cross picket lines, and hundreds walked out of depots in solidarity, despite threats of hellfire and damnation from council bosses.
Insults to Strikers' Intelligence
A vocal minority of SNP supporters have accused the strikers of being Labour puppets, only striking now that it's the SNP in office in Glasgow city council. Some of them go so far as to say these women have been "misled into strike action by Labour-supporting union bosses." Some have even advocated "sacking the lot of them".
I dread to think what reception such people would have received had they bothered to attend the pickets or demo, to judge the strikers' views for themselves.
Shame on Labour
Of course, Labour's record in office is an und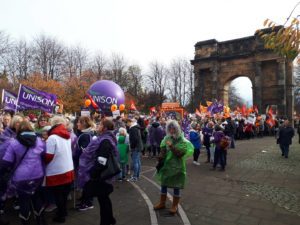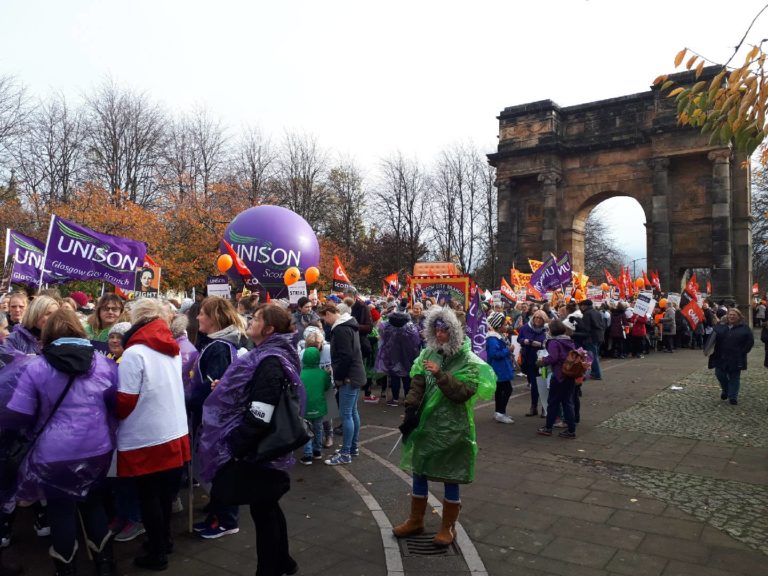 iluted disgrace. Not only did they drag their heels on implementing what after all was made law way back in 1970, under the Equal Pay Act. They went so far as to spend at least £2.5m of council taxpayers' money to challenge rulings through the courts. And the Labour council suppressed the findings of the Equality & Human Rights Commission on this issue in 2010, which found the Labour council guilty of discrimination.
It's also nonsense to claim the unions did nothing when Labour was in power. It's true that the previous GMB leadership, in particular, were not exactly keen on taking strike action, and lost many members to Unison for their reluctance to stand up for members. But the facts are that there have been 14 separate disputes on this issue in 11 years prior to the SNP winning control, with 10 strikes, involving 3,500 union members. So conspiracy theories about this strike being led by Labour against the SNP is just a gross insult to the strikers and their intelligence, as well as an insult to the facts.
Strike Driven from Below
This is a strike driven by hundreds of angry workers, overwhelmingly women, not a few 'Labour-supporting' puppet-masters at the tops of the unions. Hundreds of them have met at least monthly to monitor progress on their equal pay claim and eventually demanded strike action from their union officials. They've spoken out in the media, at Tribunal hearings, at numerous lobbies of council meetings, putting very articulate arguments in their demand that the council 'pay up now'. These women (and men) are not stupid or misinformed; they are furious, determined, and organised.
SSP solidarity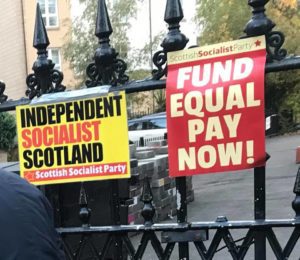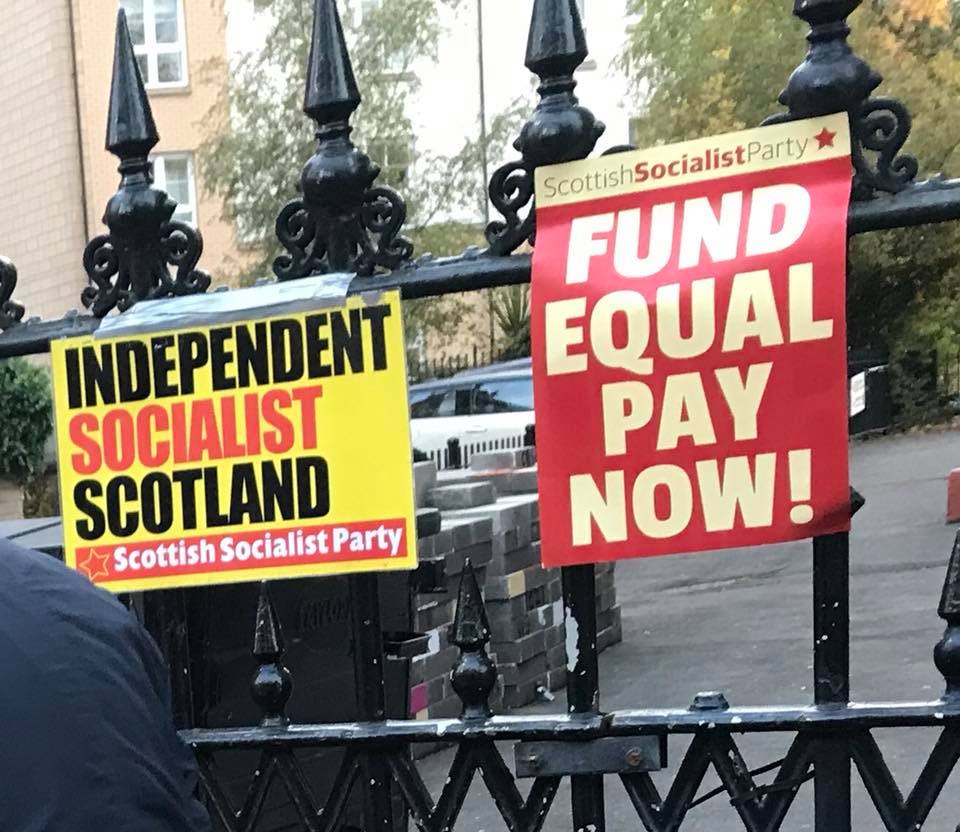 Before a platform of passionate, eloquent speeches by women at the rally, they held a minute's silence in respect of those who've died whilst awaiting the equal pay they rightly deserved. That says it all.
As I wrote in a message of solidarity from the SSP, "It's criminal as well as cruel that women have died, still denied pay justice. And we believe the Scottish government needs to tax the rich and cough up the funds, without a single penny off men's wages or public services. Victory to these brave strikers."
The SSP was proud to march with the strikers, flags flying, as we've done throughout our 20 years in existence – regardless of whether it's Labour or SNP (or Tory) councils denying workers equal pay and decent wages.
Demand the funds for equal pay now! Tax the rich and end this scandal!