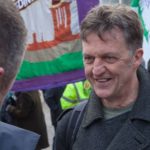 by Richie Venton, SSP national workplace organiser
Equal pay strikers have won a massive breakthrough in their long, hard battle for equal pay justice in Glasgow City Council.
No exact calculations and individual payouts to the thousands of (overwhelmingly) women who have suffered years of daylight robbery of their wages will occur until at least the summer. But the city council leader has at last accepted the principles and methods of calculating compensation for this historic injustice, and publicly stated so, after the unions and claimants' lawyers had earlier this week presented the council negotiators with a revised 'take it or leave it' proposal to settle the painfully long battle.
Although the formal decision on the calculations and payment plan will have to be ratified at a Council meeting later this month,