Thousands of workers are taking part in hospitality sector strikes.
The Bakers union (BFAWU), War on Want and Unite Hospitality are campaigning for workers' rights and ending poverty pay.
McDonald's, Wetherspoons and TGI Fridays workers announced renewed strike action. Striking over tips, poverty pay – for a £10 an hour living wage – and for union recognition on the same day. Uber Eats couriers are on strike in protest over a cut in the rates for deliveries – with demands of £5 per drop & £1 per mile. Deliveroo couriers will join them in taking action.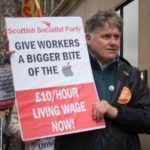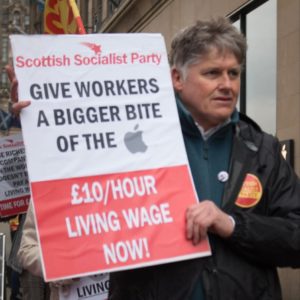 SSP national spokesperson Colin Fox offered fraternal greetings to the Edinburgh solidarity protest.
"The Scottish Socialist Party is proud to support today's action across the UK calling for fair pay and conditions for restaurant staff and fast food delivery workers. These young workers need far better rights at work. More power to them all."
---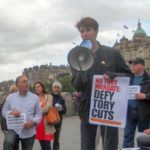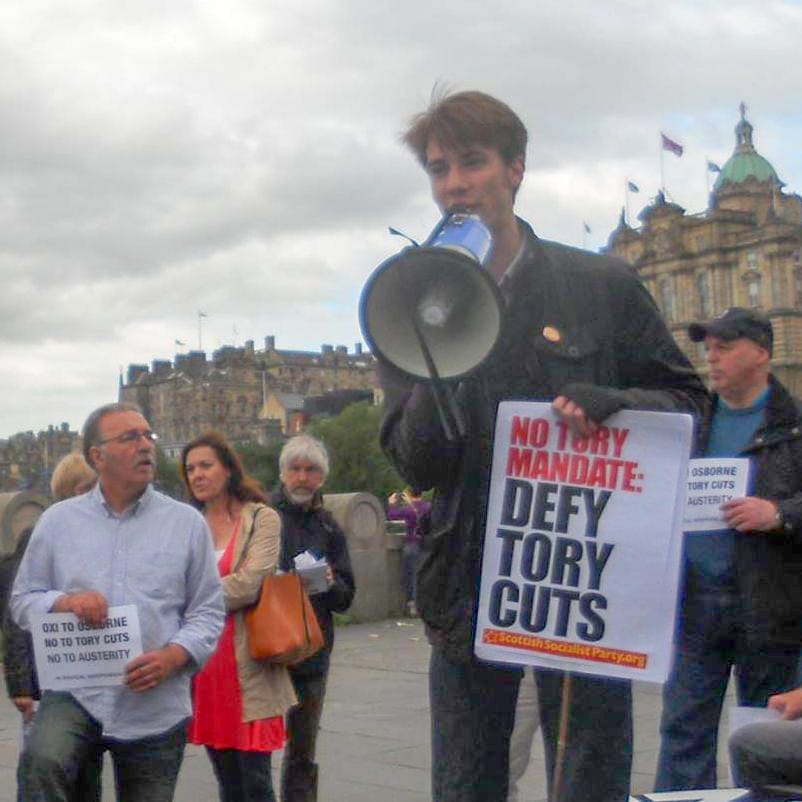 Scottish Socialist Party co-chair, Calum Martin said: "Today's strikes are not a flash in the pan. From Stirling to Seattle, poverty pay and economic insecurity plague millions, and threaten our entire economy. In all sectors millions of us lose out every single day not because of economic necessity, but because of corporate greed, plain and simple."
"Should we let that continue? Absolutely not."
"These strikes are about fixing our economy – making work pay with the security and dignity all people deserve. Workers standing together on that basis was what forced Amazon to raise their wages to a £9.50 pay rate for all, it's what's pushed Westminster to deliver successive rises to the minimum wage and it's what pushed Theresa May to promise legislation to ensure 100% of tips go to the people, not the companies."
"We're proud to stand alongside those on strike today, knowing that the time will come when we can win the £10 Living Wage all of us, and indeed our whole economy, so intensely need."
Speaking in support of last year's McStrike, our trade union organiser, Richie Venton said:
These are sectors bedeviled by the poverty pay and job insecurity that go with zero hours contracts like burgers go with chips.
---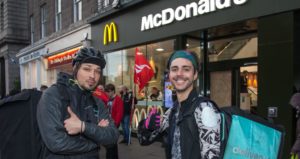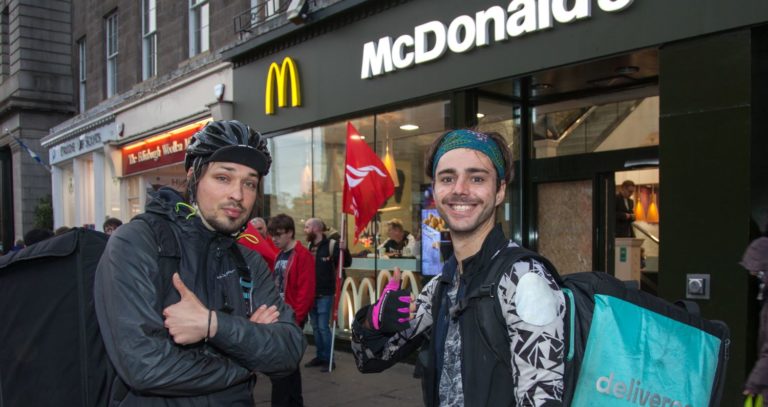 This is an international effort.
Fast food workers in the United States will also be going on strike between October 2nd and 4th. There are also strikes and rallies by hospital, child-care, higher education and airport workers & other industries blighted by low pay.
Demonstrations will also take place in Belgium, Italy, Germany, Chile, Colombia, Japan and the Philippines as part of #FastFoodGlobal.
Main photo: Craig Maclean