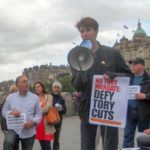 by Calum Martin
People who have spent a little time in Edinburgh will know the SSP Living Wage campaigns regularly on Princes Street. Sunday the 1st of April saw the Lothians branch pull off something a little different. On Easter Sunday, the Minimum Wage for those over 25 rose by about 30p, up to £7.83. If you are 25 or over you are legally guaranteed that in the workplace. If your employer is paying you less, they are breaking the law.
Rising Cost Of Living
Yet there are glaring omissions in this news. Not only are people under 25 missing from the increase, but there is still at least £2.17 per hour also missing. The Consumer Price Index, the average cost of a standard basket of groceries, rose by 2.7% in 2017, with evidence that the rate of increase is still mounting. Between 2016 and 2017, the average total cost of household energy bills rose by 13%, with wide predictions of an even higher rise for 2017 into 2018. The average rent on a two bedroom property has risen by 19.9% across Scotland between 2016 and 2017, with no signs those trends are abating. We've all seen this happening, we feel it as less and less money is left after basic necessities. We all know that 30p is not enough.
National Minimum Wage rates from 1st April 2018
Age Group
Per Hour
Increase
25+
£7.83
33p/4.4%
21-24
£7.38
33p/4.7%
18-20
£5.90
30p/5.4%
16-17
£4.20
15p/3.7%
Again and again, it is concluded, proved and shown that £10 per hour, rising with inflation is what the minimum hourly wage needs to be for all. £10 an hour is the Real Living Wage we all need to be earning. The UK government itself tacitly admits that £10 an hour is what it ought to be. To then knowingly set the rate £2.17 lower than they know it needs to be is shameful.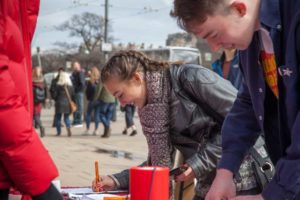 That is the specific message SSP activists took to Princes Street this Sunday. That 30p is not enough. We need £10 per hour, minimum, for all. With banners, placards, and just a little bit of street theatre, alongside the busy petition stall, that message was loud and clear – it's Time For Ten!
Fight For Ten
Remember though – this latest 30p rise is a concession to popular pressure. The increase is not yet enough – but without the hard work of activists, trade unionists and campaigners and a growing public support there would likely have been no increase at all.
At the same time, that missing £2.17 reveals something about the nature of the opposition to fairer pay. For every 30p hard won for us this Sunday, there remains another £2.17 deliberately kept back for the corporate profit margins.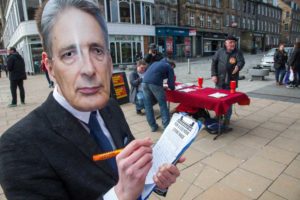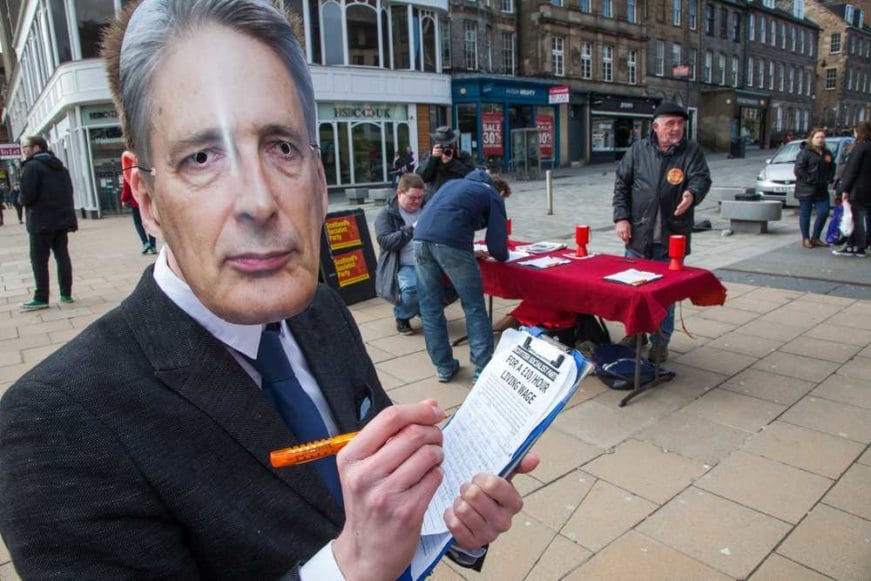 Let's be clear – even as the Conservative government is pushed into delivering these increases, they are fighting hard to keep as much as possible held into those corporate profit margins. It's not that the Conservative Party simply speaks for the big banks, the corporations, the shoddy employers (that's a given). Their parliamentary blocs read all so often as a veritable catalogue of vested interests. Many of these MPs have directly grown vastly wealthy from forcedly holding down the rest of our wages. Others are cosied up to the would-be oligarchs behind the atrocious pay and conditions at places like Sports Direct and across our economy. They have been forced to concede an extra 30 pence, but the wellbeing of the working class, or the country is not their priority.
It's Time For Ten
We can get to £10 an hour, but it will take hard work and perseverance to get there. We need to not only match the pressure that the Richard Branson's and Mike Ashley's, and others of their ilk are putting on to keep wages down – we need to surpass it.
That takes work. If you're looking to share in that work though, and together help us all win the wages we need, there are few better places to start than by joining the Scottish Socialist Party today.
---
Calum Martin is the national co-chair of the Scottish Socialist Party. Photos by Craig Maclean.