The Lothians Branch of the Scottish Socialist Party is submitting to the consultation because we believe that the economic strategy of the City of Edinburgh Council is resulting in a deterioration of the conditions of working people in our capital. The current and previous Labour/SNP/Lib Dem administrations have implemented ruthless and widespread cuts that leave our public services in crisis and a chronic shortage of affordable housing. Instead of perpetuating the low wage, high bills attacks on working people, the council should consider the changes we propose to raise funds and better the conditions of workers in Edinburgh.
Replacing the Council Tax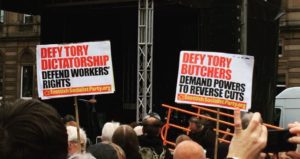 We call for the immediate replacement of the Council Tax with a means based alternative, the Scottish Service Tax. The Council Tax is an outdated and unjust tax that disproportionately targets low income families. Government freezes and Council plans to tweak the payments will not address the fundamental flaw – it does not assess the person's ability to pay.
Instead, the Council Tax crudely demands payment based on your address using bands set in 1991. The difference in payment from the highest to lowest band is 3:1, yet the wealthiest residents in Edinburgh are far more than three times richer than the workers we petition on behalf of.