Today's meeting of the Scottish Socialist Party national executive committee unanimously agreed the following statement on the issue of CalMac ferries.
"This meeting of the SSP national executive committee – on behalf of the entire SSP membership – demands that the new Scottish Government reject Serco's bid to take over CalMac ferries, and instead keep the service under public ownership and control through CalMac.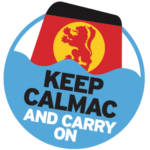 We demand they do so on the basis of no loss of jobs, pensions, terms or working conditions for the workforce, and no reduction in services to the communities dependent on the ferries. We further demand that if necessary, the Scottish Government defy any interference on the part of EU bureaucrats or others, in order to carry out the overwhelming desire of the Scottish people to keep CalMac ferries public.