Unlock the power of Trade Unions to win real change for workers.
Restore fighting Unions that put workers first.
Repeal undemocratic anti-Trade Union laws.
The Scottish Socialist Party is a workers' party, rooted in working-class struggles. We fully support Trade Unions in helping workers to organise and fight back against exploitation.
So we work hard to support picket lines across Scotland, because working-class solidarity is key to victory.
But our Trade Unions must change. We need better fighting machines for the working class – and to end the restrictive, undemocratic laws that undermine Union activity.
Power in a Union
Trade Unions are the largest civil society organisations in Scotland; bringing together millions around shared interests as workers in fighting for a better society.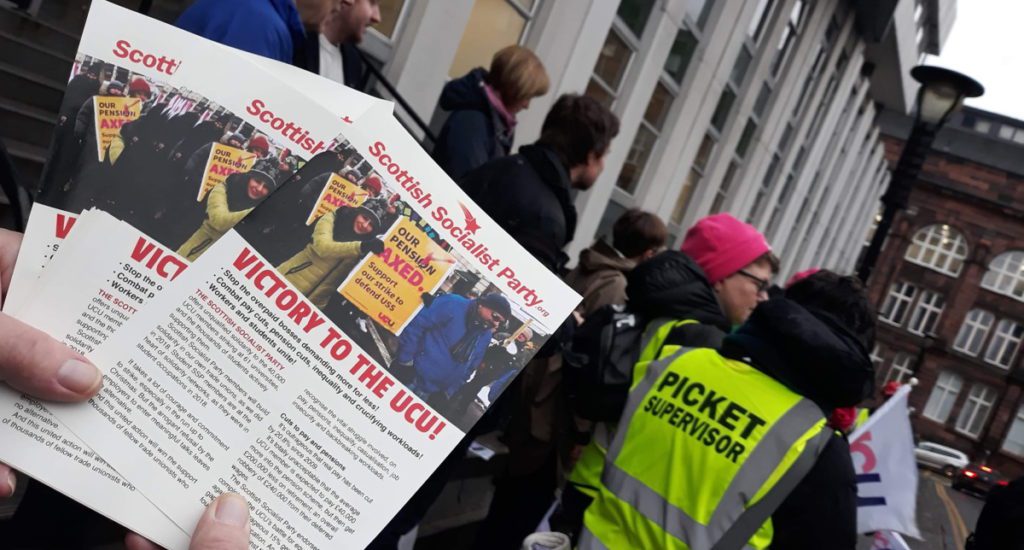 Organisations of workers at this scale have the potential to mobilise a mass movement around a platform of real change, and win.
So we need to unlock the potential power of Trade Unions as a fighting force in rebuilding our economy. Real recovery means real change, and the Trade Union movement can lead in winning a democratic economy that puts people and planet before profit.
More and more Trade Unions are supportive of the right to self-determination in Scotland. We welcome this. Working-class organisation, and a working-class political movement, are vital in ensuring that democracy and self-determination are recognised.
We Need Fighting Unions
Union leaderships let down workers when they get too close to the boss. We need Trade Unions to stay on the side of the workers, not in "Social Partnership" with those at the top.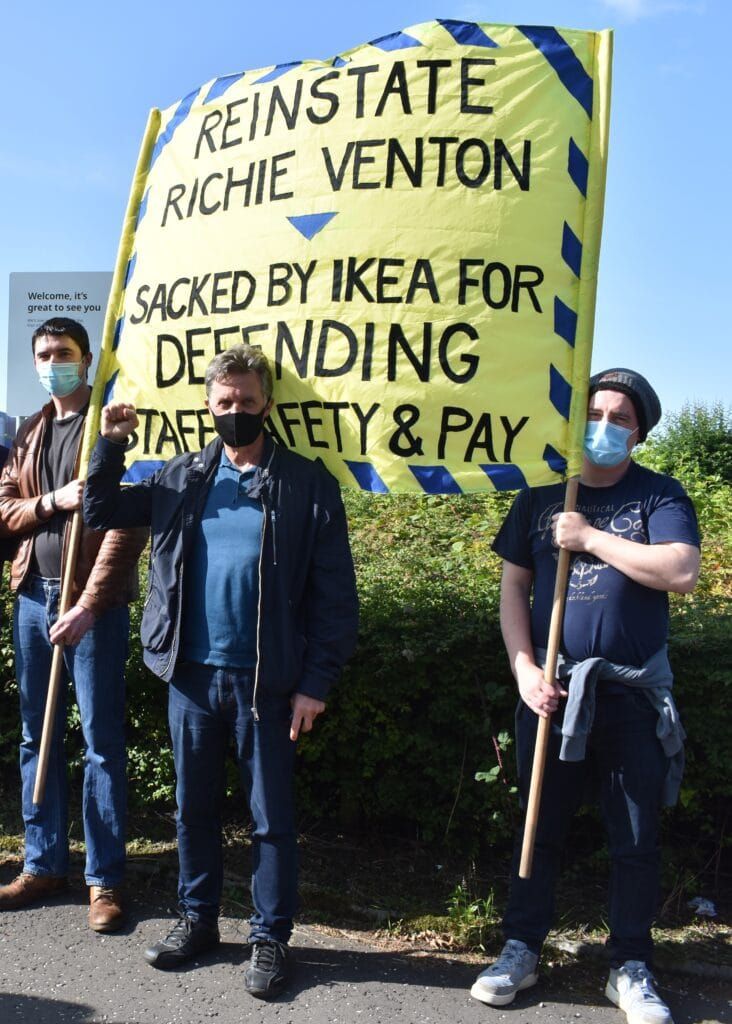 "Social Partnership" between Trade Unions and the bosses leaves Unions unable to stand-up for workers. As a strategy, "Social Partnership" has failed to stop increasing rates of poverty pay and job insecurity. It has failed to turn around historically low rates of Union membership, failed to stand up for victimised organisers, and failed to adequately protect workers during the pandemic.
Working-class organisations should not be in "partnership" with the bosses during this crisis. We are not "all in this together".
Because those in power have gotten richer and richer during the pandemic, but want the working class to pay the cost of the Coronavirus. They want wage cuts, job losses, and attacks on sick pay. When the bosses are waging war on workers, we need fighting Unions to stand up for the working class.
So we're calling on Trade Unions to put mandates on abolishing precarious employment practices, and for a higher minimum wage for all workers, into action.
We need real change in how our economy works and who it works for: a Socialist Recovery Plan. That's why Trade Unions must commit to public ownership of key sectors of the economy. This lets us build a democratic economy that puts people and planet before profit – including a Socialist Green New Deal that facilitates a jobs-creating Just Transition.
Because we know that as our economy changes, so too must the relationship between worker and work. Trade Unions must support a four-day week on five-day pay to address the dual crises of overwork and underemployment. They must back a maximum wage for the highest earners to fund a democratic redistribution of the wealth created by workers.
Repeal Anti-Trade Union Laws
The right to strike is the most powerful weapon organised workers possess. Withdrawing labour without fear of victimisation is an important democratic right, and is recognised as such in international law. But decades of anti-Trade Union legislation have attacked and undermined that fundamental right.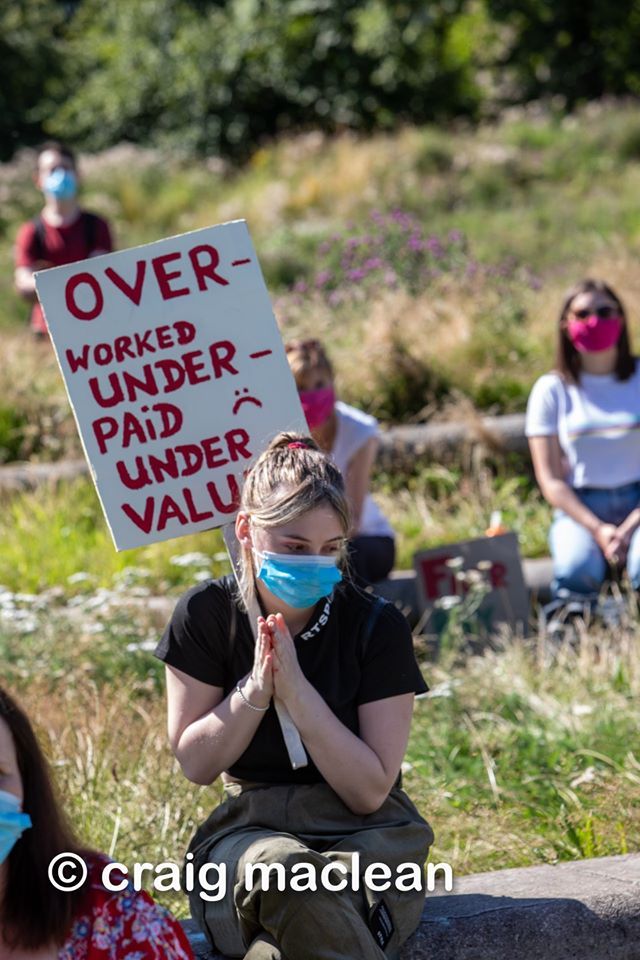 So, Unions face restrictive and unfair rules on balloting members, which are heavily prejudiced against a fair democratic process. This includes horribly outdated rules for postal-only voting, and unjustified requirements to inform employers before workers are balloted.
Organised workers do not have the right to strike in solidarity with other Unions or workers under other employers. This is a clear violation of the right to free speech and free expression.
On top of that, in 2019, the Communication Workers' Union (CWU) was denied their legal right to strike by a High Court injunction at the request of the privatised Royal Mail.
This is a dangerous and outrageous attack on labour rights.
Furthermore, workers dealing with bogus "self-employment" arrangements, including many of the lowest-paid and most precarious workers in Scotland, do not share the right to withdraw their labour without recrimination from their employer. Exploitative loopholes must be closed immediately.
These are rules introduced by the Thatcher government, continued by the Labour Party, and which the SNP voice no opposition to. Workers need a working-class, socialist party to fight against, and scrap, anti-Trade Union laws.
We Need You To Support Real Change
We don't have or want billionaire backers and big corporate donors: we only seek our support from Scottish Socialist Party members and the generosity of working-class communities. We need you to support real change.

Scottish Socialist Party members are card-carrying ambassadors for the working-class movement, and the most important resource we could ever have. Comradeship is the heart of the socialist movement.

Come rally; support real change today.