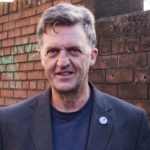 by Richie Venton
Our SSP street stall and street meeting outside Starbucks in Glasgow's Sauchiehall St today gained a really warm reception from shoppers.
As we blasted out the message – over the din of the howling wind! – about multinationals like Starbucks and KFC robbing workers of their rightful wages by calling them apprentices, people stopped to sign for £10 now.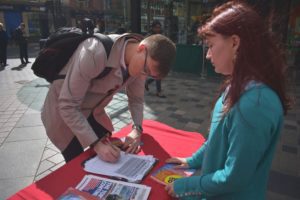 "It's about time somebody exposed this", and "Good on you, keep up the good work", were two typical comments.
We had a long chat with a former striking miner, who was livid at Labour's betrayals and had no time for the SNP "because they don't recognise class issues".
An active RMT member stopped to encourage us, remarking on the debate over the RMT reaffiliating to Labour, making clear his passionate opposition to that: "Jeremy Corbyn might be a socialist but he is not the Labour party!"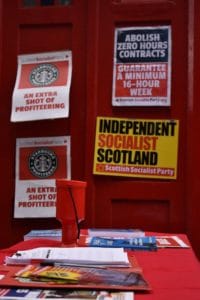 A school student joined the SSP; a UCU striker who joined the SSP this week took a lunch break to help us; a man claiming that his grandfather met Vladimir Lenin stopped to chat comrades – twice – encouraged to see socialists agitating on the streets. And as we packed up, a man stopped, asked to sign the £10 petition, and donated £5. Support from all generations!
People going in and out of Starbucks smiled encouragement towards our denunciation of their 'extra shot of profiteering by calling baristas apprentices'. And more than one of their own workers watched us out the window, smiling their appreciation that somebody is standing up against this Great Wage Robbery.
We'll be back!!
[x_block_grid type="four-up"][x_block_grid_item]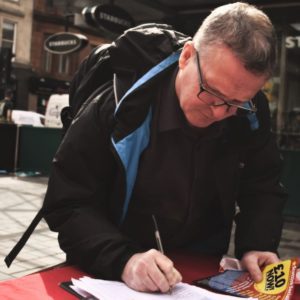 [/x_block_grid_item][x_block_grid_item]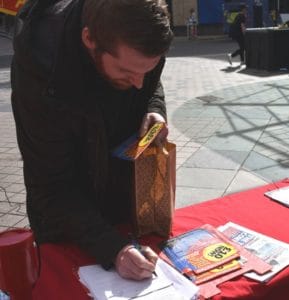 [/x_block_grid_item][x_block_grid_item]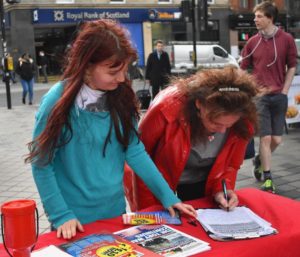 [/x_block_grid_item][x_block_grid_item]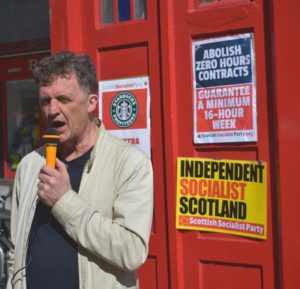 [/x_block_grid_item][/x_block_grid]
---
Cooking the books!
Photos: Paul Donnelly