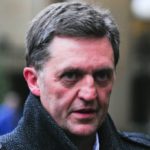 by Richie Venton
A flurry of strikes has hit Scotland this week, with public and private sector workers fighting back after sweeping majorities in union ballots for collective action, primarily in defence of their wages.
The Scottish Socialist Party has no hesitation in offering 100% support and solidarity to all these trade unionists, who are showing tremendous courage in the frenzied anti-trade union atmosphere coming out of Westminster, which has served to encourage employers to think they can ride roughshod over workers' pay and conditions.
Grangemouth Port
Workers at Scotland's biggest port, at Grangemouth, have started a two-week all-out strike, to be followed by an overtime ban, after Forth Port bosses stonewalled Unite union's requests for a negotiated settlement. Crane drivers and cargo handlers taking this action will hit the port hard, an action they voted 100% in favour of in a 97% turnout!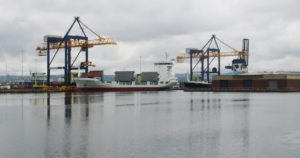 This strength of feeling is in response to imposed changes of shift rotas that will slash £1,600 a year from weekend premium payments and another £200 a year from nightshift allowances.
This is an increasingly common form of attack on workers' incomes, in pursuit of even higher profit margins and public sector cuts. Those affected also include whole swathes of retail workers and thousands in budget-slashing local government – regardless of whether run by Labour, SNP or various coalitions at council level.
FE Colleges
Thousands of college lecturers are taking their first sustained national strike action in over 20 years. As with the Grangemouth port workers, these members of the EIS Further Education Lecturers' Association (EIS FELA) voted by a sweeping majority to strike; 93.5%.
At the heart of this dispute is the demand for equal pay, to end pay disparities of £10-13,000 between different colleges across Scotland. Their determined action is further fueled by frustration at years of education cuts, and fury at obscene 'golden parachutes' awarded to Principals and other senior management figures during the SNP's mergers and centralisation of colleges.
The SSP not only offers unqualified support to the EIS-FELA union members taking this action, but in fact we have campaigned for restoration of national pay bargaining since our formation in 1998, and even produced a special edition of the SSP's Scottish Socialist Voice on the issue about 15 years ago.
It is to their eternal discredit that the SNP government has carried on where their Labour-LibDem predecessors left off, failing to step in and remove these outrageous pay disparities, with salaries dependent on which college, in which town, lecturers doing exactly the same job happen to work.
On top of that, the SNP's centralisation of colleges has led to no educational improvements, has reduced jobs, and contributed to the loss of at least 144,000 places for students – overwhelmingly working class students; hardly a track record matching the SNP's claims to be 'Stronger for Scotland'.
Council Workers
Smaller workforces are continuing their strike action against Labour-controlled Glasgow city council, and it's arms-length offshoots, Cordia and Community Safety Glasgow (CSG).
About 130 Unison members – school jannies – have staged a 3-day strike as part of their long-running battle to win payments they deserve for duties their job includes, including dirty and heavy jobs. Parity with other workers doing the same type of work would mean an extra £500-1000 a year for the jannies.
CCTV staff, employed by CSG, who earn the giddy sum of £8.25 an hour, have started strikes for parity with others employed by the same CSG – who get payments of up to £7,500 for doing the same anti-social, 24/7 shift patterns as the CCTV staff.
And in neighbouring Labour-run West Dunbartonshire council, teachers in the EIS union have staged several days of strike action, and are now voting on whether to accept the council's new offer on restructuring of schools that would have meant savage attacks on kids' education, being a cost-cutting exercise falsely dressed up as shiny new 'modernized' restructuring of staffing and departments.
Solidarity with the Strikers
The Tories are doing their damnedest to eliminate the last vestiges of collective action by trade unionists. Labour pretend to be the new-found friends of the unions, ahead of the looming elections – but when in power, attack conditions and pay like the worst employers. The SNP make warm, cooing noises towards the unions, but show their unwillingness to take sides in situations where they could make all the difference, such as the FE colleges.
The Scottish Socialist Party has an unrivaled record, spanning nearly two decades, of taking the side of workers, and building support for their struggles. We offer that ABC solidarity to all those taking action right now, in defiance of attempts by employers to crush their wages even further in favour of profit, and despite the vicious anti-union laws being made even more repressive by the Tories.
Richie Venton is the Scottish Socialist Party's national workplace organiser