Report by Sean Baillie
Salih Muslim, Co-chair of the Democratic Union Party (PYD) is in Scotland this week, meeting a cross party group of MSPs – set up to support the Kurdish people and their struggle for human rights and a democratic voice.
Speaking to a crowd of over 100 Scottish solidarity activists and families from the local Kurdish community in Glasgow, Mr Muslim spoke of the similarities that can be drawn between the people of Scotland and Kurdistan. From our rich cultural histories, to our modern day movements that aim to achieve equality and democratic autonomy.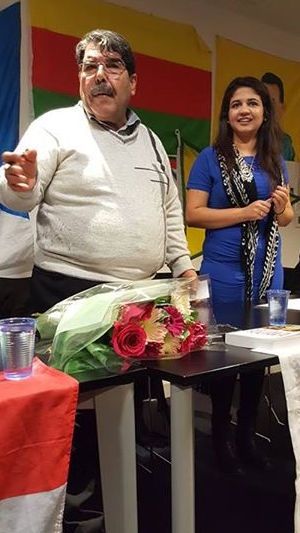 He also spoke about the ongoing conflict in Syria, and how the autonomous Northern Syrian federation which his party helped to create. It has become the safest place within the region, and a beacon of peace, friendship and co-operation between the different religious and ethnic groups that live in the area. Through the radical self organised democratic structures, the rights of religious and cultural diversity is written into law.
When asked how these structures impact the economics of the area, his answer was that by ensuring that the ownership of land and property is in the hands of the people, and allowing the people to come to collective agreement about how to use them locally, proves it is something other than a capitalist system.
Mr Salih Muslim will also be speaking at a public meeting in Appleton Tower, Edinburgh University tonight, 14th December 2016 at 7pm. These meetings are organised by Scottish Solidarity with Kurdistan (SSK) and Edinburgh University Kurdish Society, as part of a wider campaign to raise awareness of Kurdish Issues in Scotland and to raise funds for the building of a School named after Scotland to be built in Rojava, Northern Syria.
Sean Baillie serves on the Scottish Socialist Party's executive committee.