A Government report has exposed poor wage rates and employment practices at Wagamama, TGI Friday's, Marriott Hotels, Birmingham City Football Club, Stoke City and St Helens Rugby club. In total 179 employers were fined £1.3m by Her Majesty's Revenue and Customs for ripping off their workers.
In Scotland, over 200 staff were underpaid by 15 firms, ripped off over £75,000 in wages.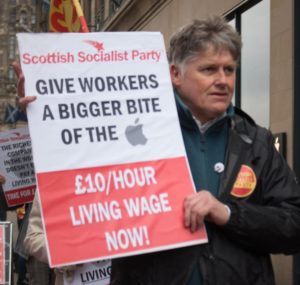 SSP Spokesman Colin Fox said: "Spare a thought for the staff who serve you this weekend when you are out to dinner with your mates or attending the football match for some of the biggest names in the hospitality sector were found guilty this week of not paying their staff even the National Minimum Wage."
The HMRC say 'The penalties for non payment of the statutory National Minimum Wage mean employers can be fined up to twice the total wages shortfall, subject to a maximum of £20,000 per worker'. However, as the Financial Times pointed out last month, there are so few HMRC inspectors enforcing the Minimum Wage that the average company can expect an audit once every 500 years!
Those 43 companies in the hospitality sector for example, prosecuted in the latest list, clearly felt it was a risk worth taking.
Risk Worth Taking
It beggars belief these big firms do not have a Human Resources department that knows this law inside out. These companies in the slave labour business are clearly at it.
The Scottish Socialist Party will continue to expose them as part of our ongoing campaign for a £10/hour Living Wage and an end to zero hour contracts. Keep an eye out for our campaign stalls on Edinburgh's Princes Street every week and elsewhere across the country."
The National Minimum Wage goes up to £7.83 for workers over 25 on April 1st.