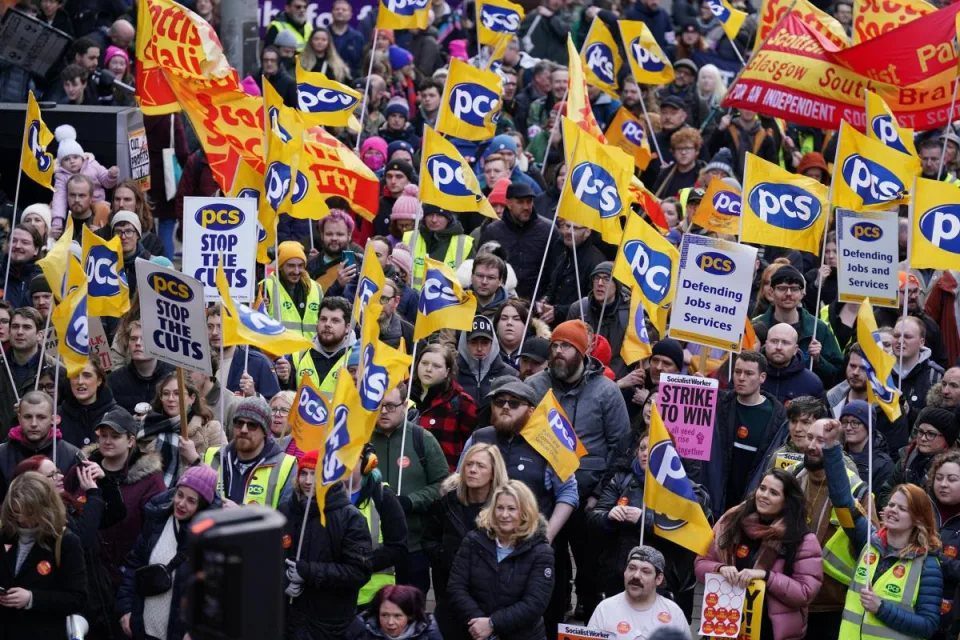 "It's ironic that the deputy leader of a government which harbours ministers who bully civil servants has run away from our demo. This is a powerful show of our strength, which we must sustain by winning the re-ballot for continued, well-targeted strike action."
John Jamieson, PCS NEC and SSP member
Over 130,000 members of PCS union took part in a major industrial action yesterday, ahead of commemorations for International Workers' Day 2023. The Scottish Socialist Party, side-by-side with workers on the picket line, sends its full solidarity to workers taking action.
SSP National Workplace Organiser Richie Venton said yesterday, Friday 28 April:
"Over 130,000 PCS members took national strike action today, in revolt against employees of both the UK and Scottish governments having to depend on in-work benefits and foodbanks to survive.
It's criminal that tens of thousands of them, in several government departments, had an uplift in their wages this month to match the new (still miserly) legal minimum wage – many of them after 30 or 40 years' work in the civil service!
"The strike and lively pickets showed the strength of feeling in their fight for a 10% pay uplift; £15-an-hour minimum wage; job security; pensions justice; a shorter working week; and an end to Tory attempts to slash jobs on the cheap, through attacks on redundancy terms.
"The Scottish Socialist Party was proud to once again show our ongoing solidarity with these workers, standing shoulder-to-shoulder with several of their picket lines.
"We then joined the PCS's impromptu demo against the planned visit to Glasgow's Cabinet Office building by new Tory Deputy Prime Minister, Oliver Dowden.
"The power of the picket line chased this creature into hiding! His planned provocation – where he would have had to cross the picket line to enter the building – was cancelled after the demo was called."
PCS NEC and SSP member John Jamieson said, speaking at the demo:
"It's ironic that the deputy leader of a government which harbours ministers who bully civil servants has run away from our demo. This is a powerful show of our strength, which we must sustain by winning the re-ballot for continued, well-targeted strike action."