Comrades, RISE is the most important left unity project Scotland has seen in a generation.
Last weekend we reached another milestone in RISE's development when we conducted simultaneous interventions into the Climate Change march in Edinburgh & the STUC Anti-Racism celebrations in Glasgow. Whilst the weather was foul the fact RISE was actively involved in both mass movements augurs well for the future and will not have been lost on our 'dreich' political opponents. This is the shape of things to come for Scotland's Left Alliance.
The progress we have made should be a source of encouragement to us all. The programme we have agreed today represents the biggest challenge there is to neo-liberalism, warmongers, climate change deniers and unscrupulous employers everywhere.
---
RISE offers working class people in Scotland opportunities no one else does
RISE offers the opportunity to secure an Independent socialist Scotland and a 2nd Referendum
We are not nationalists, our support for Independence is not based on ethnic nationalism, or a belief Scotland is superior to anyone else, ours is a belief that this is above all a democratic question and one that potentially unlocks the door to eradicating the appalling social problems facing 21st century Scotland.
We alone offer the people of Scotland a 2nd Referendum on Independence in the lifetime of this Parliament at the time of our choosing.
We are aware a 2nd Referendum could also be lost if the timing is botched or the majority is not there, but politics is full of risks. And frankly the bigger risk is that the time does arrive and the majority cannot be unleashed because the SNP put its narrow party interests ahead of the democratic rights of a nation.
Let's be clear, the Independence movement needs a mandate next May to force Westminster – in who's gift a Referendum remains – to concede a binding second vote.
So we respectfully assert here today that the Independence movement does not belong to the SNP.
Our nations right to self-determination is not Nicola Sturgeon's plaything to be taken out of the toy cupboard when it suits her and put away again in order to secure Holyrood seats for John Swinney, Fergus Ewing and Keith Brown.  RISE alone will include a commitment to a 2nd Referendum in our manifesto next May.
And because we want an independent socialist Scotland RISE offers people the opportunity to end poverty pay and exploitation at work
A £10/hour living wage – that's the level you need to pay your own way, to stop qualifying for benefits – housing benefit, tax credits, free school meals. Our grandparents generation did not put up with poverty pay or zero hour contracts and neither should we!
RISE believes in public ownership and protecting people from the redundancy now being experienced for example by steelworkers and their families in Lanarkshire.
We will intervene and take industries back into public ownership because these skills are crucial to our economy.
RISE offers the people of Scotland the best opportunity to stop Britain fomenting wars abroad
David Cameron's case for British air strikes in Syria is not more justified than the case Parliament rejected in 2013 when he was desperate to bomb Assad. His latest adventure represents gesture politics of the worst kind. He does not know what he is doing in Syria. Propelling Britain into a three-dimensional civil war where thousands of innocent Syrian civilians will be killed as Cameron lines up behind the largely ficticious and extreme Free Syrian Army will be a bigger debacle than Iraq, Afghanistan or Libya..
RISE also offers the people of Scotland the best chance to benefit from combating climate change 
Free public transport – offering working class people better alternatives to using their car – free bus travel, free train travel, free ferry travel, free tram and underground travel
100,000 climate jobs – in renewables, in building 100,000 new environmentally efficient new public sector homes for rent, in sustainable farming and as a result of the increased demand for public transport.
RISE also offers the people of Scotland the best opportunity to elect incorruptible MSP's 
Workers MP's on workers wages from our long and honourable socialist tradition. James Connolly expressed it best 100 years ago 'Rise with your class, not out of it'. He warned our movements elected representatives.
SSP MSP's are the only elected representatives to have implemented this practice in Scotland.
I used to say 'when my constituents in West Pilton, Burdiehouse, The Inch, Wester Hailes and Craigmillar get £60,000 a year, I will take that wage. In the meantime as their MSP I will live on the same wages as them and face the same economic pressures together.
The Holyrood elections and their importance for RISE therefore cannot be overstated
---
Watching the Syria debate on TV on Wednesday was so frustrating because there were no real socialist voices raised in that debate. We had to rely on others to put the progressive, anti-war arguments. And that is not good enough because we have so much more to say as true internationalists and anti-imperialists.
Our movement badly need socialist voices inside Holyrood and Westminster as well as outside.
The odds are against us in winning seats, but there is a chance.
I was elected as an SSP MSP for the Lothians in 2003. I know what it takes to win.
People vote differently in Holyrood elections as compared to Westminster. Scottish parties fare better. And people know how to use their two votes to maximum effect. So we will patiently explain our programme and our tactical advice to them.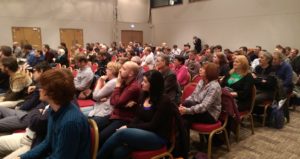 RISE can emulate the SSP and secure seats at Holyrood in May if the political tide turns in our favour and it might.
We can win seats if we persuade hundreds of thousands of the most politically conscious working class voters we have the best programme, leadership skills & capacity to oppose capitalism and show we are worthy of their vote.
We can win seats if we persuade the 1.6m Independence supporters a 2nd vote for the SNP is wasted.
If the nationalists win most constituencies a 2nd vote for them risks letting Labour or the Tories or the Liberals back in. They should vote RISE to maximise the Independence vote, not minimise it.
We need to raise our profile and establish a reputation for being the first to stand up for the interests of working class people.
Yes, we need to raise £100,000 to fight these elections. But we will.
Yes, we need to secure the resources needed to do justice to our cause. But we will.
Yes we are taking on some powerful, sleekit, political opponents, but we can overcome them.
And can have fun while we do it. Now is not the time for feint hearts and pessimists.
Lets RISE to the challenge each and every single one of us. Thank you very much.
Main image: RISE: Scotland's Left Alliance