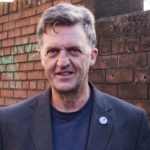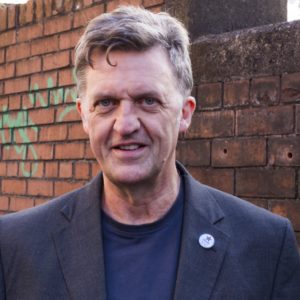 by Richie Venton, SSP national workplace organiser
Anyone with an ounce of experience of working life knows that when a senior manager – and more especially if it's the Managing Director – starts telling a worker they "want to share things with you", you'd be wise to get your guard up, mind your back, and prepare for the worst. Behind the soothing language lurks stark, savage attacks, in pursuit of profit for the owners.
That health warning applies with knobs on when the Managing Director is Phil Verster of Abellio Scotrail – or his ghost writer Rob Shorthouse, Communications Director of the same outfit, and former propaganda chief of what he himself dubbed 'Project Fear' – the lie machine that was officially called Better Together.
---
Verster has just written to every Scotrail guard/conductor in the RMT to try and browbeat them into submission to his plans for Driver Only Operated (DOO) trains – with a cocktail of lies, blackmail and divide-and-conquer trickery. He must be worried at the impact of the rock-solid strikes in defence of public safety!
---
Blackmail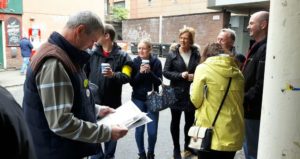 First, the blackmail. In the letter he states: "the average conductor has, thus far, lost around £215 in pay in this dispute. If the RMT continue to put down more strike dates over the coming weeks and months, this figure will just rise and rise. I don't want this to happen."
This is financial blackmail of the crudest type. He wants to bully workers into submission to his plans on the grounds they and their families are suffering financially.
Not a word, of course, about the fact workers were well aware they'd stand to lose wages when they voted by 93% for industrial action, and 75% to strike – a fact that only goes to underline the passion for public safety these workers are displaying, to their eternal credit.
Not a word, of course, about the fact that further down the line, if DOO is spread across the country, guards will be replaced with lower-paid Ticket Examiners – thereby facing future train staff with the choice of low pay or no pay.
Abellio Never Discussed DOO with the Unions
Above all, Verster and his master of lies Shorthouse pretend this touching concern for workers' incomes – "I don't want this to happen" – but in real life refuse to even discuss the issues at the heart of the dispute with the conductors' elected union representatives.
If he doesn't want guards to sacrifice pay through strike action, he has a hell of a lot to explain.
If "I don't want this to happen", why did he issue a letter announcing plans and advocating DOO to every guard/conductor in March?
Why has he never – even to this day – met with the RMT or ASLEF unions to discuss his plans for DOO?
Why did he then lie that the letter in March was not a definite proposal, but "just a discussion document", when workers started to ballot for action against this plan?
And what about the fact extension of DOO is written into the foundations of the franchise awarded to Abellio by the Scottish government in October 2014?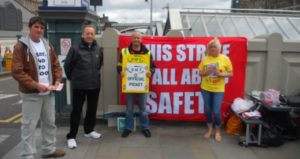 Or the fact the documents accidentally emailed out to staff by Verster, which we've described in detail in previous articles, make it starkly plain that extension of DOO is his aim, and smashing the unions is also his ambition – which he believes would be made easier precisely by replacing guards with Ticket Examiners, who could be far more easily replaced during any future industrial action?
And has he ever explained that he only then hastily apologised for these accidentally circulated plans after the drivers' union, Aslef, threatened to join the RMT in industrial action against imposition of DOO – a policy the two unions share?
Hotline to Break the Strike
Of course Verster "wants this to happen." He wants to rub strikers' noses in the fact going on strike costs workers wages, so as to blackmail and cow then into surrender. And in case anyone still doubts that, the stinking hypocrisy in his letter reaches new depths later on. He cooingly claims: "Taking industrial action is a basic democratic right and it is not something that I would ever interfere with. It is your individual choice and I will always respect that."
Aye, right! In the next paragraph he lets slip his real plan, when he offers a confidential email address to anyone "who may be considering a choice not to lose any more money through further strike action".
Behind the mask of concern for workers losing pay lurks the vicious attempt to cow workers into giving up their struggle for safety through financial pressures. In vain! These workers aren't fools; they knew striking would mean a loss of earnings, but have something precious that monstrously overpaid bosses like Verster and Shorthouse will never have: clean principles, including recognition of the safety critical role they play on public transport.
The Biggest Lie in a Litany of Lies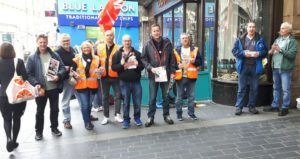 But perhaps the dirtiest lie of all, in a letter full of them, is the concluding sentence, which claims:
"You have my assurance that we continue to do everything we can to bring this dispute to an end".
Is that why Abellio never even discussed with the unions prior to launching their plans to dilute or destroy the role of the guards?
Is that why instead of entering negotiations before, during or since the RMT strike ballot they spent an undisclosed sum of taxpayers' money 'training' an army of managers as strikebreaking scabs "in the event of industrial action"?
Is that why, on several occasions, they either failed to engage in talks called for by the RMT – including the weekend before the first strike – or at best grudgingly attended ACAS talks after the union publicly exposed their refusals, only then to offer absolutely nothing up for discussion on the issues at the heart of the guards' strike?
And more recently, if Verster and Abellio are so willing to "do everything we can to bring this dispute to an end", how come at last Friday's meeting (1st July) they refused to discuss the issue of DOO, the safety issues that have actually provoked the RMT strikes, but instead wanted to discuss diesel fleets and high speed trains?
Divide and Conquer Tactics
Well, the answer is not only already clear to the strikers, but underlined in this letter: it's a crude attempt to divide and conquer, to split the workers on strike, and to thereby weaken their chances of defending safety on our railways for the future.
One of the two main things Verster "wanted to share with you" has nothing to do with the cause of this strike, but "how we operate our new HST [high speed trains – RV] and DMU fleets [diesels]. If we can get that signed off, then it will give certainty to about a third of our conductors at 11 of our depots."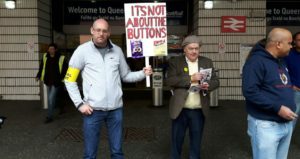 There you have it, the dirty attempt to divide and conquer, in black and white.
But if the guards in those depots were to fall for his filthy tricks, there is absolutely nothing to stop introduction of DOO on other routes and types of trains in the future – once the Abellio bully-boys had seen off the united opposition of the RMT guards so bravely fighting for safety right now.
As drivers and guards have explained to me at the picket lines, introduction of DOO is not because some lines are being electrified and others not. That's just the excuse, the opportunity, to spread DOO, and in turn save future wage bills – by substituting cheaper Ticket Examiners for better-paid guards.
If indeed DOO trains will even have a Ticket Examiner on board, which already at least 20% of DOO trains run without – making them literally driver only!
Soothing Spin to Mask the Vicious Attacks
This letter is a low attempt to bully, demoralise, blackmail and divide – but cover up the Abellio bosses' real motives with a sugary spin about wanting "to share things" with the strikers, writing to them at their home addresses whilst refusing to engage in any real talks about the core issues with the unions.
It won't succeed. But as well as relying on the principled determination of those on strike to defend safety, we need to make sure it doesn't succeed by taking some simple, urgent steps in solidarity with the strikers.
What YOU can do to Keep the Guards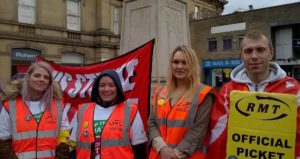 My appeal to everyone who's read this far is to examine what YOU can do help keep the guards on our trains and defend safety for passengers – as well as future jobs and wages. Here are a few suggestions.
Send a message of support to the strikers to m.hogg@rmt.org.uk
Get hold of the RMT postcards calling on MSPs to Keep the Guards. And don't forget you – and everyone in your family or workplace willing to send postcards – have not just one but 8 local MSPs – one local constituency and 7 regional list MSPs. Bombard them with postcards.
Contact your MSP/s in person – by phone, email or at their surgery – and politely demand they defend public safety by insisting Scotrail keeps the guards on our trains.
Ask your union to support the RMT strikers.
In the case of ASLEF, call for a ballot for industrial action to stop the spread of DOO, which adds to the burden of heavy responsibilities on the drivers' shoulders, without even any premium payments.
Abellio's letter is laced with lies, brimming with blackmail, a dirty divide-and-conquer trick. Verster & co must not and will not succeed. For the sake of safety, and our collective future, take these modest steps to help the strikers beat back the bully-boy profiteers.