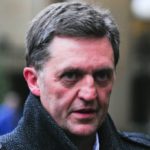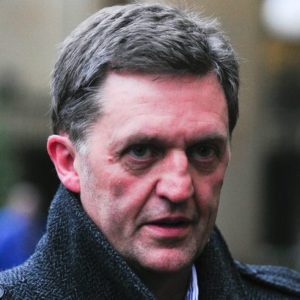 by Richie Venton, SSP national workplace organiser
Earlier today I and others from the SSP joined a big, determined demonstration outside the Scottish parliament, called by the RMT in support of their fight to Keep the Guards on our trains, to make our trains safe. Striking conductors/guards were there in good number, alongside other RMT activists and a sizeable, extremely welcome contingent from the main drivers' union, ASLEF.
An RMT delegation gained access to a meeting inside the parliament which the SNP government had arranged, for Abellio bosses to face MSPs for a Questions and Answers session. Bizarrely, and worryingly, no invitation had been issued to the RMT.
Show Pickets your Support
Strikes to defend passengers' safety continue; the next one this Sunday 3rd, with a new batch of dates to be announced today, in the face of a belligerent and bloody-minded refusal by Abellio to discuss the issues at the heart of the dispute.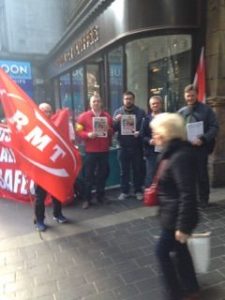 I appeal to all readers of this article to call down at your nearest picket line on Sunday morning; offer strikers solidarity; get a supply of the RMT postcards and start getting family, friends and people at work to sign them, so we bombard MSPs with the demand that the Scottish parliament and Scottish Government step in to halt the downright dangerous spread of Driver Only Operated trains.
It's time the SNP government did what they declared in many election manifestos: Stand Up for Scotland. But for the Scotland of Scotrail workers, not of the bully-boy profiteering bosses of Abellio.
"It's Not About the Money"
The strike by Scotrail conductors/guards against the Abellio bosses' mad dash towards Driver Only Operated (DOO) trains is potentially a matter of life and death.
These workers are not on strike for a pay rise. This is a strike about public safety and the general wellbeing of passengers. Workers are not sacrificing several days' pay for the fun of it; they're displaying a selfless passion for safety, against plans to wipe out 600 safety-critical guards on our trains.
They're striking to keep the trained staff to assist disabled and elderly passengers; to protect passengers (women in particular) from antisocial behaviour and assault; and most critically of all to have guards who are fully trained to deal with accidents and incidents and avert potential disasters.
In pursuit of this cost-cutting exercise – to boost Abellio's profit margins – the employers are stooping to lies, misinformation, bully boy tactics, union busting and divide-and-rule tactics.
But behind the Abellio bosses who were awarded the £60billion franchise to run Scotrail trains in 2014 stands the Scottish Government, who awarded them this succulent source of profit – the government which should urgently step into this battle, side with public safety, side with the strikers, and strip Abellio of what should already be a publicly-owned rail service.
SSP Stand by the RMT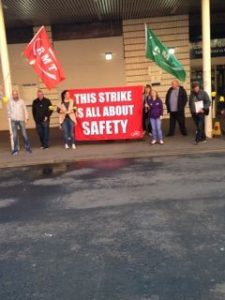 The SSP has already shown full, unqualified support to the strikers, on their picket lines, RMT demos, SSP street stalls, and in our workplaces collecting signatures for the RMT postcard campaign aimed at telling MSPs to take sides and Keep the Guards for the sake of safety.
It's critically important for the sake of passengers' safety that the Scottish Government is forced into taking sides, to stop the dilution or outright destruction of the safety-critical role of the conductors/guards – and indeed to go much further and insist on a guard on every train in Scotland, including those already operating as Driver Only.
DOO Driven by Westminster Tories
This showdown for safety before profits has its origins in the McNulty Report, commissioned by the Westminster Tory government, which pushed for DOO. Emboldened by the Tories, numerous profiteering train operators in the UK's privatized railways are in pitched battles against the RMT and ASLEF unions, in a mission to impose DOO – a system which has been proven to be unsafe. For instance, a full 80% of the serious incidents investigated by the UK's National Investigation Body involved DOO trains.
In Southern Railways, the French company with the franchise, Govia, have withdrawn strikers' free travel concession, seized their personal mobile phones to gain information, and generally acted like a bunch of dictators in trying to crush ASLEF members' strike action on this issue.
Here in Scotland, the Scotrail franchise was awarded to Abellio by the SNP government in October 2014. Now they want to wipe out the guards/conductors right across the Central Belt, Borders and beyond, as part of plans for a new fleet of Hitachi-built trains on electrified routes. As RMT leaders have rightly said, this is a lethal gamble with basic rail safety. It's a classic case of profit for the few, at risk to life and limb for the many.
Real Life Risks of DOO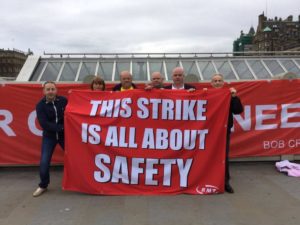 Real life experiences underline the safety-critical role of the guards, and why the SSP is not only battling to help the RMT win the campaign to Keep the Guards, but also arguing for a guard on every train in Scotland.
Rail authorities have reported a recent surge in 'trap and drag' incidents, where passengers are caught in the doors as the train moves off. A passenger in East Dunbartonshire suffered 'life-changing injuries' after being dragged onto the track. A passenger's life was probably saved when they took seriously ill, because a guard attended to them. Women have faced abuse and sexual assault on trains without a second member of staff, because there's no legal obligation to ensure a Ticket Examiner on DOO trains. The near-disaster at Falls of Cruachan in 2010, where a derailed train hung off the side of the hill, proved the life-saving role of the guard, especially when a driver is incapacitated (or dead) in an accident.
That's why a recent independent poll by Opinium found 80% of women are worried at their safety if there's no guard; 73% of weekly travellers are concerned at safety and 60% of them oppose removal of guards. All that, despite the vicious spin and downright lies in the media designed to belittle the guards' role and confuse people about the difference between them and lower-paid, lesser-trained Ticket Examiners.
Two Guards per Train in Holland!
As we've argued in the SSP Railworkers Voice, halting the spreading cancer of DOO – defending the 600 existing guards on our trains – should be just the first step towards demanding the return of safety-qualified guards on ALL Scotrail trains.

This demand by the SSP is made all the more modest and reasonable by what prevails in Holland. The same Abellio owners – Nederlandse Spoorwegen – don't just have a guard on every train in Holland, they have TWO!
What's good enough for Dutch passengers should be good enough for those in Scotland.
For Public Ownership
Likewise, if it's right for the Dutch government to have a state-owned railway system, surely it's right in Scotland? Right across the UK we have the obscene absurdity that 75% of train lines are run by wholly or partially state-owned rail companies – not by a British state railway though, but those of the states of France, Germany, Hong Kong – and Holland in the case of 'our own' Scotrail.
UK taxpayers in 2014-15 forked out a net subsidy of £3.5billion to these outfits – who in turn handed out £222million in dividends to shareholders.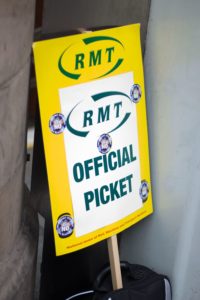 The case for public ownership and democratic control of our rail network becomes more logical and more urgent every day that Abellio's bully-boy bosses rake in a fortune at the expense of passengers and Scotrail workers. Just a fraction of the profits siphoned off by the Dutch state could employ a guard on every train in Scotland – thereby putting people's jobs, pay and public safety before profit.
Build support for the RMT strikers. Call on ASLEF leaders to take joint action with the RMT to implement the joint opposition of both unions to DOO. Demand the SNP government stand up for Scotland – the Scotland of Scotrail workers, not of Abellio bosses. Join the SSP and campaign for public ownership of our railways, with a guard on every train.