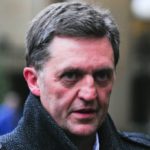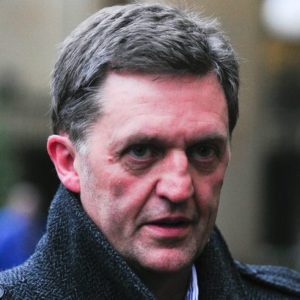 by Richie Venton, SSP national trade union organizer
Back in August 1963 there was an almighty hue and cry when Ronnie Biggs, Bruce Reynolds and their pals meticulously planned and executed the theft of £2.6million from the Glasgow to London Royal Mail train. In today's money, that was £48m stolen (and never recovered) in the Great Train Robbery.

Fast forward to 2016, and extend the journey from Scotland to Holland. Abellio is owned by the Dutch state-owned company Nederlandse Spoorwegen. In October 2014, Abellio won the franchise off the Scottish Government, to make profit by running Scotrail services.
Now, in their Annual Report for 2015, Nederlandse Spoorwegen has declared:
"Revenue from passenger transport increased by €821m (£644.8million) primarily due to the start of the Scotrail franchise on April 1, 2015."
Ronnie Biggs et al were vilified, hunted and jailed for the 1963 Great Train Robbery of £48m. Where is the hue and cry from governments, the prosecution of managing directors, or the jailings of the perpetrators of this year's Great Train Robbery, amounting to 13 times as much money being robbed as was in 1963 – on this occasion, robbed off the people of Scotland?
As RMT general secretary Mick Cash rightly said:
"While our members are on strike defending jobs and safety on Scotland's railways, Abellio/Scotrail refuse to talk and are instead holed up in their bunker counting out the cash they have lifted out of passenger and taxpayer's pockets. It is about time that the Scottish Parliament, and their Dutch counterparts, started taking this scandal seriously."
So we now have living documentary proof that the profits scooped out of the pockets of Scotrail workers and passengers are being repatriated to the Dutch state-owned parent company of Abellio.
But in enforcing this grand theft, there's no lack of generosity towards some of the top dogs in Abellio Scotrail. For starters, MD and Senior Director Dominic Booth received £525,790 for 2014, an annual pay increase of nearly 35% (£136,246).
Cost-Cutting Crusade
Not content with this monumental rip-off, Abellio's ruthless train robbers want to cut costs, regardless of the cost to safety. That's fundamentally what lies behind their drive to destroy the safety-critical role of guards.
Abellio Scotrail Managing Director Phil Verster spins the lie that they have no intention of introducing Driver Only trains. Under pressure from the impact of the powerful RMT strikes in defence of safety, he claimed they would ensure two staff on all trains. More of the truth behind this lie in a minute.
Expert in Lies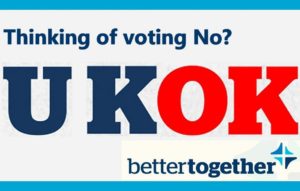 Behind the scenes, his lies have been cooked up, stirred and finessed for maximum public confusion by an expert in The Big Lie – Abellio Scotrail's Director of Communications, Rob Shorthouse. This is the man who pocketed a £105,000 salary for being head of communications – in effect, second-in-command – of the Tory-funded, Labour-fronted Better Together campaign during the 2014 Scottish Referendum campaign. The campaign which the same Shorthouse coined the nickname 'Project Fear' by him and his Better Together staffers. A devastatingly accurate self-description of the campaign which whipped up a frenzy of fear and panic which succeeded in keeping the people of Scotland under the jack-boot of Tory Westminster rule.
Leaked Documents Reveal the Truth
If that's not enough to make you realize the dirty lies behind Verster's and Shorthouse's claims, their accidentally leaked email to Scotrail staff last week is incontrovertible evidence that they plan Driver Only Operations (DOO) trains throughout Scotland – and aim to smash the unions in order to enforce their cost-cutting plans.
The documents exposed their secret strategy to smash the unions, spread DOO across the whole country, threaten the jobs of guards, and replace these highly-trained, safety-critical guards with lower-paid Ticket Examiners – who of course are there primarily to ensure ticket revenue, and lack the safety training of the guards/conductors.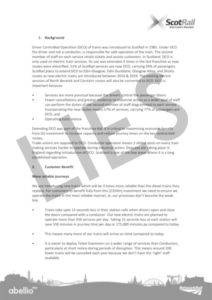 The leaked documents claim wholesale extension of DOO would mean fewer cancellations. This is because it's already common practice for DOO trains to run with literally only the driver on board, when Ticket Examiners don't turn up or haven't been rostered, as there's no legal duty to have a Ticket Examiner for the train to run.
Verster and his cabal boast in the documents that DOO would mean "Operating costs reduced". There's the nub of their crusade. The documents go on:
"Trade unions oppose DOO. Conductor operation means two skilled posts on every train making services harder to operate during industrial action"!
Union Busting
There you have it: the hidden truth behind the lies in their Press Releases.
Admission that having guards/conductors means "two skilled posts on every train" – which in turn means removal of the guards leaves just one.
Admission in private that part of the plan behind DOO is to bypass and break the unions, the ability of workers to take industrial action in defence of safety, jobs and wages in future. A point reiterated in the clause blurting out that their planned extension of DOO means "greater resilience to industrial action, as a wider pool of staff can perform the duties of the second member of staff diagrammed to each service" – by which they mean Ticket Examiners.
Don't Lose Sight of the RMT's Fight
In the aftermath of the EU Brexit vote, most people's minds are turned to the consequences and what the Scottish Government and Scottish people should do about it. The SSP will play its full part in addressing this critical issue, broadcasting our case for a well-prepared second Scottish Independence Referendum, to escape an even more rabid right-wing Tory government, advocating an independent socialist Scotland as part of a socialist Europe.
But we must beware the danger of this huge issue burying from sight the urgent, immediate task of building solidarity with the RMT strikers, putting relentless demands on MSPs and the Scottish Government itself to step in and stop the safety-busting, job-slashing, wage-cutting plans of the Abellio Great Train Robbers.
Near Disaster by Scabs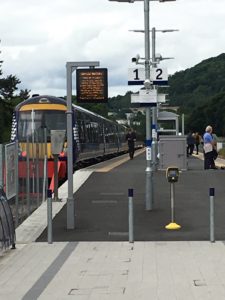 Abellio bosses are prepared to risk life and limb to break workers' resistance to their attacks on safety. They spent some of the wealth awarded to them through the 2014 franchise – awarded by the Scottish Government – to cajole and conscript an army of half-trained strikebreakers to run trains at public risk.
Incidents at Tweedbank, in the Borders, prove this point.
One of the managers given 6 weeks of 'training' to replace striking guards with 6 months of training on a vast range of safety skills, proceeded to instruct the driver to go through a red light. Luckily, the driver ignored the scab's signal, and didn't move the train, or otherwise a potential disaster could have occurred. Passengers had to wait an hour for the next train.
Another ill-trained scab delayed a train by 7 minutes – a delay that would have incurred massive consequences for one of the trained guards if they'd caused it – because he didn't realize he needed to keep his own door open and ended up stranded on the platform!
These incidents only serve to underline the obscene insult in Verster's (or Shorthouse's?) media one-liner that "this strike is about who presses a button".
The guards provide a vast range of highly skilled safety roles that protect passengers from a multitude of dangers – on the platform, train, track and in the event of accidents – plus passenger services and protection from anti-social behaviour or assault. It's a gross insult, calculated to belittle the guards' role and isolate them from the wider public, to brand this as a battle over "who presses a button".
Demand Guards on ALL Trains
But the even bigger issue that the Scottish Government has a duty to act on – and not pretend to adopt some aloof neutrality over – is Abellio's robbery of Scotrail workers and the Scottish people in pursuit of even higher profit margins for Nederlandse Spoorwegen.
Why didn't the SNP take Scotrail into public ownership in 2014, instead of handing the £60billion franchise to a state-owned company – however, not owned by the Scottish Government, but by the Dutch state?
For Public Ownership
Now, instead of making non-commital appeals to passengers to 'plan their journeys' on strike days, the SNP Scottish Transport Minister Humza Yousaf should come out all guns blazing against extension of Driver Only Operated trains. He should fine Abellio for disruption of services. He should publicly declare there will be no indemnification for loss of revenue – an option scandalously written into the franchise.
Two Guards per Train in Holland!
In fact, as we've argued in previous articles, halting the spreading cancer of DOO, defending the existing guards on our trains, should go a step further – and demand the return of safety-qualified guards on ALL Scotrail trains.
And this demand by the SSP is made all the more modest and reasonable by a new fact told to us by RMT pickets from as far afield as Glasgow and Tweedbank. In Holland, the same Abellio owners – Nederlandse Spoorwegen – don't just have a guard on every train, they have TWO guard-equivalents! So what's good enough for Dutch passengers should be good enough for those in Scotland. Likewise, if it's right for the Dutch government to have a state-owned railway system, surely it's right in Scotland?