by Colin Fox
The Scottish Parliament is 18 years old today. And what promise it had. Some of it squandered, and some made clear gains for working class people. The Scottish Socialist Party can speak from experience as Scotland's most electorally successful left wing organisation. We had MSPs representing working class Scots in the Parliament for eight years. In the elections of 2003 we received more than 130,000 votes and won six seats.
Our experience is richly rewarding for those studying socialist politics in Scotland, for we achieved many remarkable successes and struck a strong balance between the work we did inside and outside Parliament.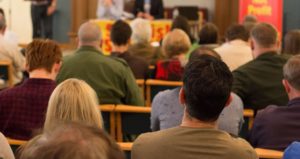 The SSP used the credibility our elected representatives enjoyed and used the platform Parliament afforded us to champion socialist ideas internationally.
Despite having just one MSP in the first Parliament, the SSP campaigned and won majority support for our Bill to abolish poindings and warrant sales in 2000. This archaic form of debt recovery, unique to Scotland, involved the public humiliation of the poor. Labour and the SNP had promised to scrap it for almost a century but it took the SSP one year to ensure the practice was finally outlawed.
Perhaps the most enduring legacy of our time at Holyrood is the role we played in ensuring prescription charges were abolished in Scotland.
I presented a Members Bill demanding this 'tax on the sick' be scrapped. The charges undermined the fundamental principle the NHS was built upon namely that a patient should receive treatment free at the point of need.
[x_pullquote type="right"]Pro rata, the SSP put forward more Bills than any other party.[/x_pullquote]I amassed evidence from hundreds of groups showing that thousands of Scots were going without medicines they needed because they could not afford the £6.50 charge. Whilst the Bill
was voted down by Labour, Tory and Lib Dem MSPs
in 2006, the SNP administration picked up our proposal in the next Parliament and abolished the charges in 2011.
Fellow SSP MSPs put forward Bills to introduce Free School Meals, to take our railways back into public ownership and put together a plan and legislation to abolish the hated Council Tax. Pro rata, the SSP put forward more Bills than any other party. The same was true of the number of motions and questions we tabled. And no other party could match our record for speaking in Parliamentary debates.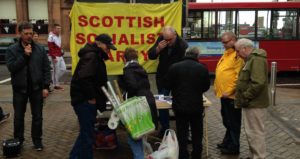 We didn't do it in isolation. We did it by campaigning and harnessing soft power to make it unpalatable, and politically costly to reject them.
We took our work at Holyrood seriously. Each one of us had seats on Parliamentary Committees. I sat on the Justice 2 Committee for example for four years and scrutinised the legislation put forward by the Scottish Executive – the yet to be retitled Scottish Government.
[x_pullquote type="left"]This prodigious workload did not stop us supporting strikes, visiting picket lines and speaking at protest rallies[/x_pullquote]I visited Scotland's dilapidated prisons estate and advocated socialist solutions across the entire criminal and civil justice system. On top of all this, the SSP took up a weekly opportunity to raise issues directly with Jack McConnell at First Ministers Questions on live TV each Thursday afternoon.
But this prodigious workload in Edinburgh did not stop us supporting strikes, visiting picket lines and speaking at protest rallies throughout Scotland.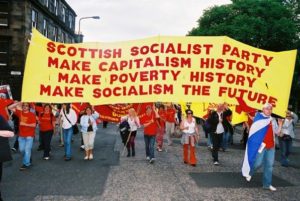 We never forgot our principal role was to stand alongside working class people involved in struggle. We responded to requests from striking firefighters, nursery nurses, civil servants, postal workers, railway workers and even opera singers. No call to arms went unsupported.
The peace movement knew it could always rely on us, and the women's movement too. And as we were workers MSPs on worker's wages, we each gave back half our salary to build the movement.
For our troubles, we were famously expelled from Parliament in June 2005. We ensured Scotland's right to protest against the warmongering neoliberal G8 leaders meeting at Gleneagles was safeguarded.
Our protest led to our exclusion from Parliament for a month and we were fined £30,000 in what remains the most severe punishment meted out to any elected Parliamentarian in the UK in modern times.
Our MSPs were never off TV and were quoted in all the newspapers on a wide variety of issue. This difference between having MSPs and not is most obvious then in the press coverage we received. The SSP seldom merit a mention today in political debates in Scotland because we have no elected MSPs.
The socialist movement has paid dearly for its absence from Holyrood since 2007. This is not the place to go into the enormous price we have paid for Tommy Sheridan's stupidity in suing the News of the World over stories he knew to be true, but it has clearly been profound.
[x_pullquote type="right"]Help us build from a party of dedicated activists to one which will play a role in parliament again.[/x_pullquote]With no socialist voices at Holyrood during the financial collapse of 2008 or during the entire independence referendum, there can be no doubting the fall in class consciousness the population of Scotland has suffered as a consequence. Since the referendum on independence – without fearless socialists pushing the boundaries, demonstrating devolution's limitations, Holyrood has become a place where the rot of wet managerialism has taken hold.
The socialist movement needs such voices and so too more importantly does the Scottish working class. Join us today, and use your skills, talents, connections and shoe leather – help us build from a party of dedicated activists to one which will play a role in parliament again.
This is a work adapted from the Scottish Socialist Voice.