Real Change for Care and Carers
Bring private care homes into public ownership, creating a publicly-owned National Care Service.
Deliver real change for care workers, with an end to poverty pay and insecure jobs.
Fund real change for care by ending profiteering.
Provide care based on need, not ability to pay – funded from taxing the superwealthy.
Return control of local care needs to local communities, without loss of funding.
Expand services to support unpaid carers and those in need of care.
Scotland's care needs are only going to keep growing. We're building a resilient, well-funded, needs-based, publicly-owned National Care Service to make sure we have a suitable system of care.
The Common Weal think-tank identifies COVID-19 deaths in Scottish care homes as "the single greatest failure in devolved government since the creation of the Scottish Parliament". With 70% of private care homes reporting cases of Coronavirus, and care home deaths overtaking deaths in NHS hospitals in June 2020, we have seen a Coronavirus care catastrophe in Scotland.
Care workers have endured the pandemic during a crisis of poverty pay and unsafe work. Understaffing, overwork, suppressed pay, job insecurity, a lack of training, and inadequate provision of PPE have put carers and those being cared for at risk. Enough is enough: we need real change.
To provide for carers, to protect service users, and to prevent another care catastrophe, we need a publicly-owned National Care Service, publicly-funded, and free at the point of need.
Public Ownership, not Private Profiteering
The public already pays the bill for private care. Scotland's big private care firms move money taken from the NHS, local councils and residents to secret tax havens – using Scotland's wealth to subsidise private profit, and creating poverty pay and austerity. Tax havens take the wealth you create out of your pocket. Instead, we'll return it to public control to fund a National Care Service.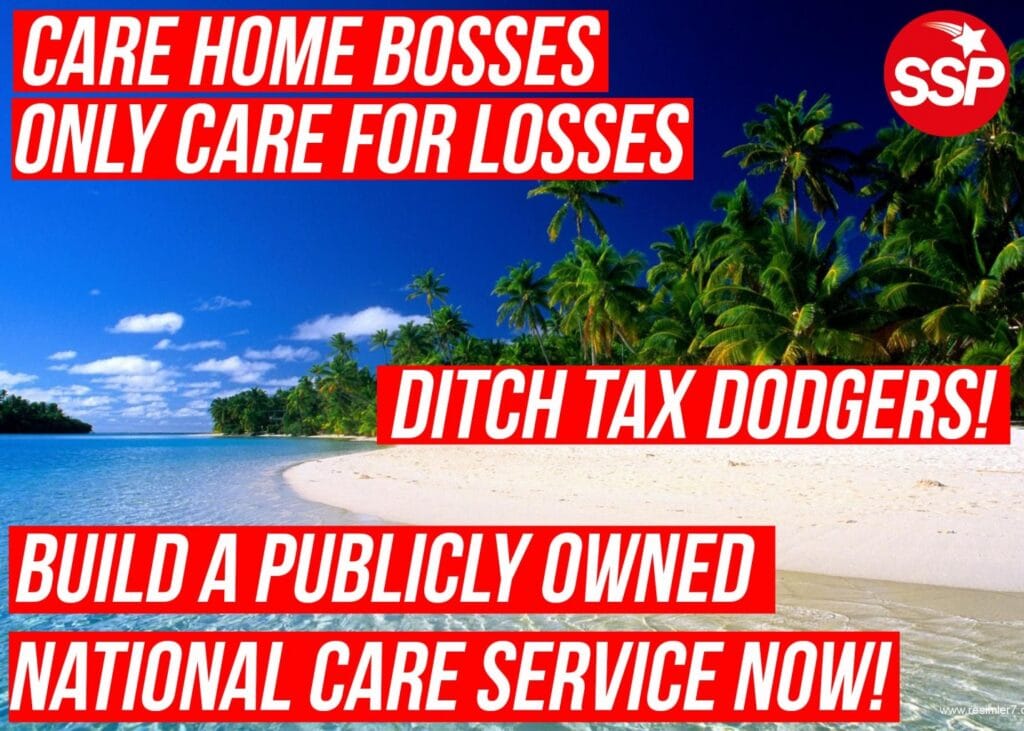 We also subsidise private profit through care fees, public grants, benefits spending, personal debt, and corporate tax loopholes. In 2019, the Centre for Health and the Public Interest revealed that at least £1.5bn "leaks" out of the care system through tax haven scams and into private hands every year. Large private care providers hide profit, and therefore pay less tax, by paying rent to subsidiary companies in the same corporate network, but which are based in tax havens. Scotland's wealth is being plundered.
In 2017, the Competition and Markets Authority found that the current care system is completely unsustainable. Care homes are underfunded and undermaintained, and self-funding service users are being made to pay more and more to support the system while billions are being sent to tax havens.
We can afford a National Care Service – but we cannot afford tax havens and private profiteering. Instead of letting private profiteers take the wealth and deliver an inadequate service, public ownership will deliver a democratically-controlled system that puts need before profit.
We will bring the care sector and care homes back into public ownership to build the National Care Service. A publicly-owned National Care Service is not a charity, but instead of putting the burden of funding it onto vulnerable individuals we'll spread the cost fairly through progressive taxation, and run this vital service democratically.
By scrapping the regressive Council Tax and replacing it with a progressive Scottish Service Tax, under local government control, will give local authorities and local communities the power to fund their local care needs – making sure the cost of a universal benefit is spread fairly and proportionately.
End Poverty Pay, Insecure Jobs and Unsafe Work
Care workers have faced the Coronavirus crisis while dealing with the crisis of poverty pay and unsafe work. 43% of Scotland's care workers receive less than £9.30 an hour – and the majority of low-paid care workers are women or migrants. This is exacerbated by unpaid travel time and unpaid sleep-ins, as well as insecure, zero-hour contracts and the bosses' phony "self-employed" arrangements. Care workers simply cannot afford to be off sick – which means they will get sick.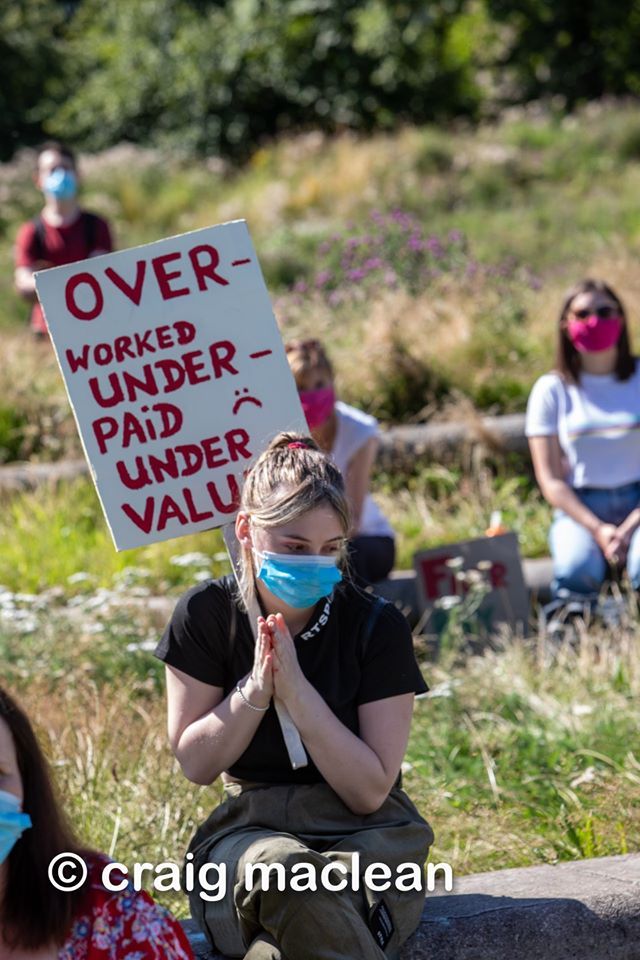 This causes worker burnout, a mental health crisis, a high staff turnover, chronic understaffing, and dangerous levels of overwork which puts workers and service users at risk. One-third of care home staff resign within a year over poor conditions – a loss of experience that undermines care quality. 52% of Scotland's care homes report daily job vacancies.
The National Care Home Contract between Cosla and Care Scotland sets a lower rate of pay for care home nurses than their NHS counterparts, and offers inferior workplace benefits. As a result of poor working conditions, 91% of care homes have difficulty filling nurse vacancies.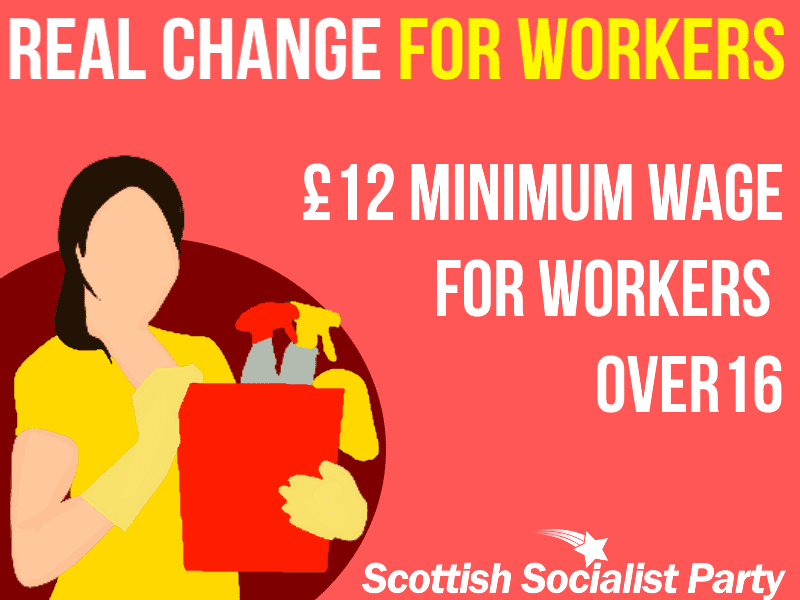 Despite this crisis in care, in May 2020, the SNP and the Tories voted together to shut down collective bargaining for private care workers – siding with each other, and with private profiteering, over workers yet again.
Care workers need real change – and we're winning real change for workers. We'll deliver a £12 per hour minimum wage for all care sector workers over the age of 16, including paid travel time and paid sleep-ins. To end understaffing, overwork, and poverty pay conditions, we'll guarantee full minimum and maximum hour contracts for all care workers who want one.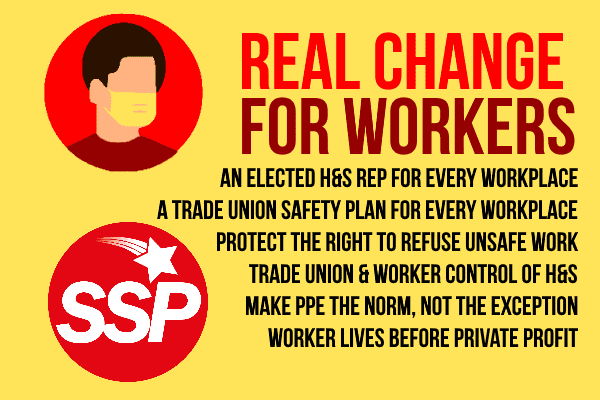 As well as giving the Care Inspectorate real powers to enforce real change, we'll make sure that devolved powers over health are used to make Trade Unions central to workplace safety. We're putting workers in charge of health and safety at work, with elected reps for every workplace and a Union-approved risk assessment and safety plan for every worker.
By bringing the publicly-owned production of PPE back to Scotland, we're making sure that every care worker has access to the equipment they need to be safe at work. PPE must become the norm in care work, not the exception.
To Each According to Need
No one should have to worry about money when looking for care – but that is what private profiteering does to vital public services.
The average weekly care home fees in Scotland are over £600 for residential care and more than £800 for nursing care. Many service users are required to sell their home, plunder their assets, or rely on family "top-ups" to fund care – and the system offers no flexibility to reflect people's changing needs. Fees don't accurately reflect the true cost of care but are artificially inflated to send profit to tax havens.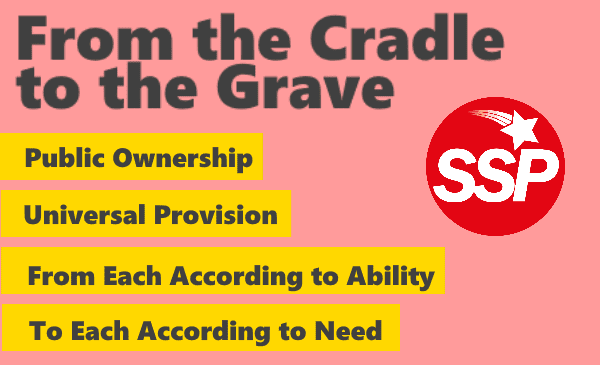 Private care creates a stratified system where care and care quality is distributed on the basis of wealth, not on need. Those with greater needs but less capital face living with unsuitable levels of care.
Care homes spend, on average, just £6 per day on food per resident.
We wouldn't accept this kind of system in our NHS, and we can't accept it in care. It's time for a needs-based National Care Service.
Marketisation in care moves responsibility for arranging care provision onto service users, who are among the most vulnerable members of our society. Moving into a care home is a stressful experience, and service users are not properly supported.
Vulnerable private care users are locked into complicated, expensive contracts with private profiteers for residency, personal care and nursing that they often can't afford – and means-testing in public support punishes people for saving. A National Care Service will ditch both means-testing and profiteering: instead, providing care on the basis of need, free at the point of need.
Restoring Local Control in Care
Scotland is one of the most centralised countries in Europe. Funding and powers over local care needs are being taken away from local authorities by Holyrood, and given to unelected, unaccountable bureaucrats instead.
More and more local services are constrained by targets set in Edinburgh – putting political spin before local needs. By keeping more local wealth and local power in local authorities, communities have the power to meet local needs – without loss of funding.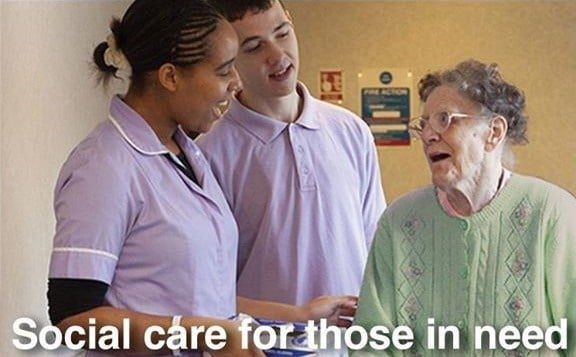 We'll return democracy to local services by putting the allocation of care priorities within the National Care Service into the hands of communities at the most local level possible – not QUANGOs.
We know that care workers are the experts in the service they provide. That's why we'll use the creation of a National Care Service to move more decision-making powers back into the hands of workers at the forefront of care provision.
Unpaid Care: No Longer Invisible
Not every carer is a care worker and not everybody receiving care lives in a care home. In fact, most carers are family members. Unpaid carers have been invisible to the government for too long.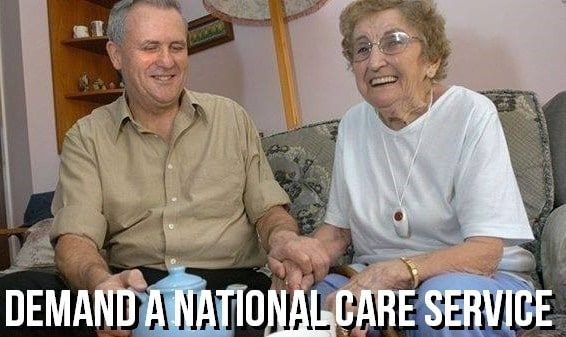 The Coronavirus crisis has led to a significant increase in the number of unpaid carers in Scotland – up to over 1 million in the summer of 2020. One in five of us will be carers for a loved one at some point in our lives, but austerity has destroyed support available to carers. Carers need real change.
We know that care is labour, with value – no different than a job, and often more demanding. That's why carers should be supported with at minimum the equivalent of the national minimum wage – which we'll increase to £12 an hour for all over 16. We'll help carers and those receiving care save money, and improve social and economic access, with universal Free public Transport in Scotland.
A publicly-owned, needs-based National Care Service with stronger local control means an expansion of care services. By funding local services, and funding care jobs with better conditions, the National Care Service will expand the home and community-based care support available to carers and those receiving care – always free at the point of need, without means-testing.
We Need You to Support Real Change
We don't have or want billionaire backers and big corporate donors: we only seek our support from Scottish Socialist Party members and the generosity of working-class communities. We need you to support real change.

Scottish Socialist Party members are card-carrying ambassadors for the working-class movement, and the most important resource we could ever have. Comradeship is the heart of the socialist movement.

Come rally; support real change today.