The Scottish Socialist Party is pleased to bring you our pamphlet "For A Modern Democratic Republic" as a free download.
We welcome all to download, share and discuss the arguments against continuing rule by an unelected monarch, and for establishing our own modern democratic republic.
To download and read PDF files, you will need appropriate software, such as Adobe Reader for Windows. Mac OS X, computer tablets and most flavours of Linux come with PDF viewers already.
We have also produced files suitable for modern e-reader devices. Kindle owners should download the MOBI version, and transfer it to their devices. Most other e-reader devices should download the ePub version.
---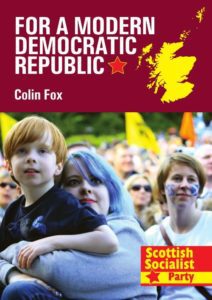 For A Modern Democratic Republic – by Colin Fox
"Our case for extending reason and democracy today belongs in that Scottish Enlightenment tradition. Feudal institutions based on hereditary privileges and divine rights passed down to monarchs from 'The Almighty' have no part to play in modern political structures and democratic constitutions let alone at their apex. The British monarchy is clearly not modern, it is patently not democratic and it is certainly not egalitarian. Yet such values are uppermost in working class people's ambitions today for the type of world we wish to see.
Those who argue in favour of keeping the monarchy on the grounds that she brings in millions of tourists might wish to reflect on the fact the Queen's home at Windsor Castle was only the 24th most popular tourist attraction in the UK last year. As the campaign group Republic points out, York Railway museum drew more crowds than any Royal attraction last year. So perhaps we should make Thomas the Tank Engine our Head of State?"
Published by the Scottish Socialist Party
ISBN: 978-0-9571986-9-2