The Scottish Socialist Party has sent a message of solidarity to the hundreds of thousands of workers set to take strike action on the week of the 2023 Spring Budget, Wednesday 15 March.
PCS civil service workers and UCU members from striking Universities will rally with supporters on Wednesday afternoon at large gatherings on The Mound, Edinburgh and on Glasgow's Buchanan Street.
The RMT union will also stage a 2023 Spring Budget Day demonstration outside the United Kingdom government hub in Sibbald Walk, Edinburgh on the morning of Wednesday 15 March.
The SSP will be fully supporting both actions.
SSP National Trade Union Organiser Richie Venton said:
"As the Tories plan how best to rob the working class to boost the wealth of the billionaires, millionaires, and big business – and how best to disguise their theft by some token gestures – workers are rightly striking back on Tory Budget Day.
"The Scottish Socialist Party has no hesitation in offering 100% support to the strikes and protest rallies called by workers in defence of their pay, jobs, pensions, and the public services they provide."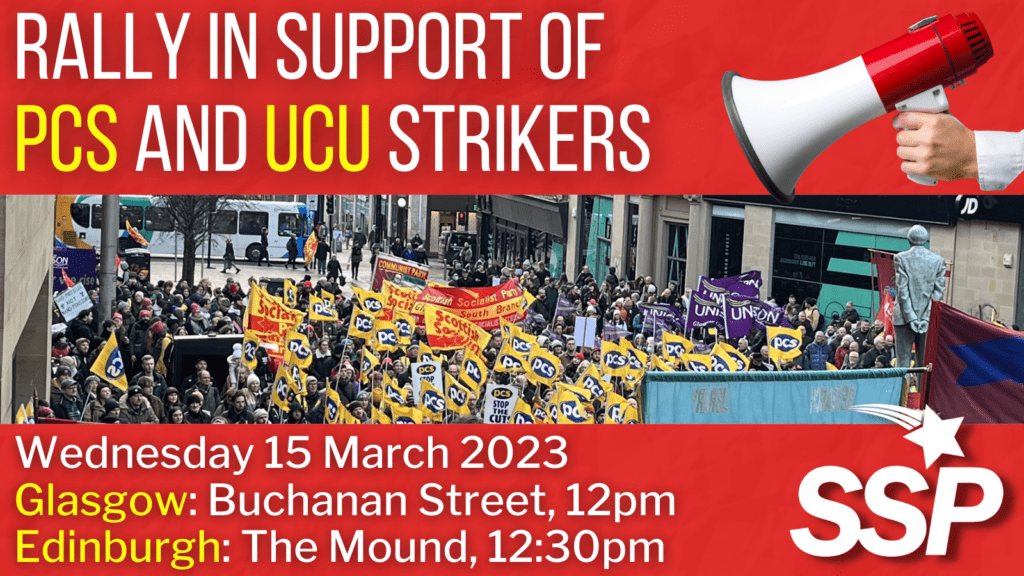 "We are building support for the demonstration outside the UK government hub in Edinburgh which the RMT – to their eternal credit – have called, and which the STUC should have called and systematically built. They are right to take the fight to the Tory government's Edinburgh doorstep.
"We will show our support to striking education workers at the universities, and the Scottish contingent of 130,000 civil service staff who have taken the fight straight to the Tories on Budget Day.
"We will stand shoulder to shoulder with strikers on picket lines and at the joint PCS/UCU strike rallies.
"And we will never cease to demand that the wealth created by workers in this fabulously rich economy is used to offer inflation-proofed pay, secure jobs, and liveable pensions to the very people who provide the services which makes for at least a half-civilised society.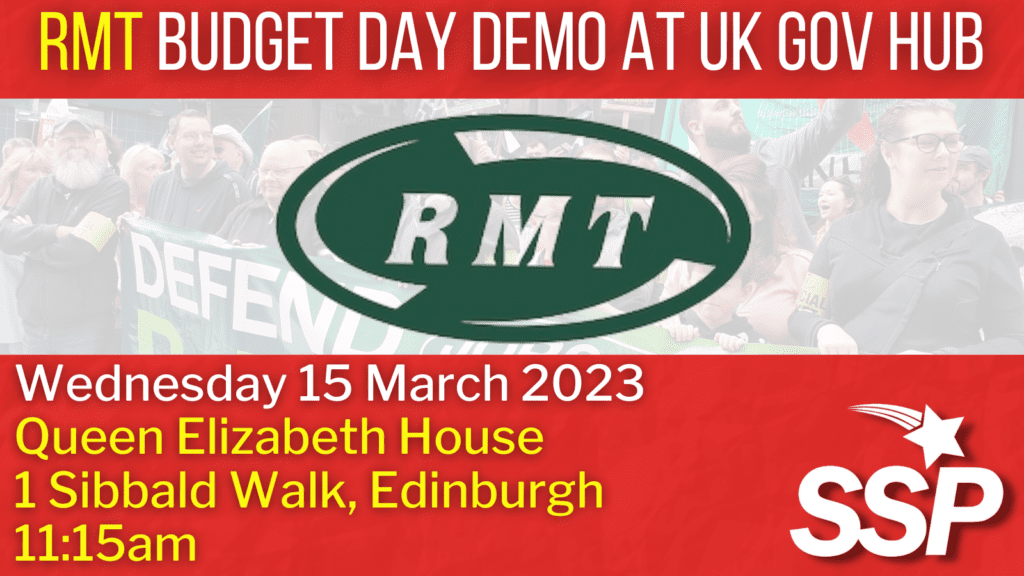 "There is no excuse for poverty or job insecurity in Scotland. The wealth is there, but it's in the wrong hands and needs to be seized back for the people, not the profiteers.
"The fact that well over half a million workers across the UK are striking together on Budget Day is precisely what the SSP has tirelessly campaigned for: coordinated collective action, including a 24-hour general strike, to defy and defeat the Tory razor gang at Westminster – and to force the Scottish Government into standing up for workers and working-class communities, instead of their capitulation to Tory assaults on the working class."