by Sandra Webster
SSP activists were out in Paisley High Street. We got the chance to meet many people including giant Cindy (pictured below) from Scottish CND.
Arthur West – the chair of Scottish CND was pleased to hear our manifesto pledge goes further than the other parties who call for an end to Trident Renewal. In line with Scottish CND who investigated the timescale, we call for Trident to be removed as soon as possible.
I have been lucky to be involved with the Scrap Trident coalition – a force for good and a thorn in our collective moral conscience. A force for good who always make me proud that the SSP stand with Scottish CND and Scrap Trident.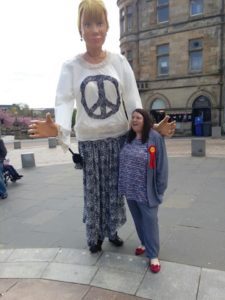 Arthur spoke of his hopes if there is a vote on Trident after May 7th. We will always campaign for the end of nuclear weapons and will stand with our friends in CND and the wider peace movement to ensure these abominations – inhuman instruments of mass civilian slaughter – no longer exist.
The Tories are promising £12bn in cuts. Imagine how much we could do with the funds saved from Trident's renewal. We need to invest in people, not weapons that could mean the end of humanity.
It was put into perspective when I met someone at the stall today who told me she has been told by the Job Centre Plus to sign on every single day. This is what is happening in Scotland today. There is a different way. For a kinder, fairer society part of which is a nuclear free Scotland.
Sandra Webster is the Scottish Socialist Party's national co-spokesperson and the party's candidate for Paisley and Renfrewshire South.