The Scottish Socialist Party has challenged the Rutherglen and Hamilton West Labour candidate to come out in defiance of his own party and join the SSP's campaign for a guaranteed national minimum wage of £15-an-hour, for all workers and apprentices from the age of 16 upwards, as a central plank to our anti-poverty plan.
The SSP has been on the streets of Rutherglen, Cambuslang and Blantyre gathering support for this policy, alongside immediate abolition of the vicious two-child benefits cap and bedroom tax.
Bill Bonnar, Scottish Socialist Party candidate in the Rutherglen and Hamilton West by-election, said:
"The stories of hardship we hear from workers of all ages are heartbreaking and outrageous, considering we live in the fifth-richest economy on earth. There's no excuse for poverty in Scotland, yet a million people are living below the breadline, and an absolute majority of those are in work.
"We've met people in full-time jobs who simply can't cope, suffering terrible stress as they juggle between paying for food, rent, children's clothing, and the cost of travelling to work.
"We've witnessed the human impact of poverty pay. We've met young workers in shops, cafes, bars, and fast-food outlets who get even less than the pathetic £10.42 legal minimum wage for those aged over 23. It's outrageous that young workers suffer systematic wage discrimination under the Tory government's minimum wage legislation. Those aged 18-20 are only guaranteed £7.49-an-hour, and those aged under 18 a shocking £5.28.
"The Scottish Socialist Party has for several years fought for a guaranteed minimum of £15-an-hour for every worker aged 16 upwards. Young people don't get youth discount rates on food or clothing when they go to the shops, nor lower youth rents. So why should they suffer this age wage discrimination?
"£15-an-hour, rising with inflation, would not make anybody a millionaire, but it would help them put food on their table, live a modestly decent life, and maybe even get a couple of weeks away on holiday.
"We know the Tories stand for poverty pay to maximise the profits of their friends in big business. What angers me more is that Sir Keir Starmer's Labour Party has also rejected the proposal of a £15 minimum wage when trade unions proposed that as one of Labour's promises for a future government, at last month's Labour Party National Policy Forum.
"I challenge the Rutherglen and Hamilton West Labour candidate to come out and publicly defy his own party policy on this, and support the Scottish Socialist Party's demand for an immediate £15-an-hour guaranteed minimum for every worker, regardless of age, to help end poverty."
SSP Campaign Manager in Rutherglen & Hamilton West, Richie Venton, said:
"I was myself a retail worker and union convener and was elected by members to represent low-paid workers in Scottish supermarkets, Greggs bakery, Hovis, and related factories and transport companies on the National Executive Council of my union, USDAW. Like the rest of the trade union movement, USDAW's national conference called for a £15 minimum wage.
"It's infuriating to see the likes of Sainsbury's chief executive get his pay hiked from £3.5m last year to £5m this year, meaning he earns at least 229 times as much as the average Sainsbury worker, who produces the company's profits.
"It's appalling that Labour has rejected the modest demand of the trade union movement for a guaranteed £15-an-hour minimum for all workers. That's why the SSP's 'Fight for 15' is so important, and why every trade unionist should welcome it."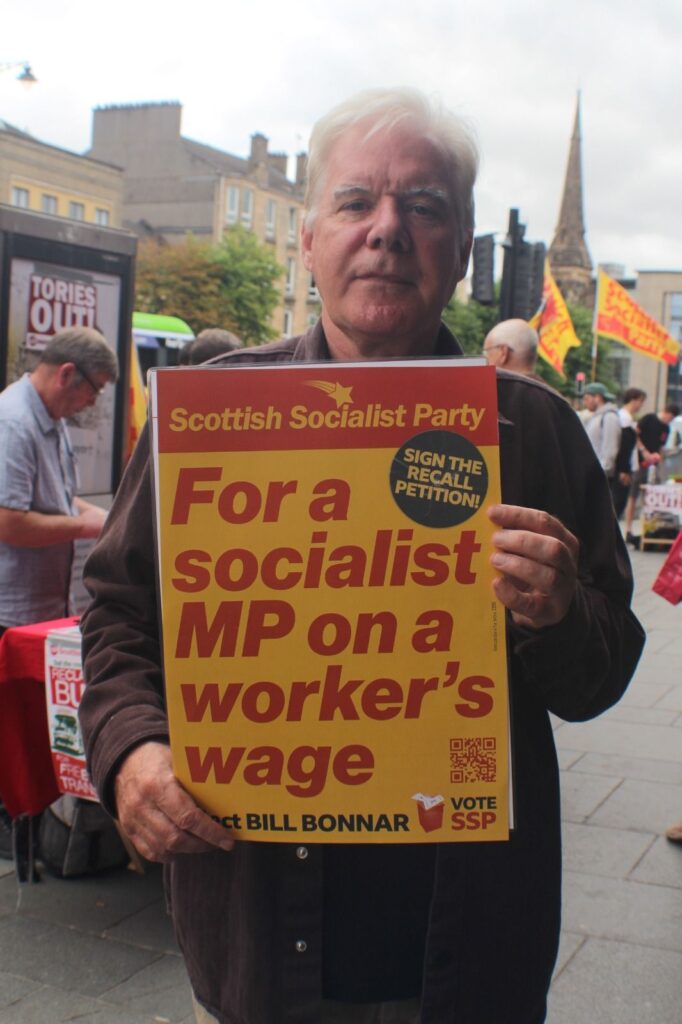 For more information, or to interview Bill Bonnar, contact SSP Campaign Manager Richie Venton on 07828278093 or richieventon@hotmail.com