Penury and Poverty
Over a million Scots live in penury – and over half of them are in work. We live in nearly full employment, but there has never been such a real-terms drop in wages in economic recorded history. Worse than the crises that followed Napoleon, worse than the financial crises that inspired Marx, worse than the Depression, worse than both world wars.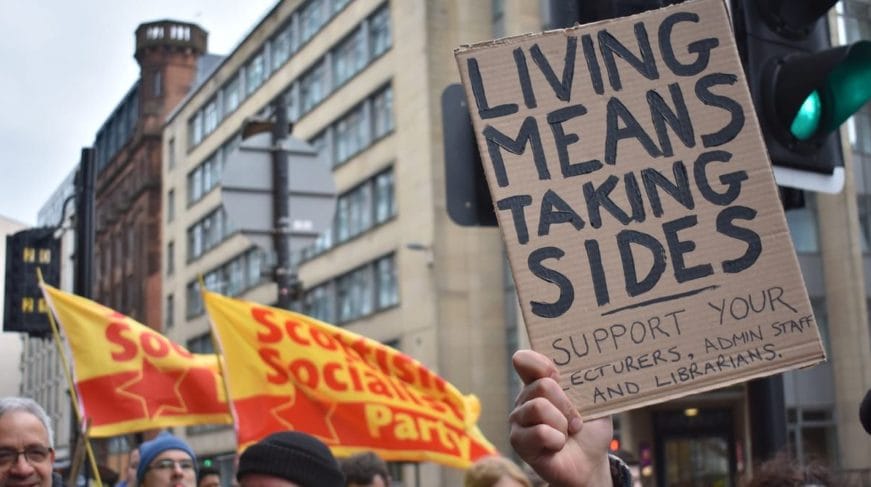 Life expectancy is actively falling in Britain. The wheels of social provision are being eaten away by vicious concentrated cuts in local and national government. Anti-poverty programmes are being slaughtered across the nation.
But there are sparks of resistance. The real home of democracy is not in Parliament – it is the street, the occupied building and the picket line. We live in an era of protest movements. And the Scottish Socialist Party fights in key areas of these struggles.
Striking Back
The SSP seek an independent socialist Scotland, where the working class people who create society's wealth are rewarded. We reject capitalism, a diseased system where workers must sell their labour for a tiny fraction of than the wealth they make. It is a way of life where anxiety is everywhere and war is never far from our leaders' lips. Barely habitable housing, cheap, over-processed food, pollution, isolation and physical and mental illness are all symptoms of the disease.
For instance, Amazon CEO Jeff Bezos becomes richer by $275m every single day while his workers are paid poverty wages. Some of them are forced to sleep in tents.
We fight in hope, for people everywhere. Because Scotland Needs Socialism!
Our focus is always at street-level, our aim being to build a mass movement to promote and develop the ideas of socialism, and to embolden an increasing number of working people to reject capitalism. To put the idea of real equality, real social justice, back on the agenda. And as socialists, as members of an international community that stretches from pole to pole.
You can help us in many ways. To equip the SSP with the tools, the reach and the shoe-leather needed to get socialist ideas popularised and seen in Scotland. Here's how!
£10 Now – stop and Sign our Petition
Poverty pay is a killer – not only of lives, but of political activism. People who most often need socialist politics find it hard to spare time when so much of it is spent on the grim treadmill of survival.
Charles Dickens may have written that "procrastination is the thief of time", but the time needed to:
Help a picket line
Attend a demonstration
Confront your representatives
Organise against an unjust landlord or boss
Fight back
vanishes when the population work long hours for terrible wages just to stay still.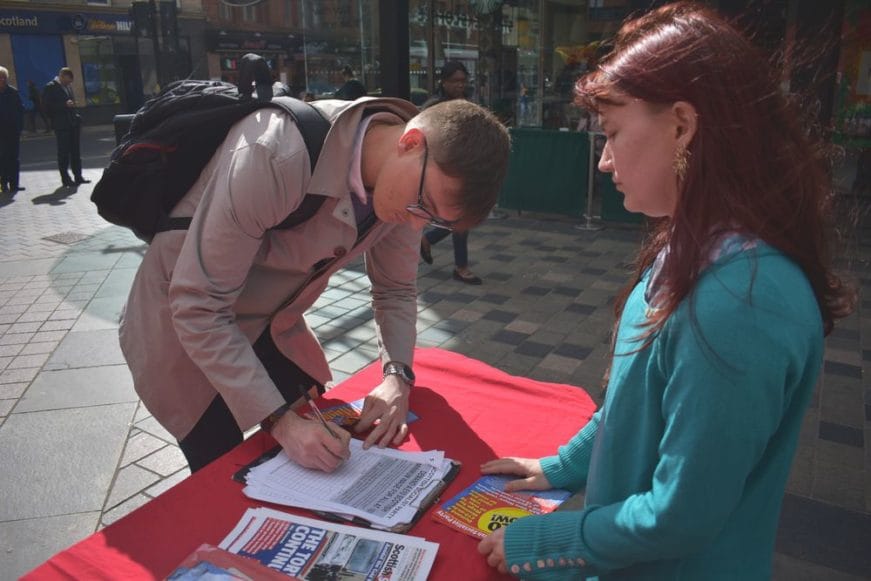 Therefore, the Scottish Socialist Party's key argument on the streets is for an immediate £10 an hour living wage – and for an end to zero-hour contracts. We believe that these are the single greatest material improvements to make in working people's lives. To arrest the fall in living standards, and buy some breathing room so we can mobilise for more. We organise regular street stalls, with key demands of decent pay and living conditions – across Edinburgh, Glasgow, Ayrshire, Inverness, wherever we can – and send the weekly results directly to Downing Street.
We've seen very small increases in the minimum wage. But without the hard work of socialist activists, trade unionists and campaigners and a growing public support there would likely have been no increase at all.
When you see us on the streets, stop and have a chat with the comrades, tell us your story, and sign our petition. We appreciate it.
Donate to the SSP
It's past time to build the pro-independence anti-austerity movement, fit for 21st century Scotland. This involves holding government to account where they make working class people pay for broken social policy, instead of the well-off. Both in Westminster, and the Scottish Government avoid taking on the rich, which means that Tory austerity continues unabated.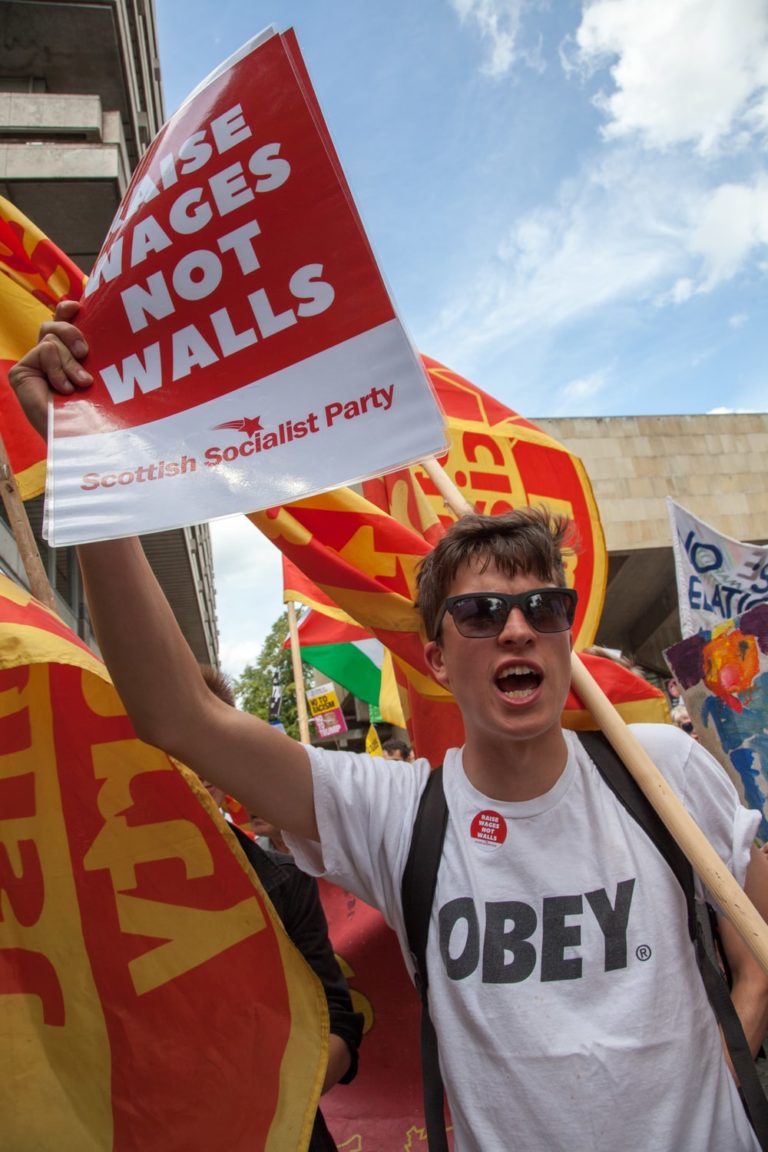 Our local branches have been working hard to raise money for the continuing efforts, but to develop this continuing work at local and national level we have to ask our supporters and friends across the movement to financially support us.
The Scottish Socialist Party is funded entirely by its members, donors and friends – like you, and sales of our party merchandise.
What we will do
Your donations will help pay for the essentials of modern political campaigns:
Street work in communities – giveaway materials like badges and other goodies to spread the message.
Making a visible intervention in demos, pickets and rallies means making banners, buying flags and ensuring activists have what they need to be at their best.
For public education – hosting meetings and forums across the country, we need to hire halls and pay for guests travel fares.
Equipping our volunteer activists with leaflets, stickers and posters outlining our arguments.
Data-led, back-end infrastructure. We should campaign where impact is strongest – and use what we learn from it in the future.
Advertising and targeted social media spend to get maximum impact where needed.
Like all political campaigns, everything has to be paid for. But unlike the London or Edinburgh based parties servicing the affairs of the wealthy, the SSP has no rich friends or big business backers to bankroll our campaigns.
Donate to the SSP – from your browser
We appreciate that there are difficult financial times for many of our friends and comrades, but whatever you can afford to donate to party funds is much appreciated. Every penny that we receive will go towards ensuring that independence and socialist ideas remain firmly on the political agenda in Scotland.
Subscribe to the Voice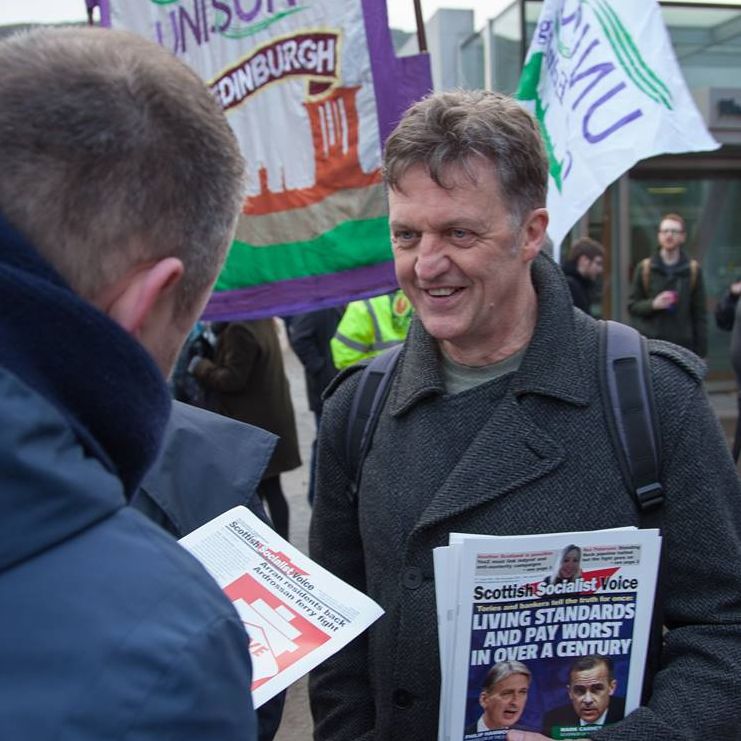 You see it on demonstrations, people coming at you with a dry Marxist foghorn newspaper while you try to avert your gaze. Well, the Scottish Socialist Voice isn't like that. It's a slick, glossy, colour, carefully produced mini-magazine.
The Voice is Scotland's longest running socialist paper. Fortnightly, essential coverage of social, political and economic affairs from an anti-capitalist perspective – and written by activists at the coal-face of extra parliamentary politics. Your average political newsdesk isn't equipped enough to comment on most of these stories.
Its role is to be readable, and to help educate, agitate and understand forces of history.
Although digital technology and online sources of news and information may be important, as far as electoral politics is concerned there is some way to go before they overtake traditional, offline sources.
In supporting the Voice, you're helping to get it where it's needed most. Nowhere near enough of the people we need to reach are regularly consuming online media – and accordingly get a good deal of what they want to read from print.
Have a free sample of the Voice. You can subscribe to the Scottish Socialist Voice today – delivered to your front door, or to your email inbox on day of publication.
Share our ideas online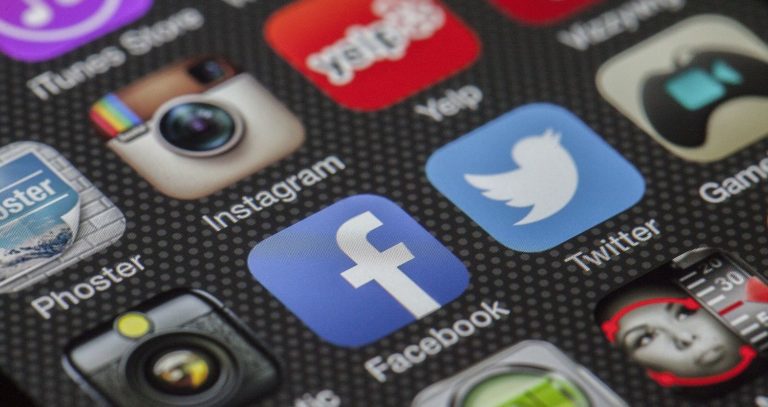 Social media is important to the Scottish Socialist Party. It reflects our choices, priorities and activism, and we believe it gives a voice to people who would not normally take part in political debate.
Each intervention tells a story. It should address and promote our perspective on current affairs and the work we do. It is one of the most cost-efficient marketing methods used to syndicate ideas and increase our party's visibility.
You can follow us on:
And please do share our social media posts. Sharing our work and materials online gives the SSP many benefits.
Increased awareness for socialist ideas
More inbound traffic
Improved search engine visibility
Better satisfaction from the comrades involved
Key insights as to how well our messages perform in wider society.
Buy some of our merchandise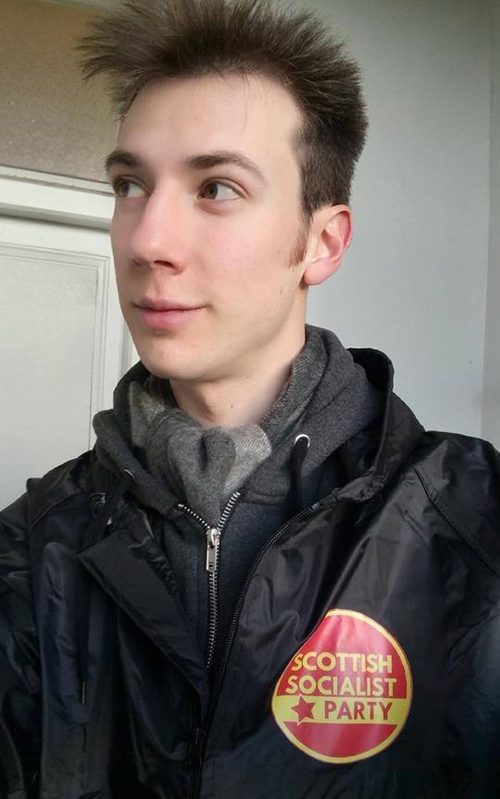 Yes – we get the irony of anti-capitalists getting stuck into exchange-value capitalism.
But money is political – and the means of messages rarely come cheap. While we have plenty of material for you to download, read, and share for free – sometimes just a badge, a raincoat, poster or t-shirt is enough to communicate to another that you support the SSP.
Or perhaps a bit of reading material, like Richie Venton's Break The Chains – a manifesto for key socialist policies. Or pamphlets outlining party thinking.
Pick up some goodies today – and keep on the lookout for more.
Or Join the SSP
A busy stall can have around 1500 people pass by in two hours. Of this, a modest fraction stop and sign the petition, offer a donation, take a Voice.
Of this, a smaller percentage interact further with the party, are inspired enough to make a deeper connection, to realise that anti-capitalist ideas have resonance, power and intellectual grit.
That a higher ideal for human and economic justice, is worth putting down large portions of our lives in pursuit – such activists give a good deal of their time to their fellow members to develop one another's talents, education and political skill.
If that's you, then consider joining the Scottish Socialist Party today – and devote some of your time, talent, energy and capabilities to bring an end to the ever-increasing incline of 21st century capitalism.