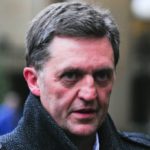 by Richie Venton
"I moved from a two bedroom house to a three, because as well as my 3-year-old I have three stepsons who live with us a few days a week.
"The council said I qualified for that size of house, but now months later I am being hammered by the Bedroom Tax, because my husband doesn't get any of the child benefits for his sons.
"On top of that my husband is ill. He had a heart attack at work, was declared fit after three months, went back to work and had another attack.
"We need an extra bedroom for me to sleep because he suffers COPD and it's impossible to sleep in the same room.