Capitalism is patriarchal; bring them both down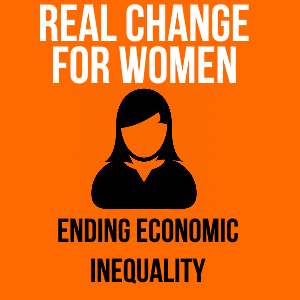 End poverty pay and insecure work, which creates a gender pay gap.
Lift the burden of unpaid, gendered labour in vital areas such as care.
Finally end abuse and violence against women in Scotland by making sure all women's needs are met.
In our pursuit of an equal Scotland without exploitation, we recognise the importance of rejecting classed power structures revolving around patriarchal, homophobic, or racist ideologies. We share your need to confront them actively and directly, which is why the Scottish Socialist Party was the first party in Scotland to require gender-balanced candidate lists in the early 2000s.
Women, who comprise slightly more than half the population, continue to be underpaid and undervalued, through low wages and a failure to recognise the importance of unpaid forms of labour – which fall disproportionately on women. Attacks on pay, conditions, public spending, services, housing, healthcare, and pensions are attacks on women in this country.
End Poverty Pay and Insecure Work
Women are heavily disadvantaged by poverty pay conditions in Scotland, being more likely to work in sectors where casual and insecure jobs, poor working conditions, and low pay are the norm. For example, 43% of Scotland's care workers receive less than £9.30 an hour – and the burden of those poverty pay conditions falls primarily on women.
In 2019, the Scottish Government found that "among women… some occupations [are] low paid solely because of the way skills and values are socially constructed which can mean that certain types of work generally undertaken by women is undervalued".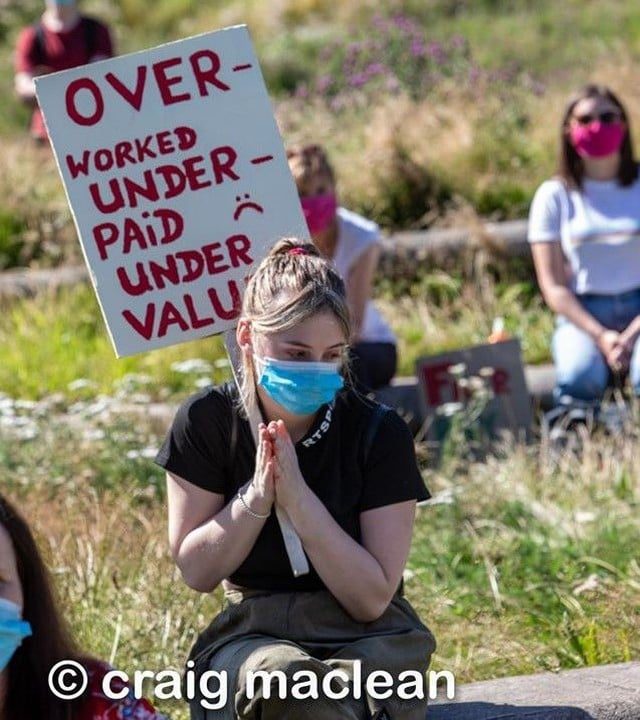 We are proud to have joined workers on the picket line fighting to end disgraceful gender pay gaps, and this is why the Scottish Socialist Party is leading the campaign for real change for workers. We're calling for a Minimum Wage in Scotland of at least £12 per hour for all workers over 16, and equal pay for women.
Insecure, precarious employment is a blight on women – and a primary cause of poverty pay and unsustainable hand-to-mouth living in Scotland. Because of these conditions, before the Coronavirus crisis, 38% of people in Scotland had savings below £2,500 – 21% had no savings at all. Things have only gotten worse since. That's why we're campaigning for a guaranteed minimum of 16 hours per week for every worker who wants them – and an end to the exploitative "gig economy".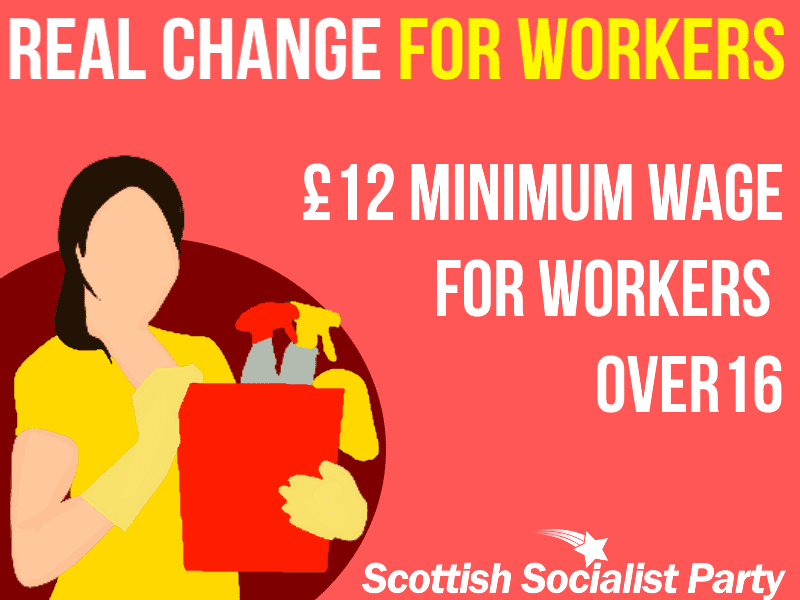 We're campaigning for a minimum 12 months' maternity leave, on full pay for public sector workers, with the right to return part time if requested – and powers for the Scottish Parliament to deliver the same for workers in all sectors.
Britain has a crisis of understaffing and overwork, and this is a particular problem for women who are typically also expected to carry out more unpaid labour beyond the workplace. Greater pressure at work has knock-on effects outside of the workplace. Our long-standing policy of a 35-hour maximum working week, without loss of earnings, will ensure women have more control over their own lives.
End the Burden of Unpaid Labour
The burden of raising children and caring for elderly relatives continues to fall disproportionately on women – and this vital labour is typically costly and unpaid in Scotland. That's why we're campaigning for stronger, publicly-owned and universal public services, and a new framework which understands this labour as a social, collective need, not an individual burden.
The Coronavirus crisis has led to a significant increase in the number of unpaid carers in Scotland – up to over 1 million in the summer of 2020. One in five of us will be carers for a loved one at some point in our lives, but austerity has destroyed support available to carers. Women are more likely to become unpaid carers in Scotland, and carers need real change.
That's why we're flying the flag for a publicly-owned National Care Service in Scotland. An expansion of non-means tested care and support services at the local and national level will alleviate the growing burden on unpaid carers. To this, we're adding the call that workers who must take up full-time care for dependents should be paid at least the average worker's wage.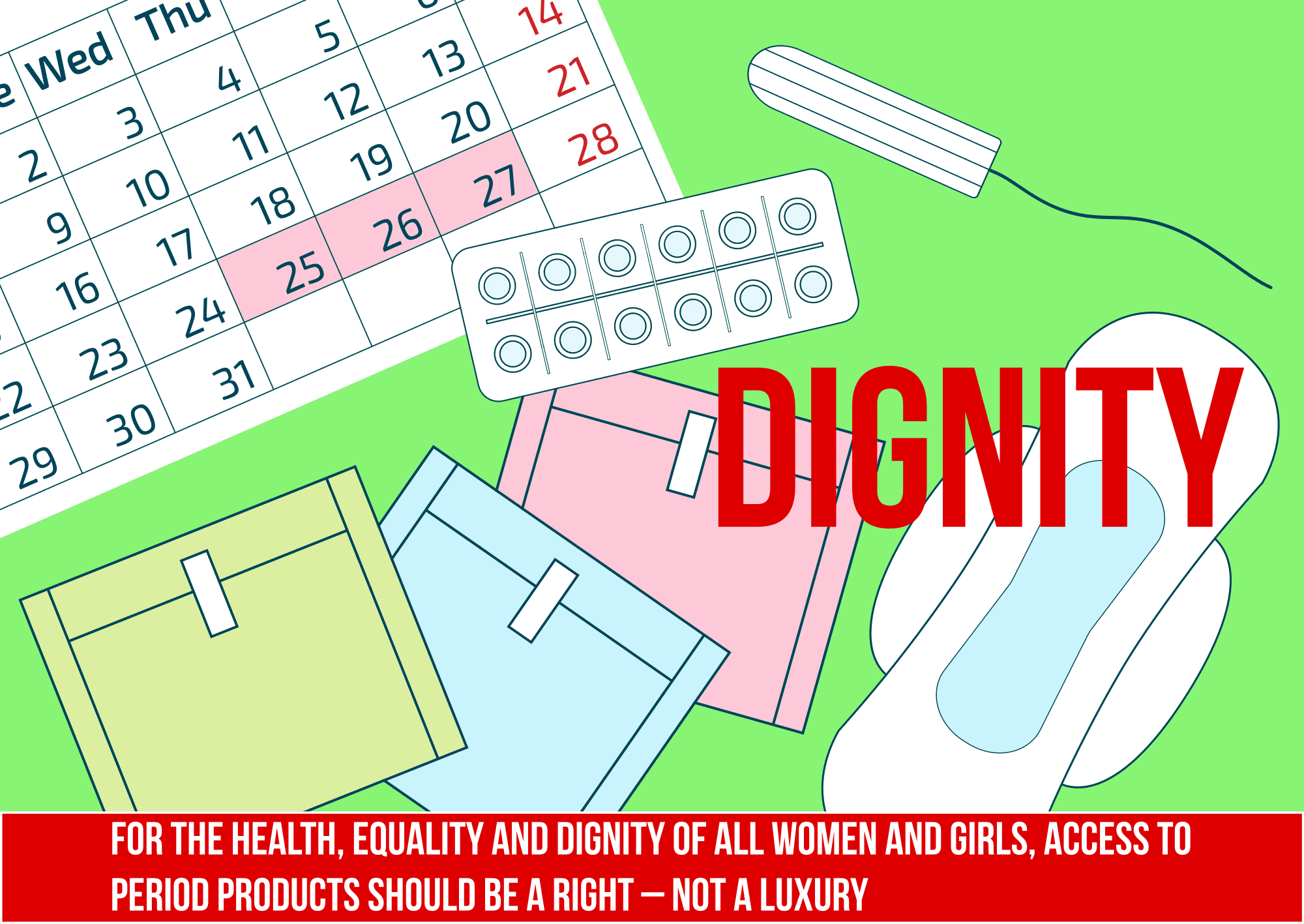 Austerity cuts directly harm the economic and social wellbeing of women and families – so we're calling for an end to and reversal of austerity in Scotland. We're supporting free, publicly funded nursery places for all pre-school children, and funding for universally-accessible after-school, weekend, and holiday clubs in every locality for school-age children.
We can lift the burden on women through real action to bring down the cost of living in Scotland. That's why we greatly welcome moves in the Scottish Parliament to deliver free, accessible sanitary products for every woman. That's why we also campaign for universal, publicly-owned free public transport in Scotland – a transport revolution that will end transport poverty and inequality in our communities.
End Abuse and Violence in Scotland
Coronavirus restrictions on movement have seen an alarming increase in the number of reported incidents of domestic abuse in Scotland. There is still a crisis of abuse and violence against women in Scotland.
The British Government's nightmarishly cruel system of social security and welfare is a gift to abusers who want to exert financial control. Inhumane policies on sweeping, arbitrary benefit sanctions, and leaving migrant women with No Recourse to Public Funds (NRPF), actively endangers women's lives.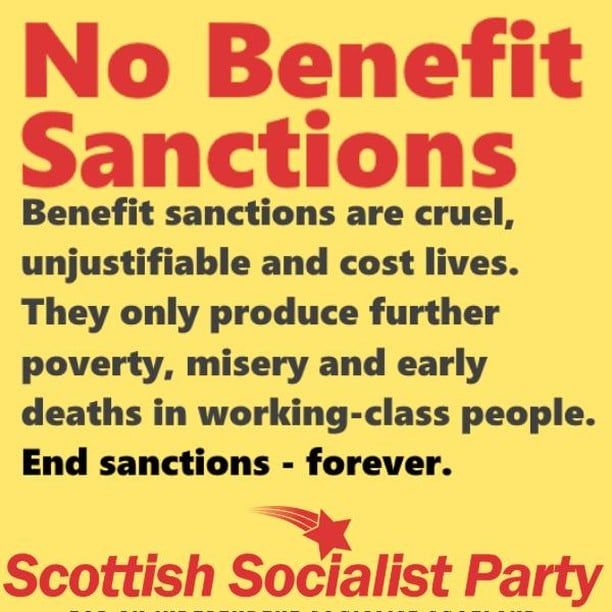 We need an end to cuts to, and full funding for, agencies and organisations which provide refuge, helplines, and drop-in centres for women who have experienced violence and abuse. Funding cuts to local and frontline services put lives in danger.
The Scottish Socialist Party knows that sex workers are safer when sex work has been decriminalised. We support the decriminalisation of sex workers, recognition that those who buy sex are abusers, and increased resources to protect sex workers and provide access to vital care and support services.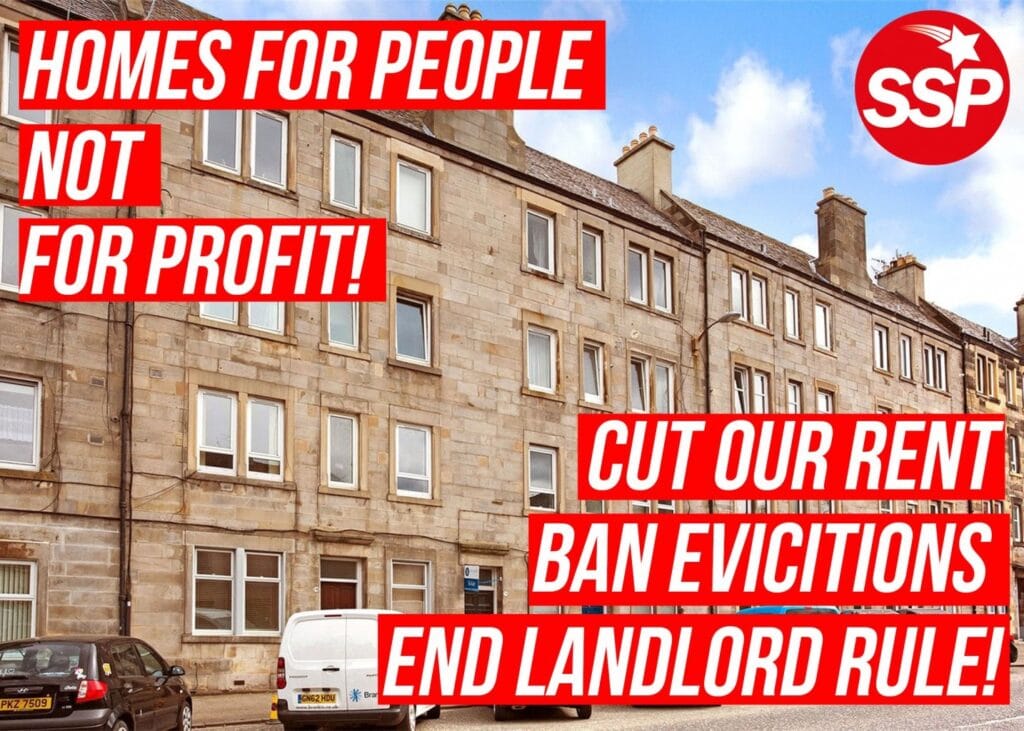 56% of homeless applicants for housing cite abuse, relationship breakdowns, or being ejected from their home as the reason for their application. With an alarming shortage of safe, suitable social accommodation in all regions, Scotland's housing crisis is another gift to abusers – and a critical emergency for women.
That's why we're campaigning to make sure a home is a human right in Scotland. By restoring the public housing stock around the country, and ensuring that access to a safe, suitable and secure home is a universal right, we're making sure no woman in Scotland has to face a course of action that could leave them homeless.
We Need You to Support Real Change
We don't have or want billionaire backers and big corporate donors: we only seek our support from Scottish Socialist Party members and the generosity of working-class communities. We need you to support real change.

Scottish Socialist Party members are card-carrying ambassadors for the working-class movement, and the most important resource we could ever have. Comradeship is the heart of the socialist movement.

Come rally; support real change today.