A Home is a Human Right
Restore the public housing stock and create jobs by building 100,000 new homes per year to meet demand.
Protect tenants with rent controls and a halt to evictions.
Maintain the supply of affordable housing by capping multiple home ownerships.
Guarantee a suitable, safe, and stable home for all – without fuel poverty, dampness, and overcrowding.
Scotland is in the middle of a housing crisis and, as the economy struggles, we're on the brink of an evictions catastrophe. We need real change for tenants in Scotland.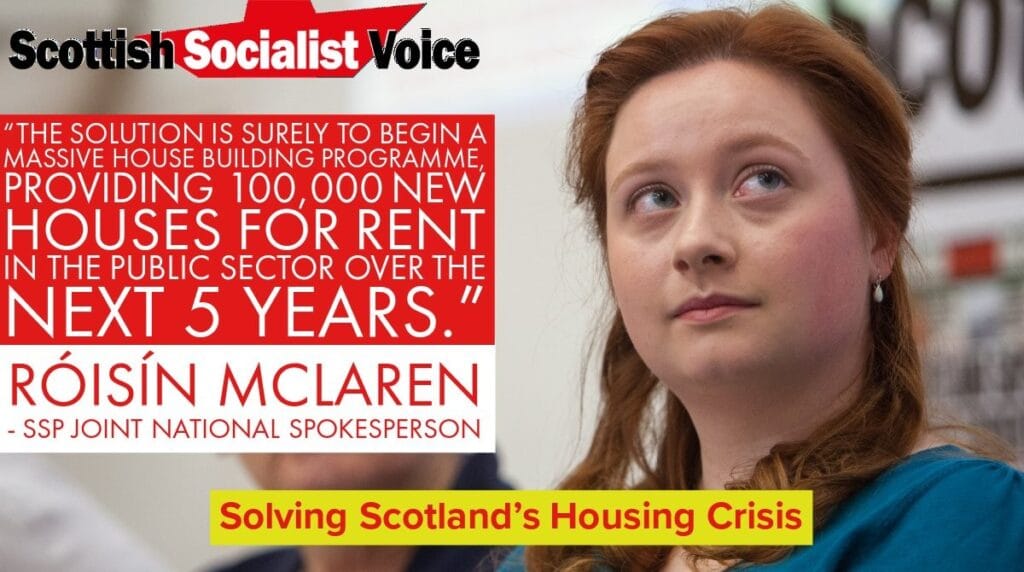 Rent in Scotland has grown, and grown, and grown; while the housing situation for working-class people has gotten more and more insecure. A household becomes homeless in Scotland every 18 minutes.
The Tory "right-to-buy" scheme and the dangerous dependency on the "housing market" have turned a public utility into a private, for-profit commodity – excluding millions from access to a suitable, safe, and stable home, and putting over £4bn worth of property into the control of firms based in tax havens.
We're making sure that a Home is a Human Right in Scotland again.
Restore Public Housing
Housing is a social need, and should not be a source of private profit.
In September 2019, 11,432 households were living in temporary accommodation – including 7,252 children. The average time spent in "temporary" accommodation is six months, and even longer for children. There is a crisis of available homes in Scotland because the public housing stock has been depleted through privatisation. At current rates, it'll take 20 years to clear the existing waiting list for housing. This is a housing crisis.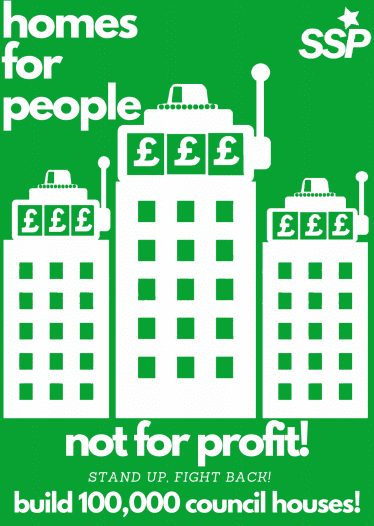 The proportion of people aged under 35 relying on private rent in Scotland climbed from 13% in 1999 to 36% in 2018. Millions of people are under the thumb of the banks in the form of crippling mortgages. This is a reflection of the drop in quantity and quality of public housing. Private tenants have fewer rights and are paying more and more rent every year. We need real change to restore public housing in Scotland.
With a publicly-owned National Construction Company, the SSP will build 100,000 suitable, affordable, and environmentally-sustainable for-rent public-sector homes per year until demand is fully met – including 20,000 per year in rural areas.
To support this, we'll make private construction build at least one new home for affordable rent, managed by local authorities or a community-based Housing Association, for every five homes built for sale.
We'll also bring long-term empty or dilapidated homes into public ownership, and restore them for social rent.
Scrapping the regressive Council Tax and replacing it with a progressive Scottish Service Tax will free up more, and fairer, funding for local government to build public housing – spreading the cost more proportionately in line with the ability to pay.
To further fund a restoration of the public housing stock, local authorities will gain the power to levy a Land Value Tax on property worth over £1m. We support a thorough, transparent register of Scottish land and property ownership to close down the tax haven loopholes that are making our crisis worse.
Public subsidies for private ownership will stop, and funds will be redirected towards restoring public housing, supporting tenant democracy, and controlling rent.
Control Rent, Halt Evictions
The Resolution Foundation has revealed that private tenants, already facing the most precarious housing situations, are 40% more likely to be employed in workplaces negatively impacted by Coronavirus than homeowners. But while the Scottish Government is busy offering tax breaks to private buyers, they're neglecting to protect private renters.
Private rent is rocketing across Scotland, but incomes are stagnant – or falling. In summer 2020, MSPs – landlords among them – abused Committee procedure to bury a bill to control rent increases at a fair level. The SNP have been breaking their promise to implement controls on rent. We've had enough broken promises, and we don't need landlord parties offering more of the same – we need real change and a system of rent control.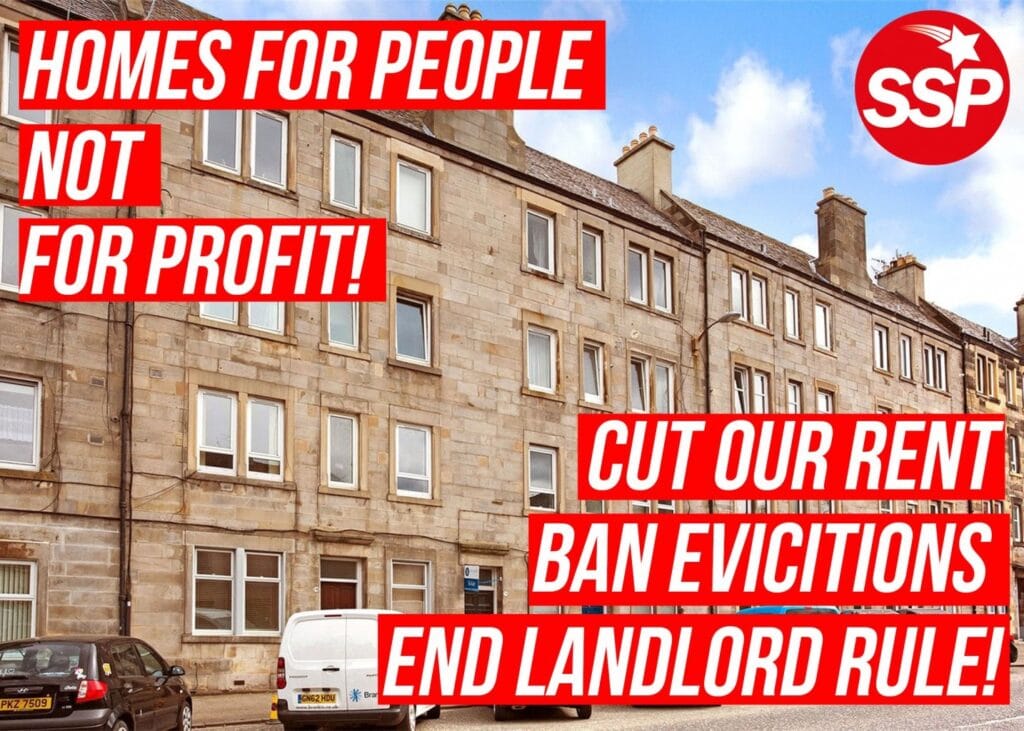 We'll make sure long-term tenants are paying less over their lifetime, not more, with a graduated rent discount set at the same level as the support that would have been available for tenants to buy their council homes under "Right to Buy". After 25 years, tenants would pay zero rent until their tenancy is terminated or transferred to another member of the family.
The Scottish Government ordered a six-month stay on evictions in 2020, during the Coronavirus lockdown. We'll extend those protections to ensure that nobody can again be evicted because of economic hardship in Scotland.
In order to avert an evictions catastrophe and lift both people and the economy out of unsustainable debt, local authority housing debt should be canceled with no strings attached.
People are pushed into homelessness because the private landlord decides to sell a property. We believe tenants should have the automatic right to remain in their home, and not have it sold out from under them – even if that means bringing those homes back into the public sector.
Vulnerable households and low-income households are at risk of eviction. We'll extend the Scottish Secure Tenancy protections to private tenants, and pass stronger legislation stopping social landlords from evicting non-abusive tenants.
Cap Secondary Home Ownership and Short Term Lets
In 1999, the mean house price in Scotland was around £71,000. Now, it has rocketed to around £200,000 – eight times the average annual income. As a result of out-of-control cost inflation and dwindling supply, the number of owner-occupiers in Scotland under 34 has plummeted from over half in 1999 to just one-third.
The Scottish Government has failed to get anywhere close to meeting targets addressing the rural housing crisis, with less than 5% of the 2021 target having been met. But the number of private acquisitions of existing lots for holiday homes and short-term lets has been allowed to run out of control.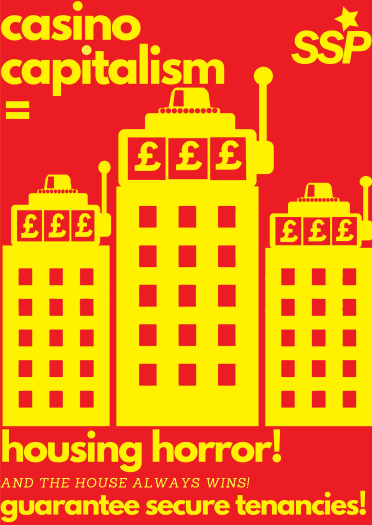 There is an Airbnb for every five dwellings in Skye, and the number of STLs tripled across Scotland from 10,500 in 2016 to 32,000 in 2019. In May 2019 16% of dwellings in central Edinburgh were Airbnb listings – putting real pressure on the 31,000 population.
Multiple and for-profit homeownership strips away residential housing options and raises prices – destroying communities. The need is clear: no more seconds until everybody is homed.
We're putting the democracy back into local housing needs. Local authorities will be given additional powers to prevent the purchase of holiday homes in regions where there is a housing crisis, as well as the power to levy additional taxes on secondary properties.
With the reforms of a Socialist Green New Deal, local communities will take back control of land – allowing for democratic control of residential home building to meet the needs of rural and urban Scotland. We'll support this by creating publicly-funded forums for local authority, housing association, and private tenants, and strengthening public support for tenant unions.
By curtailing and reversing the blight of Airbnb listings in Scotland, we're giving Scottish tourism and tourism workers a real boost by directing visitors back towards hotels, B&B's, and hostels.
Safe and Suitable Homes for All
The 2019 Housing Conditions and Standards Report revealed that 68% of Scottish homes suffer from disrepair and, shockingly, half of Scotland's dwellings have disrepair to critical elements – including roof coverings, windows, and exterior doors. This has led to a housing crisis of dampness and fuel poverty in Scotland.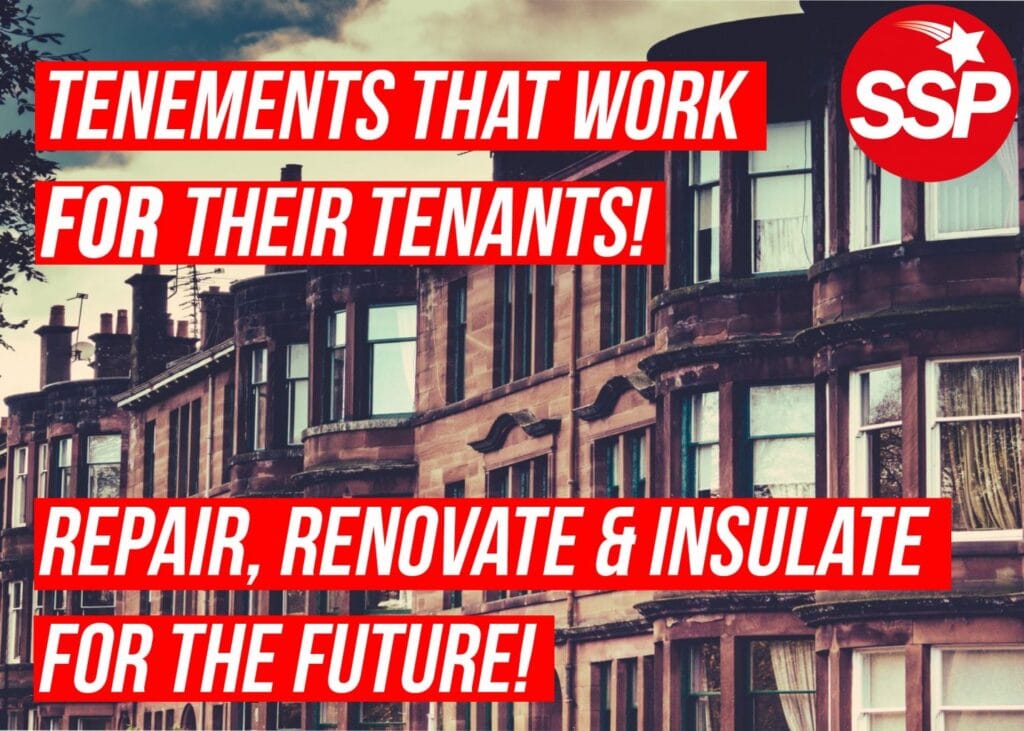 Health Scotland illustrated the realities of poor quality housing in Scotland. Housing quality, and appropriate housing, connects directly to public health and wellbeing. Shelter Scotland shows that more than 11% of households are affected by damp/condensation, 619,000 experience fuel poverty, and in the middle of a pandemic 53,000 households are overcrowded. 47% of social housing is located in the 20 most deprived parts of Scotland.
Scottish tenants need clear, high standards on cleanliness, central heating, double-glazing, insulation, environmental sustainability, energy efficiency, and safe lighting – and real enforcement against rogue landlords. We'll make sure that public funding is available to bring every home in Scotland up to standard – including assessing and, if necessary, replacing unsafe cladding.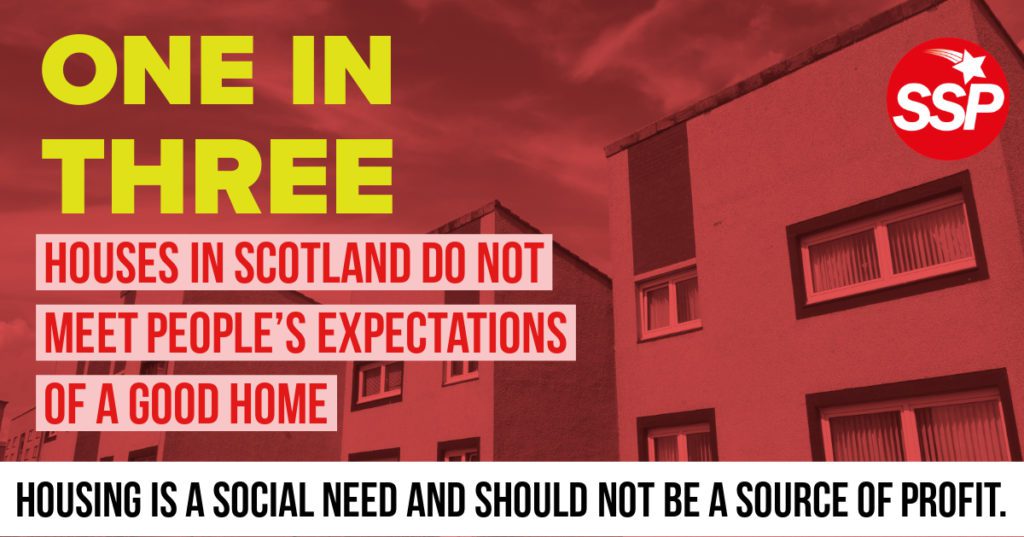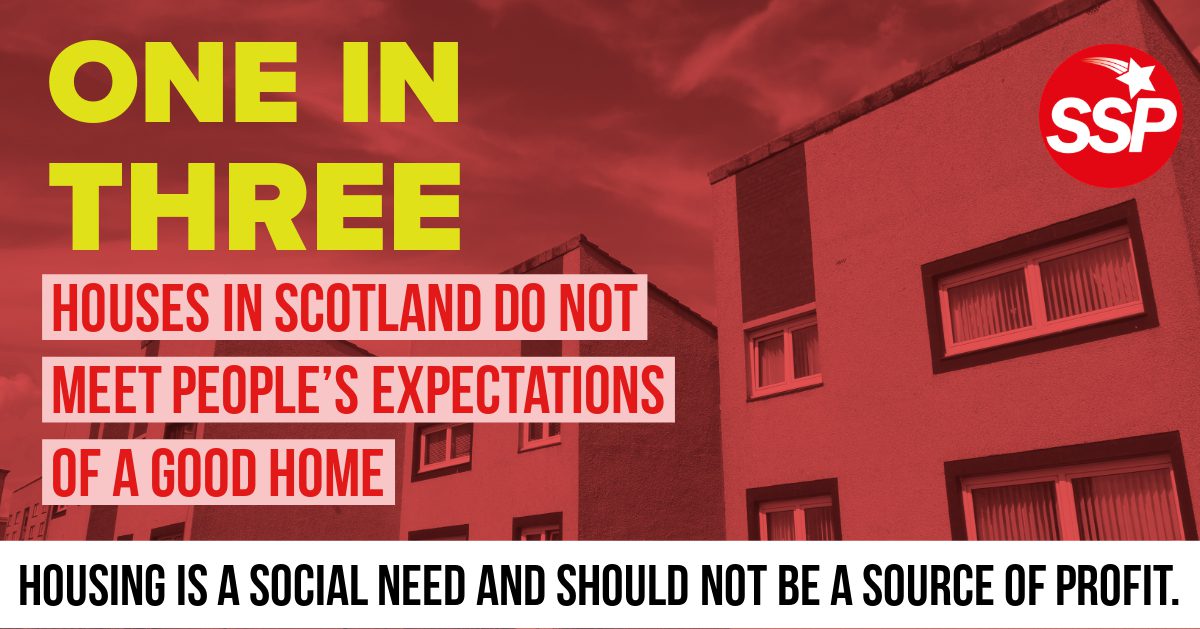 Striking criminal landlords off the register is ineffective while they can hide behind a network of shell firms. As well as supporting a thorough register of property owners in Scotland, private sector homes identified as being "below tolerable standard" will be brought into the public sector if the landlord fails to bring them up to standard.
56% of homeless applicants for housing cite abuse, relationship breakdowns, or being ejected from their home as the reason for their application. Women and families need real change in housing. Mental ill-health is a factor in 25% of applications, and fire and flooding are major causes also. This underlines the need for an adequate surplus of safe, suitable social accommodation in all regions.
Quality housing means quality connections to the community. With free public transport and a transport revolution, we're making sure that every home in Scotland connects to work opportunities, public services, and a healthy cultural and social life – raising the utility value of every home in the country.
We Need You to Support Real Change
We don't have or want billionaire backers and big corporate donors: we only seek our support from Scottish Socialist Party members and the generosity of working-class communities. We need you to support real change.

Scottish Socialist Party members are card-carrying ambassadors for the working-class movement, and the most important resource we could ever have. Comradeship is the heart of the socialist movement.

Come rally; support real change today.