Poverty and wealth
Instead of pandering to big business and the rich, the SSP believes that we should be standing up against corporate and personal greed.
In 1974, the Labour Party manifesto called for "a fundamental and irreversible shift in the balance of wealth and power to working people and their families".
Since then, there has certainly been a fundamental shift in the balance of wealth and power. But it has been in the opposite direction – away from working people and their families, in favour of big business and the rich.
We believe that it's time to swing the pendulum in the opposite direction: to tax the rich, redistribute wealth and income, curb the power of big business and move towards a society where our wealth and resources are harmonised for the benefit of the people rather than plundered by an elite.
Scottish Service Tax
| Income between | is taxed at |
| --- | --- |
| £0-£10,000 | 0% – tax free |
| £10,000-£30,000 | 4.5% |
| £30,000-£40,000 | 15% |
| £40,000-£50,000 | 18% |
| £50,000-£90,000 | 21% |
| £90,000+ | 23% |
In a devolved Scotland the SSP is committed to campaign for the following:
A new income-based Scottish Service Tax to replace the Council Tax.
The scrapping of domestic water charges, with household water financed via the Scottish Service Tax.
Special funding to enable Scotland's 32 local authorities to recruit and train a team of welfare rights workers with special responsibility for identifying and assisting people who are failing to receive benefits to which they are entitled.
An expansion of locally-based money advice centres and credit unions.
A change in debt legislation to remove the threat of eviction and house repossession.
In the absence of free public transport for all, we will fight for the extension of concessionary travel to carers.
The establishment of a cross-party working group, which would involve people affected by poverty and anti­poverty organisations, to address poverty and inequality in Scotland.
We will also campaign for the following measures, which are not within the Scottish Parliament's powers:
A basic state pension of £160 a week and the restoration of the link between pensions and earnings.
Restoration of benefits to 16 and 17 year olds.
The restoration of lone parent benefits slashed by Westminster
A progressive tax system which will increase the top rate of taxation and reduce the tax burden on those on low incomes.
An overhaul of disability benefits to remove means testing.
The increase of all benefits by £30 a week with subsequent annual increases in line with inflation.
The regulation of banks and building societies to outlaw the practice of charging customers to access their own money, and charging customers who exceed their agreed overdraft limit, with refunds backdated five years.
The protection of public sector pension schemes.
Carers Allowance to be replaced with the national minimum hourly wage rate.
Rigorous new laws to prevent big business avoiding legitimate taxation.
A new corporate tax regime which forces Scotland's most profitable companies to pay their fair share of taxation, at least to Nordic levels.
A two tier VAT system, with luxury goods taxed at 20 per cent and VAT on all other goods reduced from 20 per cent to its 1979 level of 8 per cent.
Public ownership of North Sea oil with the profits used for the benefit of the people rather the profiteers.
A socialist Scotland that will stand up to the forces of neo-liberalism and the free market.
Jobs and workers rights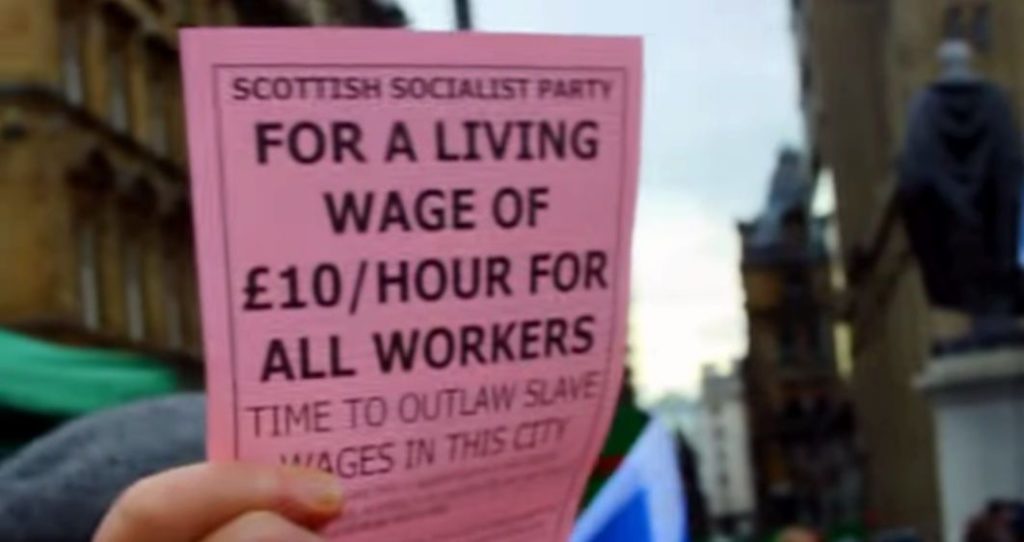 The SSP is the only political party in Scotland that stands unequivocally on the side of workers and their rights. Every time workers are forced to strike, picket or demonstrate in defence of their pay, jobs, pensions and workplace rights the Scottish Socialist Party stands with them.
The SSP has members in all of the major trade unions and with many leading trade union members playing an active role in forming SSP policies, we present a comprehensive programme for trade unionists in Scotland.
In a devolved Scotland the SSP is committed to implementing the following:
A national minimum wage of £10 an hour for all public sector workers – two thirds of median male earnings.
A 35 hour week for all public sector workers without any loss of earnings.
The funding of 5000 new apprenticeships in construction-related trades.
Confiscation of the assets, including factories, offices and equipment, of multinational companies which shift production from Scotland to low wage economies elsewhere.
Full support for trade unionists forced to take strike action in defence of their living standards and working conditions.
All public sector trainees to be paid trade union negotiated rates of pay.
The regeneration of local economies by returning the Uniform Business Rate to the control of local authorities.
A skills diversification programme involving the Scottish Trades Union Congress, in preparation for the future decommissioning of Scotland's nuclear power plants and nuclear weapons bases.
The right to jury trials on demand for cases involving compensation claims against employers, for example by victims of asbestos-related disease.
A 'corporate killing bill' and other legislation that will serve to hold company executives to account for the actions of their companies.
Workers' control of health and safety at work through elected health and safety stewards.
Opposition to deregulation of Health and Safety legislation and cutbacks to H&S enforcement agencies.
Support for an NHS-based Occupational Health Service.
Promotion of International Workers' Memorial Day.
Support for government funding of a Scottish Hazards Centre to assist, advise, train and represent workers in pursuit of improved health and safety in the workplace (including non-unionised ones).
We will also campaign for the following measures, which are not within the Scottish Parliament's powers:
A £10 national minimum wage – based on two-thirds median male earnings – for all over 16.
A 35 hour maximum working week without any loss of earnings as the first step towards a four-day working week.
12 months' statutory paid maternity leave without loss of rights; and one month's statutory paternity paid leave.
Partners being given the option of transferring some of their paid maternity/paternity leave to each other.
6 weeks paid annual leave for all workers, plus public holidays (including defence of the May Day public holiday).
Free trade unions and the scrapping of all laws designed to restrict the rights of trade unionists.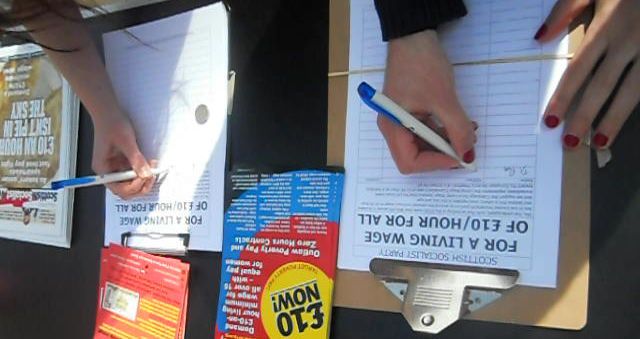 Privatisation and social ownership
The public sector belongs to the people, to serve the people, through libraries, clinics, schools, community halls and other facilities.
Instead of slashing the public sector, the SSP is in favour of expanding it, by employing more nurses, more teachers, more workers providing local services for local communities.
In direct contrast to the SNP, we want to increase the proportion of the workforce who are involved in helping others, and decrease the proportion of workers whose function is to make money for wealthy shareholders.
The SSP would bring the railways, the buses, the hospital catering companies and other privatised industries back into the public sector.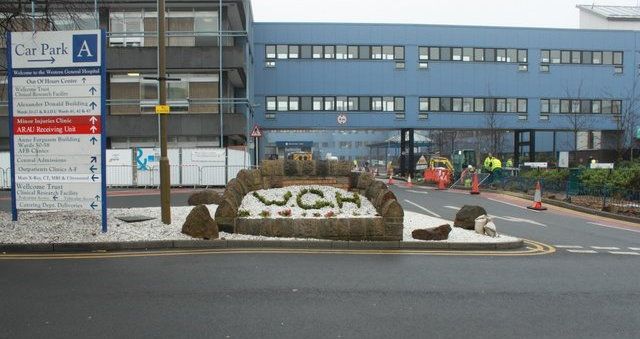 And in a post-independence Scotland we would fight to bring North Sea oil and other energy-generating industries into the public sector, in order that the profits can be ploughed into protection of the environment, developing renewable energy and creating a world-class fare-free public transport system.
In a devolved Scotland the SSP is committed to implementing the following:
Public ownership and democratic management of all public utilities, and the replacement of all PFI/PFI and Scottish Futures Trust/NPD projects in favour of public funding paid for by progressive taxation (including the Scottish Service Tax which would generate an extra £2.1 billion a year for public services in Scotland).
An end to private catering and cleaning contracts in the NHS and education.
Defiance of European Union laws over tendering where these laws threaten the livelihoods of Scottish workers.
Mandatory ethical and workers rights provisions to be included in all public sector procurement agreements.
The establishment of a Scottish national rail corporation to take over the Scotrail franchise when it expires in November 2014.
The creation of ten regional, publicly-owned bus companies, accountable to local councils.
The reversal of the part-privatisation of water and sewerage; and for Scotland's water supply to be municipalised and run by groups of local authorities, along the lines of the police and fire boards.
We will also campaign for the following measures, which are not within the Scottish Parliament's powers:
The establishment of a democratically run Scottish National Oil Corporation to take over the North Sea oilfields, with the profits used for public investment, including in renewable energy.
The extension of public ownership into profitable sectors of the economy, including the banks and financial institutions.
New forms of public ownership which reject top down nationalisation in favour of democratic management involving workers, communities, consumers and representatives of local and national government.
Safer communities
The SSP seriously addresses the issue of crime, the brunt of which is visited disproportionately on working-class communities, by making communities safer and creating a system that delivers justice for all.  Our proposal to provide heroin on prescription, as part of an integrated health strategy, was in the past derided as an irresponsible and provocative slogan.
It is now increasingly recognised, even by sections of the police hierarchy, as a serious, tried and tested solution, which would bring the problem of addiction out into the open and at the same time reduce crime.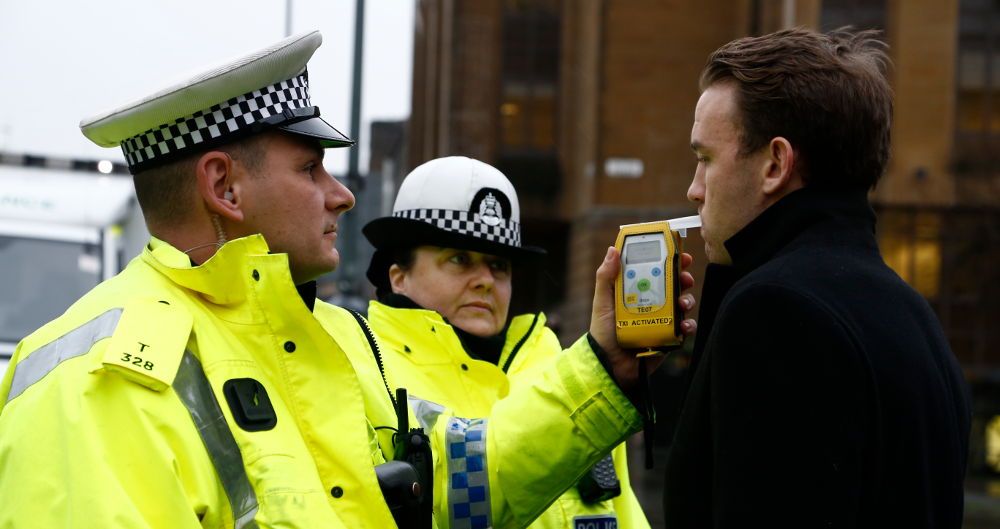 Most burglaries and muggings in Scotland are committed by heroin addicts trying to access money to buy illegal drugs. Removing the need to steal cash to score drugs would remove the impetus towards crime.
The SSP will campaign for:
Replacement of the toothless Joint Police Boards with new community, regional and national police boards, which would hold the police to account and would include elected councillors, MSPs and directly elected community representatives.
A new drugs policy which will allow free heroin on prescription to registered addicts, under controlled conditions, to reduce petty crime and to undermine the lucrative criminal empires which have been built on the illegal supply of heroin.
The expansion of drug and alcohol rehabilitation and detox facilities.
A zero tolerance approach to violence and abuse towards children, women and vulnerable people.
A Scottish-wide strategy to reduce domestic abuse, including special domestic abuse courts, domestic abuse awareness training and roll out of the Caledonian System (domestic abuse perpetrator programme) through Scotland rehabilitation programmes.
All convicted sex offenders to be legally required to undergo a sex offender programme either within the community or within custody, depending upon the level of risk they pose.
Increased police resources specifically dedicated to monitoring and supervision of sex offenders.
The establishment of special secure units providing intensive rehabilitation for sex offenders who are judged to pose a continuing risk to the public.
An end to the practice which allows those accused of sex offences the right to cross-examine their alleged victims in court, and for these principles to be extended into civil litigation proceedings.
A reduction in Scotland's prison population – already the highest in Western Europe pro-rata to the population– by expanding alternatives to custody for offenders who are not a danger to the public.
An end to the waste of the police and legal resources devoted to arresting and prosecuting people for the possession of cannabis for personal use.
Community youth forums across Scotland to identify what amenities are needed in each local area.
Local youth facilities in every community, run by young people.
Education, prevention and treatment to tackle bullying.
A system of accountability over the Crown Office Procurator Fiscal Services, judges and sheriffs, with the involvement of organisations such as the Law Society of Scotland and Victim Support Scotland.
The right of prisoners to vote in elections, in line with recent legal rulings.
Extend ability to claim legal aid regardless of income for any case where a victim is seeking protection from unsafe contact abuse, violence, stalking, and harassment.
Introduce domestic abuse risk assessments by qualified and accredited professionals for any disputes in regards to domestic abuse and children.
Introduce multi agency violence against women task squads throughout Scotland to target perpetrators.
Roll out of multi agency risk assessment conferences throughout Scotland with fully funded advocacy services for adult victims and their dependents.
Legislative change that criminalises the buyers of sex from women and men in the "sex industry".
The extension of legal aid to cover workplace and consumer disputes.
A new fast track appeals system to deal with suspected miscarriages of justice.
The reversal of all privatisation and PFI in the prison service.
The expansion of prison rehabilitation programmes, including education, training, psychiatric and psychological support, drug and alcohol detox, rehab and abstinence programmes.
Resistance to all Westminster interference in devolved matters.
For the Scottish Parliament to have the right to set its own laws on asylum, drugs, anti-terrorism and media regulation.