Our socialist Scotland is founded on the principle of equality. In our pursuit of equality for all, we recognise the importance of rejecting discrimination other than from class. We reject the patriarchy, we reject discrimination of age, homophobia and race. We see the need to confront these actively in wider society, including vigilance inside our own party where they manifest or as individuals.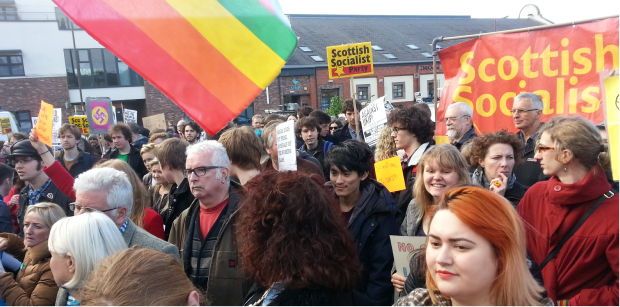 Women's rights
Women, who comprise slightly more than half the population, continue to be underpaid and undervalued, through low wages and a failure to recognise the importance of child-rearing and caring for elderly relatives, the burden of which falls disproportionately on women.
The debacle that followed the Single Status Agreement highlights the fact that discrimination against women also blights the lives of men. Female council workers should have had their pay increased and been compensated for years of underpayment. Instead, male workers' wages were dragged down to the level of their underpaid female colleagues.
In a devolved Scotland the SSP is committed to campaign for the following:
Free, publicly funded nursery places for all pre-school children.
A minimum 12 months' maternity leave, on full pay for public sector workers, with the right to return part time if requested.
After-school, weekend and holiday clubs in every locality for school age children.
Equal access for all women to abortion services regardless of where they live in Scotland.
An end to cuts to, and full funding for Women's Aid and other agencies which provide refuges, helplines and drop in centres for women who have experienced violence, abuse, rape and child sexual abuse.
Free environmentally-friendly sanitary protection for all women.
The expansion of initiatives such as 'Routes Out of Prostitution'.
The decriminalisation of women involved in prostitution, recognition of men who buy sex as abusers, and increased police resources to enforce a clamp down on kerb-crawlers in red light districts.
The closure of saunas and massage parlours which operate as legalised brothels.
We will also campaign for the following measures, which are not within the Scottish Parliament's powers:
A minimum 12 months maternity leave on full pay, for all workers, with the right to return part time if preferred.
The average worker's wage for any parent, male or female, who chooses to care full-time for their children or any other dependants.
Equal representation for women at all levels of government.
Youth rights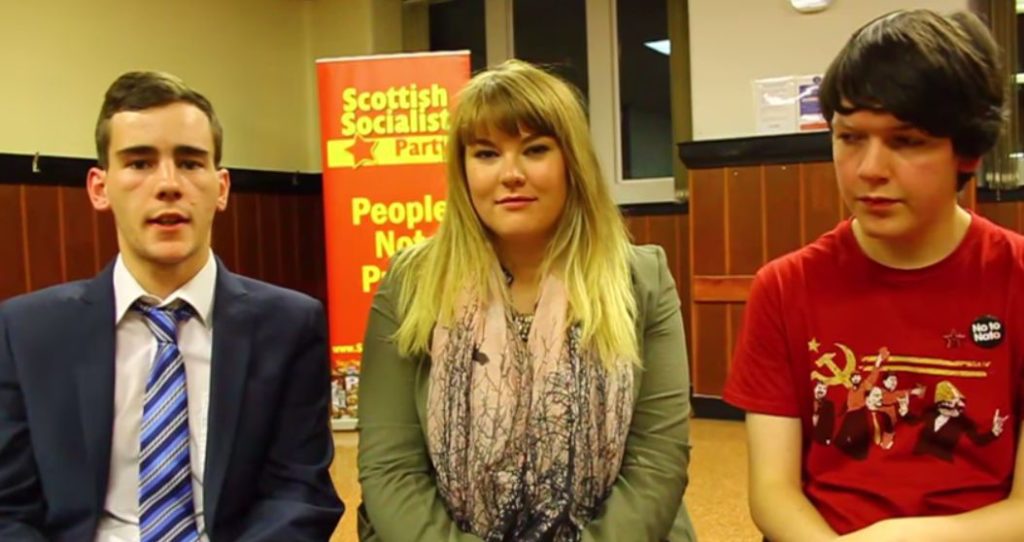 Young people also deserve respect. Instead, they are ruthlessly exploited as cheap labour and targeted by loansharks masquerading as respectable high street banks and credit card companies. And blamed for rising crime and disintegrating communities.
The SSP will fight to establish a decent minimum wage for all, including 16 to 18 year olds. We will campaign for the restoration of student grants to guarantee educational opportunities for everyone, from any walk of life.
Further, we seek to place young people at the hearts of our communities, through youth forums and youth centres, school student unions and the right to vote at 16. This will deliver both rights and responsibilities to our greatest asset – our future.
In a devolved Scotland the SSP is committed to campaign for the following:
A maintenance grant for all college and university students.
The abolition of student fees, the graduate endowment, and recognition of free education as a universal right.
The funding of 5000 new apprenticeships.
Community youth forums across Scotland to identify what amenities are needed in each local area.
Funding to set up local youth facilities in every community, run democratically by young people.
Free access to all publicly owned cultural and recreational centres including sports centres, arts galleries and museums.
Free bus and ferry travel for school, college and university students.
The right to vote and stand for office at 16.
Support for current initiatives to establish a national school students union to support and represent school students facing bullying, harassment and discrimination. The union would also represent students on new democratic school boards.
We will also campaign for the following measures, which are not within the Scottish Parliament's powers:
An end to discrimination against young workers by establishing a uniform national minimum wage for all workers over 16 years. (The SSP would set this figure at two thirds the median male earnings, currently £10 an hour).
Disabled people's rights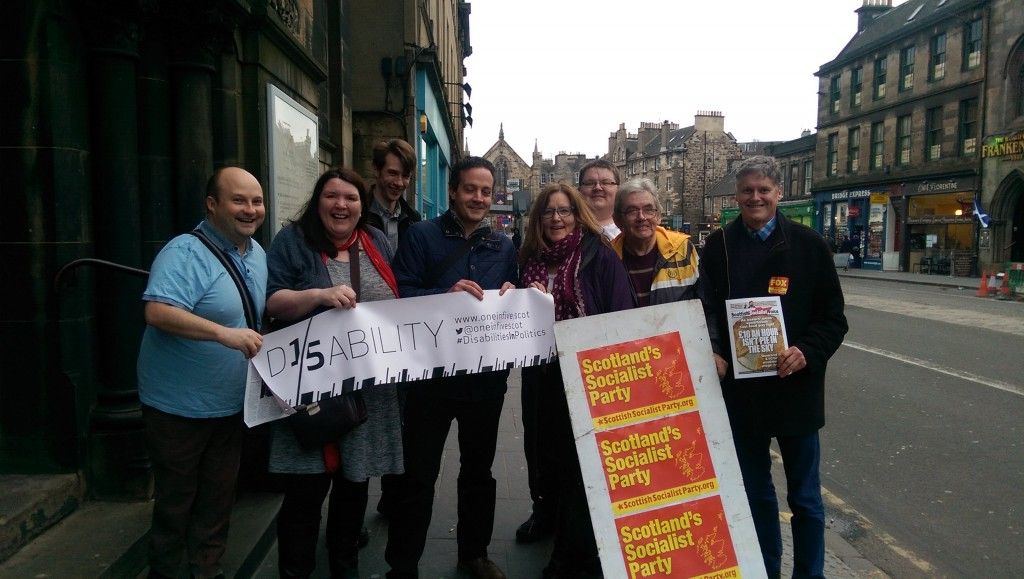 Disabled people experience disadvantage and oppression, not due to their impairments, but as a result of discrimination and barriers erected by the society we live in. The SSP considers disabled people as equal citizens who are entitled to participate and contribute to society.
We will never let up our struggle to provide equal opportunity, and the means to access those opportunities, through financial, legislative and practical support. This support should include disabled access to public buildings and public transport, increased support for personal assistants/carers – including respite – and financial support to facilitate independent living within communities.
In a devolved Scotland the SSP is committed to campaign for the following:
A network of staff to be employed and trained specifically to provide full sup­port and assistance to those applying or being reassessed for disability living allowance and incapacity benefit.
Full funding for community care.
Increased support for those who care for or assist family or friends with disabilities, including education, respite and counselling services.
Comprehensive and enforced stan­dards of accessibility on all public transport.
Housing to be adapted to meet the needs of disabled occupants on request.
Existing public buildings to be converted to ensure access for disabled people.
Increased resources to promote and provide training in British Sign Language, for assistants, public sector workers, education employees and others.
BSL to be taught in all schools, with free courses in BSL at all levels for any adult or child who wishes to develop their skills in the language.
Reduced waiting lists for Community Care Assessments, rehabilitation and Occupational Therapy services.
A consultation with disabled people and their personal assistants or carers on the provision and location of more disabled parking bays close to shops, cinemas, hospitals and other facilities.
Free access for all disabled people to educational, sporting, cultural and other leisure facilities.
Increased funding to allow local authorities to meet the demand for Direct Payments, which allow disabled people to receive the assistance necessary to allow them to live fulfilling independent lives in the community.
The guaranteed right of disabled people to autonomy, including the right to choose where to live and to plan their own packages of personal assistance and/or care through local authorities.
Care packages to be portable across local authorities.
The guaranteed right of disabled people to be treated with dignity, including at the end of their lives.
Disabled children and old people to have the same right to life and medical treatment as non-disabled people; no disabled people to be starved to death because the medical profession considers them untreatable.
Adequate resources, advice and support for disabled adults to obtain suitable employment which they find enjoyable and fulfilling and which has a career structure.
Funding and support for disabled people's organisations to ensure the views of disabled people are clearly heard. This includes support for the One in Five campaign – to ensure that all our events and work is accessible to disabled people.
We will also campaign for the following measures, which are not within the Scottish Parliament's powers:
Replacement of the Disability Discrimination Act with fully comprehensive, enforceable civil rights legislation as demanded by the dis­abled people's movement. This legislation will be backed up by heavy fines and even imprisonment for the bosses of organisations that do not comply with it. Such rights will include: access to information in appropriate formats; full access to education at all levels; the right to employment for all disabled people and fair treatment at work; equal access to all goods, facilities and services.
Better accessibility to all goods, facilities and services including public transport, public buildings and the majority of housing stock. This would include wheelchair users and those with mental health impairments.
A total reform of the benefits system to remove all barriers to disabled people moving in and out of work; and to provide all disabled people with an income equal to at least the living wage plus additional allowances to take account of the additional costs of being disabled.
Resources to enable all disabled people the opportunity of to living independently in a fully accessible and attractive house with appropriate personal assistance.
Free care without means testing for all those who could benefit from it, with freedom of choice over the means of obtaining this personal assistance and/or care.
The right for disabled people to partic­ipate fully in all aspects of society.
British Sign Language (BSL) to be recognised as an official language of an independent Scotland.
Elderly people's rights
Scotlands elderly people are being put out to grass and forgotten after a lifetime of hard work and service. We will campaign for free access for pensioners to sports, leisure and educational facilities designed specifically for pensioners.
The SSP campaigns to restore the link between pensions and earnings, to abolish rents for pensioners in social and sheltered housing, to end the insulting practice of means-testing for benefits and to provide free fuel and phone facilities during the often deadly months of winter.
The bullying of old people is matched only by the government's bullying of disabled people and those with long-term illnesses, through trying to confiscate their benefits and force them into unsuitable, low-paid jobs.
This is no way to treat people, especially those already struggling to cope with health problems.
In a devolved Scotland the SSP is committed to campaign for the following:
The scrapping of rents for pensioners who are housing association or council tenants, including for those who live in sheltered housing.
Free access for pensioners to sports, leisure and educational facilities designed specifically for pensioners.
Forums which bring together elderly and younger people to exchange experiences and break down age barriers.
We will also campaign for the following measures, which are not within the Scottish Parliament's powers:
The basic state pension to be increased to £160 a week and linked to prices or earnings, whichever is the higher.
Reduction of the retirement age to 55, for men and women.
Retirement to be genuinely voluntary, with the right of workers to continue whether part-time or full-time beyond retirement age.
The pension industry to be taken into the public sector and to be administered transparently and democratically.
Free heating, phone rental and TV licenses for all pensioners.
LGBTQI rights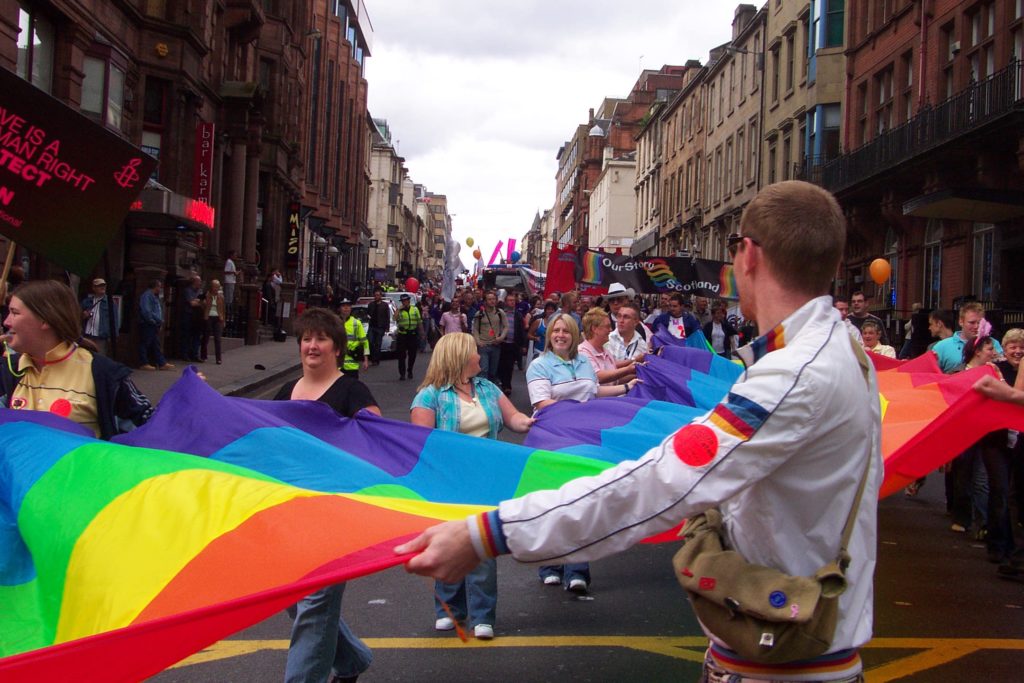 The SSP welcomes the legal rights won by our lesbian, gay, bisexual and trans citizens, but will continue the fight for pension rights, and to protect LGBTQI+ asylum seekers who face deportation to countries where they will be persecuted because of their sexuality or gender identity.
In a devolved Scotland the SSP is committed to campaign for the following:
Guaranteed long term funding for community projects supporting LGBTQI+ people, under direct democratic control of service users, with full transparency and accountability.
Educational projects in schools and colleges aimed at eradicating homophobic, biphobic and transphobic bullying and isolation.
Measures to tackle rural LGBTQI+ isolation through funding outreach and support projects across Scotland.
LGBTQI+ officers for local authorities, with secure funding for LGBTQI+ projects.
Full implementation of anti-discrimination laws in provision of goods and services.
We will also campaign for the following measures, which are not within the Scottish Parliament's powers:
Full recognition of homophobic persecution as a legitimate reason to seek asylum, equal immigration rights, ending the two year co-habitation rule and granting leave to remain to LGBTQI+ asylum seekers.
Equal pension rights, including survivors' rights for all pension schemes.
Racism and sectarianism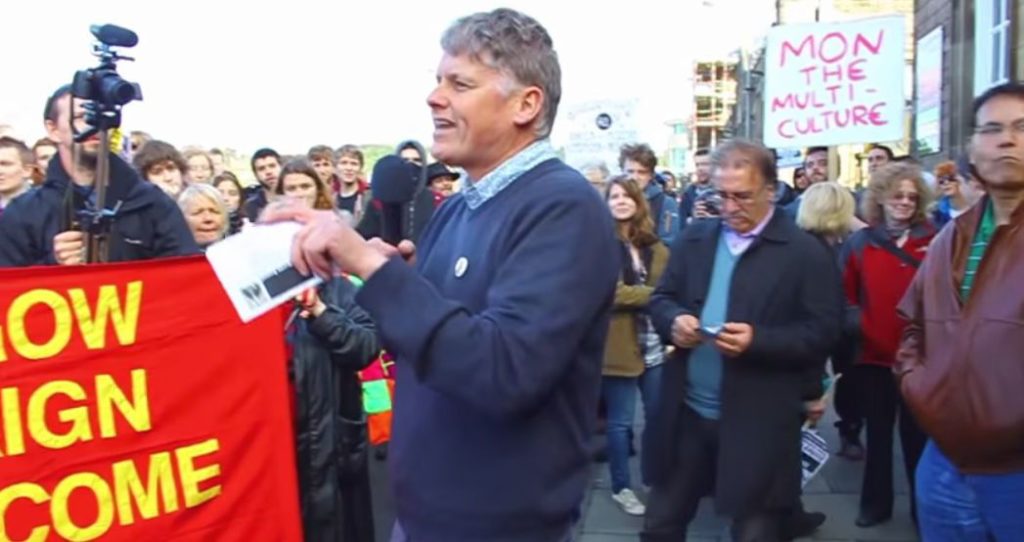 In a devolved Scotland the SSP is committed to campaign for the following:
Educational projects on issues of racist and sectarian stereotyping and discrimination in all schools.
All public information to be provided in the main languages of Scotland's ethnic minority communities.
Full support for organisations challenging racism and sectarianism, including Show Racism the Red Card, Nil By Mouth and the Scottish Anti-Fascist Alliance.
Work with football clubs, in particular the Old Firm, to eradicate sectarianism from our culture.
The SSP supports the long struggle of Scottish Gypsy Travellers for recognition as a distinct ethnic minority with full legal protection. Full implementation of the 37 recommendations agreed by the Scottish Parliament in 2001. A full apology from the Scottish Government for the past discrimination and genocidal policies of previous governments and public bodies.
We will also campaign for the following measures, which are not within the Scottish Parliament's powers:
The granting of Scottish citizenship to all people residing in Scotland at the time of independence, including asylum seekers and so-called "illegal residents".
A warm welcome to any asylum seekers who come to Scotland in the future, and the offer of Scottish citizenship to those who want it.
For Dungavel Detention Centre for asylum seekers to be turned into a museum of anti-racism and multiculturalism.