The Future of Transport
Ride a Transport Revolution to a Scotland without transport poverty.
Propel a socialist recovery plan with free public transport.
Deliver real change for transport workers.
Travel a clean, green Scotland with a Socialist Green New Deal.
Coast to a fairer Scotland with fairer public funding.
Free public transport is the future, and it's time Scotland got on board.
Glasgow City Council's Climate Emergency Working Group has found that "People are deeply unhappy with the current state of public transport and want to see a more rapid transition made to a city where walking and cycling are the norm. They also want a high quality, low emissions public transport system developed under the city's control – and potentially one which is free to use. A radical change to the transport system clearly needs to take place."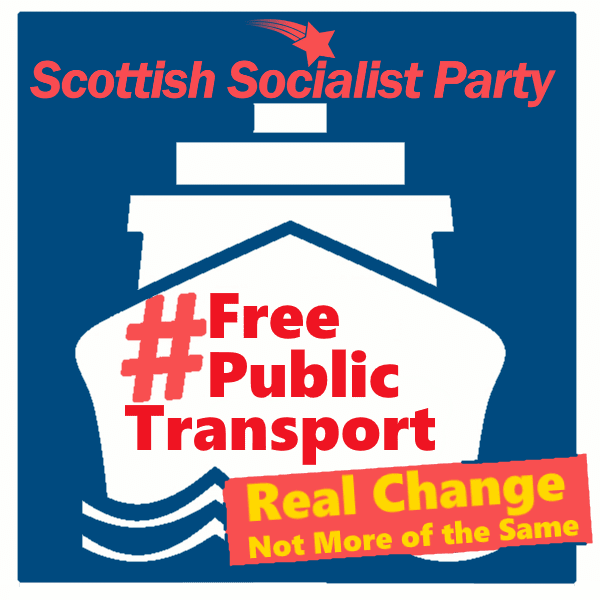 We completely agree. That's why the SSP has been a pioneering, long-time advocate for free public transport for everybody: an initiative that will cut traffic, end transport poverty, and return on the investment in improved economic activity. Free public transport is tried and tested in European cities, and in 2020 Luxembourg became the first country to introduce free public transport nationwide.
Scotland needs publicly-owned free public transport, a better deal for transport workers, and urgent action to bring down transport emissions.
Public Ownership, Free Public Transport, End Transport Poverty
We all rely on public transport in one form or another. Public transport is an essential social and economic utility – but privatisation, deregulation of routes, and soaring rail and bus fares create exclusion and transport poverty. That's why we're bringing rail, bus, and ferries back into public ownership.
The Poverty and Inequality Commission have laid out the reality of transport poverty in Scotland. Transport costs are soaring in Scotland, taking up a larger and larger part of low-income household budgets – or excluding people from travel entirely. When more and more jobs require travel, or people can be sanctioned for missing a meeting, this is unacceptable.
In rural communities a lack of public transport forces households into buying cars they can't afford – creating more poverty, and more emissions. We need nation-wide, publicly-owned, free public transport.
The publicly-owned Glasgow Underground and a publicly-owned bus company in Lothians have both kept fares low. The SSP will give every community in Scotland the same boost by introducing a publicly-owned municipal National Bus Corporation for every region in Scotland, restoring regulation to ensure good services, bringing buses and bus routes into public control – and expanding services to meet the needs of every community.
In December 2019, the mess in privatised rail got so bad that Abellio had to be stripped of the ScotRail franchise three years early. The Scotland Act (2016) gives the Scottish Government the power to bring ScotRail operations into the public sector. Instead of subsidising a new private franchise operator, we'll use this power in 2021/22 to bring ScotRail back into public management and under public accountability.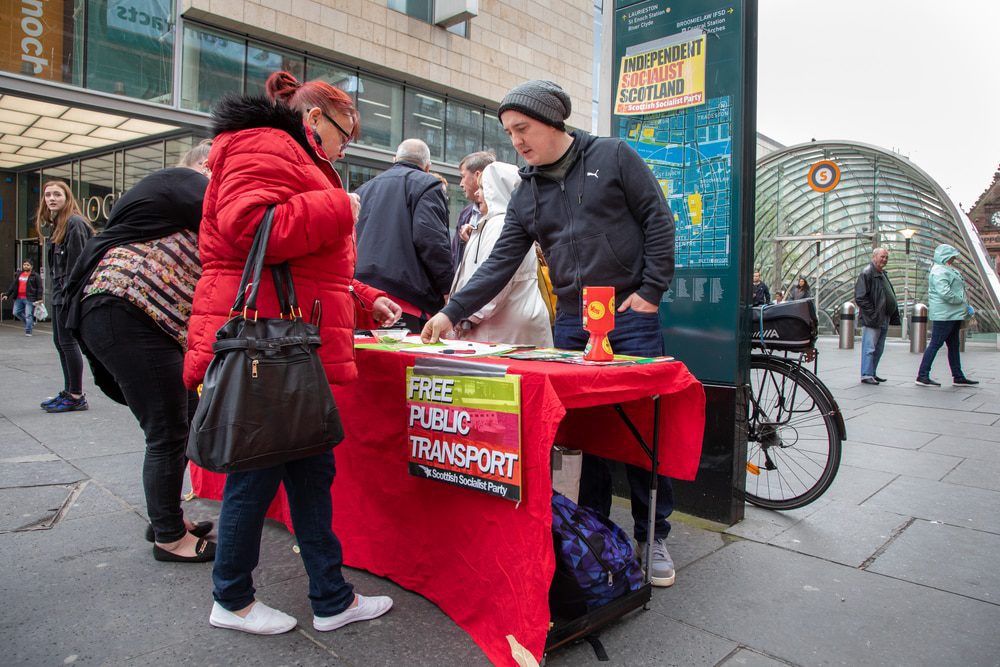 In order to bring democratic control back to Scotland's railways, and meet all our transport needs, we need the devolution of powers relating to Network Rail to Holyrood – and the full powers of independence. We'll make sure winning back public control of Scotland's rail network is a priority for the Scottish Parliament.
Publicly-owned transport means greater planning of integrated routes, and community leadership in identifying transport needs. We'll restore local control of local transport by making the service democratically accountable to the communities it serves.
By making the different branches of public transport cooperative, rather than competitive, communities will be empowered to build a connected transport system that meets their needs. A connected system improves easy access, with a single ticket, multi-service system linking Scotland together.
Real Change for Transport Workers: More Jobs, Better Jobs
Public ownership is Scotland's route to more jobs, and better jobs. It is wrong that situations such as job losses at Falkirk's Alexander Dennis can occur when Scotland has such significant transport needs. From drivers to mechanics, transport workers need public investment in public jobs by bringing infrastructure and fleet renewal back to Scotland's industry.
Workers everywhere have seen attacks on their pay, job security, and working conditions – transport workers are in the same boat. Public ownership in transport gives the Scottish Government greater powers to enforce better pay, hours, and conditions for transport workers – powers that we'll use to deliver real change.
The SSP will introduce a public sector minimum wage at no less than two-thirds of the male median earning – £12 per hour – for every worker over 16. We'll take minimum wage loopholes relating to phony apprenticeships, bogus self-employment and age discrimination out of the public system – and put the weight of the Scottish Parliament behind private sector workers fighting for the same.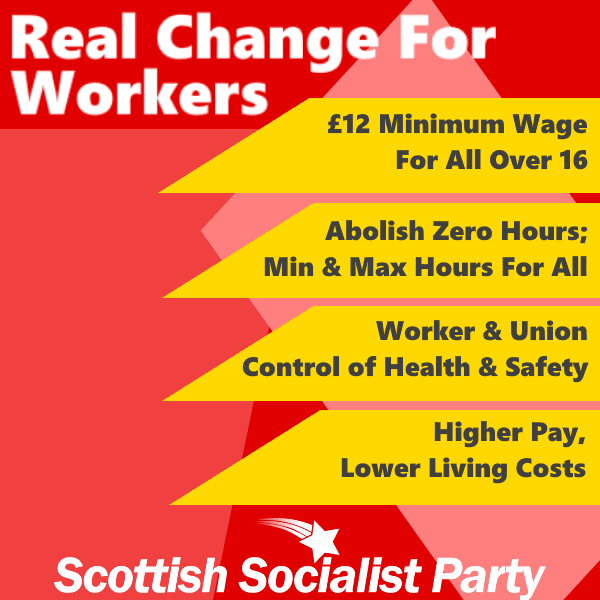 To end poverty pay conditions in Scotland, as well as the crises of overwork and understaffing, we'll make sure every worker is offered a secure contract with minimum and maximum hours.
We know that workplace Health and Safety is a top priority for transport workers, especially during the pandemic. That's why we'll use devolved powers over health to put safety at work into the hands of workers and Trade Unions, with elected H&S reps, Union-approved safety plans, and defending the right to refuse unsafe work.
A Cleaner, Greener Scotland
Transport is the largest single contributor to Scottish greenhouse gas emissions – and total transport emissions keep rising. Despite talking tough on decarbonising transport, the Scottish Government is spending £6bn on dualling the A9 – an investment in increased car use, not green public transport. Far from cutting emissions and car overuse, Scotland is on course for a 27% increase in car use by 2035.
We need a Socialist Green New deal that will deliver real change for transport to bring down emissions, free communities from car overdependency, and end transport poverty.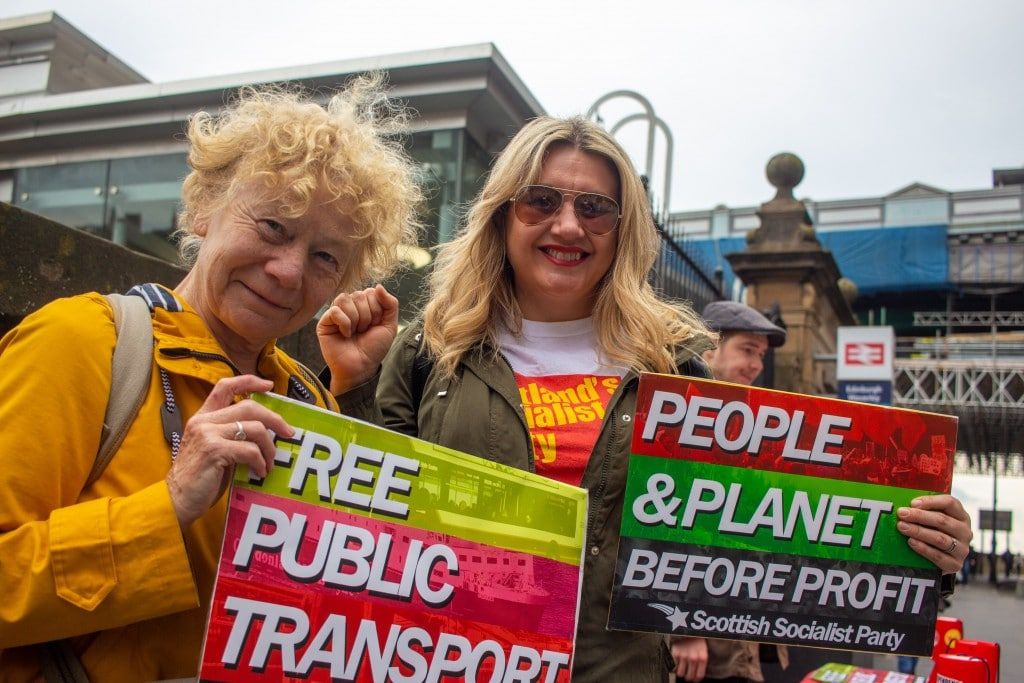 Bringing bus travel into public ownership with a National Bus Corporation for every region will let Scotland cut reliance on the car, and cut transport emissions. We'll do this by incentivising more public transport usage through free public transport, planning efficient and community-centric routes across all networks, and a fully integrated one-ticket-serves-all public transport system that meets the needs of every community in Scotland.
We'll also bring down car dependency by making Scotland's railways accessible to everybody with free public transport, and by bringing service quality up to standard with substantial new investment in public sector railway jobs.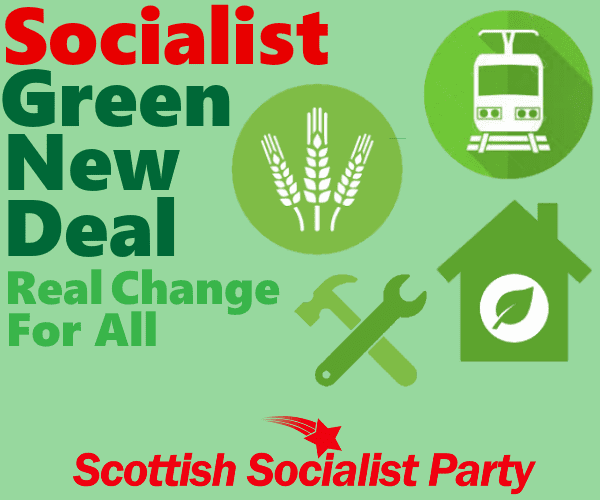 In order to make our public transport carbon neutral, we'll fund a new start for Scottish manufacturing by remodeling or replacing the rail, bus, and ferry fleets to meet the cleanest possible standard – creating STEM jobs in Scotland, and cleaning up our polluted cities.
Reducing car traffic will open up city centres and main streets to re-pedestrianisation, re-greening, and publicly-owned social space – more open, cleaner, more enjoyable, and more democratic. Fewer cars in city centres mean more opportunities for Active Travel – safer, well-maintained cycling and walking routes, and greater opportunities for public bike hire.
Funding a Transport Revolution
Through disproportionate personal costs, the public is already paying the fare for private transport. At the same time, public subsidies support private profiteering – not better public services. We need real change and fairer funding.
By returning control of Scotland's transport to local authorities and local communities, fundraising powers fall within the current purview of devolution. Scrapping the Council Tax and replacing it with a progressive Scottish Service Tax, under local government control, will give local authorities the power and flexibility to fund publicly-owned, free public transport – making sure the cost of a universal benefit is spread fairly and proportionately.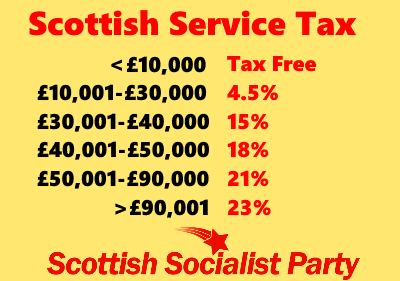 Funds raised through parking meters and car parks will be ring-fenced to support public transport.
Free public transport helps sustain itself through the increased economic activity associated with ending transport poverty. Businesses benefit from free public transport through a reduction in congestion, better worker mobility, increased consumer spending enabled by travel savings, and a boost to Scottish tourism.
Paris has businesses contribute to the benefits of the Metro with a "transport payroll tax" on firms with over 10 employees. A comparable scheme in Scotland would meet the annual cost of publicly-owned public transport, and deliver a net gain through knock-on economic benefits.
Reducing car traffic has the added benefit of cutting road traffic accidents and road maintenance costs, saving emergency services, the NHS, and public funds hundreds of millions of pounds per year – money that can be invested into public transport instead.
A mileage tax on Heavy Goods Vehicles will offset existing road maintenance budgets, freeing up tens of millions more for public transport investment.
We Need You to Support Real Change
We don't have or want billionaire backers and big corporate donors: we only seek our support from Scottish Socialist Party members and the generosity of working-class communities. We need you to support real change.

Scottish Socialist Party members are card-carrying ambassadors for the working-class movement, and the most important resource we could ever have. Comradeship is the heart of the socialist movement.

Come rally; support real change today.