Real Recovery means Real Change
Repair social and economic faultlines exposed by the Coronavirus.
Guarantee full average wages for those unable to go to work.
Deliver the real change that we need with a socialist recovery plan, to build a resilient Scotland with public services that can meet the needs of the 21st century.
Prevent another care catastrophe with a publicly-owned National Care Service.
Ensure safe work environments for all by putting workers and Unions in charge of Health & Safety.
The Coronavirus crisis has caused significant disruption to daily life, to the economy, and has taken thousands of lives in Scotland. It has exposed the weaknesses and injustices of life under capitalism as working-class people bare the brunt of the crisis – while the billionaires get richer and richer.
We can't go back to how things were before the Coronavirus – and it wouldn't be worth doing if we could. Social and economic recovery and real, lasting change go hand-in-hand. Only the Scottish Socialist Party is arguing for real, lasting change in Scotland.
Coronavirus is a natural phenomenon, but the crisis is capitalism. Scotland needs real change and a systemic transformation to ensure genuine social recovery.
Crisis Exposes Dangerous Faultlines
The Coronavirus and the effects of lockdown restrictions have exposed some of the most dangerous faultlines in our society and our economy: the isolation and lack of support offered to the most vulnerable in our communities; failures in the provision of health and care; the effects of precarious employment and poverty pay conditions, and the injustices of living in an unequal society.
It will take much more than just a vaccine to ensure real recovery. Real recovery needs real change.
Lockdown restrictions impact most on those in need of support from outside their own household. This can include the elderly, people with disabilities, people with mental health needs, people living with addiction, people at risk of domestic abuse, and so on.
Years of austerity cuts to local services and attacks on community cohesion have undermined services and support for those most in need. Lockdown restrictions have left the most vulnerable in the worst position, and left millions relying on the completely inadequate system of Universal Credit. We need systemic change to make sure this can never happen again.
Scotland's health services have been understaffed and underfunded for too long. Now, they are dangerously overstretched and health workers overworked – while more and more health needs are going unmet.
Privatised care has failed to provide for care workers and service users. The number of Coronavirus deaths in private care homes is a national scandal. Everyone will rely on care, directly or indirectly, in their lifetime. We need a publicly-owned National Care Service that's fit for our needs in the 21st century.
As millions of people have struggled to make ends meet during the pandemic, the UK's billionaires have seen their share of the wealth grow and grow at a record pace in 2020. This is the wealth produced by workers, and there is more than enough to provide for all. We can afford to democratise the national wealth to meet our needs – we cannot afford to subsidise billionaires.
The Coronavirus crisis has exposed the failure of capitalism to build a resilient, stable economy that meets our needs. The Scottish Socialist Party is calling for a radically different economic model to deliver real recovery and real change.
The Poverty Pay Pandemic
Millions of us simply cannot afford to be off work during the pandemic, and that means workers cannot afford to follow health guidelines designed to stop the spread of the virus. Those who can least afford to be off work due to sickness, self-isolation, or restrictions are the least able to follow the rules, and the least able to work from home – and are the most likely to get sick as a result.
Poverty pay is caused by low wages, low hours, and precarious employment practices that leave workers with no security. Before the Coronavirus crisis, 38% of people in Scotland had savings below £2,500 – 21% had no savings at all. Things have only gotten worse since.
The UK furlough scheme caps payments at 80% of wages – this brings millions of minimum-wage workers below what the government considers to be a livable income, and forcing those workers to continue to work when they should be at home.
Many workers are self-employed, whether intentionally or as part of the bosses' attempt to bypass labour laws. Either way, support for self-employed workers has been nonexistent – forcing them to commit to unsafe working conditions.
We need full average wages for every worker who should not or cannot return to work – based on hours actually worked, not just contractual hours. This will allow workers to remain at home, and stop bosses from exploiting loopholes in what counts as a "key" or "essential" worker for the sake of profit.
The transmission of Coronavirus through workplaces has cast light on the dangers of a culture that prioritises work, not the worker. No one should have to endure unsafe working conditions that put themselves and their families at risk, and no one should have to choose between their income and their health.
Socialist Recovery Plan: Demand Real Change
The working class must not be made to pay the bill for Coronavirus – but that is what the bosses, billionaires, and Tories intend to do. The UK government's hollow response is just more of the same: more low-paid, insecure jobs, and more unsustainable reliance on short-term consumer spending.
This won't do. We need real change to raise pay, bring down living costs, and build a democratic, publicly-owned, needs-based, and sustainable economy. We need to bail out workers – not the billionaires.
More than half of all people in Scotland who are in poverty live in employed households. Before the Coronavirus crisis, 38% of people in Scotland had savings below £2,500 – 21% had no savings at all. The "gig economy", insecure jobs, and suppressed wage growth have done serious social and economic damage. That's why the SSP is winning real change for workers.
To raise incomes and provide household economic stability, we support a £12 minimum wage for all workers over the age of 16 – scrapping the bosses' phony, low-paid apprenticeships and age discrimination. We'll make sure every worker who wants one is offered a secure contract with no less than 16 hours minimum per week.
We know that as our economy changes, so too must our relationship to work. We support a four-day week on five-day pay to fix the crises of overwork and underemployment. To make sure that the wealth created by workers is used to benefit everybody, and to tackle wealth inequality, we also support a maximum wage cap on the highest earners.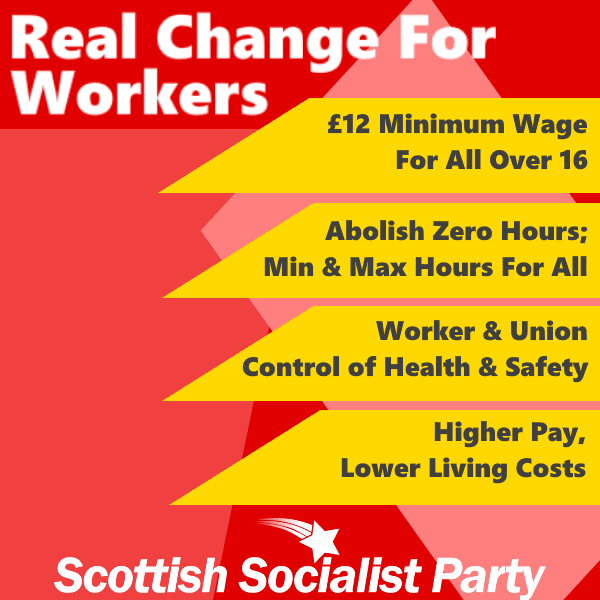 Scotland's economy needs a real shot in the arm, not restaurant coupons. That's why we're planning a Socialist Green New Deal to build a sustainable, publicly-owned new economy for Scotland – creating lasting jobs through public investment in infrastructure, housing, agriculture, health, care, transport, education, and green energy.
Scotland has a housing crisis, and the economic disruption of Coronavirus puts us on the brink of an evictions catastrophe. Despite that, the SNP and the Tories worked together to block protections for tenants – and bailed out landlords instead. We need urgent action to solve Scotland's housing crisis and end the threat of homelessness – that's why we're introducing fair controls on rent and evictions, and restoring public housing stock.
A National Care Service
The Common Weal think-tank identifies COVID-19 deaths in Scottish care homes as "the single greatest failure in devolved government since the creation of the Scottish Parliament". With 70% of private care homes reporting cases of Coronavirus, and care home deaths overtaking deaths in NHS hospitals in June 2020, we have seen a Coronavirus care catastrophe in Scotland.
Care workers have endured the pandemic during a crisis of poverty pay and unsafe work. Understaffing, overwork, suppressed pay, job insecurity, a lack of training, and inadequate provision of PPE have put carers and those being cared for at risk.
43% of Scotland's care workers receive less than £9.30 an hour – and the majority of low-paid care workers are women or migrants. This is exacerbated by unpaid travel time and unpaid sleep-ins, as well as insecure, zero-hour contracts and the bosses' phony "self-employed" arrangements.
Care workers simply cannot afford to be off sick – which means they will get sick. This system is bad for care workers, and undermines the resiliency and capacity of care in Scotland. Enough is enough: we need real change.
To provide for carers, to protect service users, and to prevent another care catastrophe, we need a publicly-owned National Care Service, publicly-funded, and free at the point of need.
Health and Safety at Work
Workers have been forced back to unsafe working conditions during Coronavirus. Because of austerity, written in Westminster and passed on by Holyrood, the Health and Safety Executive (HSE) has been completely gutted. Workers need an effective health and safety watchdog, and strong advocates for health and safety at work.
We'll make sure that the Scottish Government uses existing devolved powers in health to protect and expand the right to refuse unsafe work – and recognise the key role that Trade Unions play in keeping Scotland safe and well.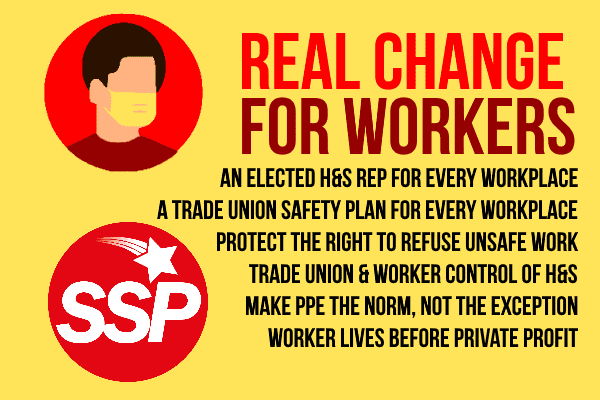 Workers in every workplace will have the means to establish elected shop stewards and Health & Safety representatives, to oversee the reorganisation of workplaces and safety practices for Coronavirus.
Every worker in every workplace will have an updated, Union-approved Coronavirus risk assessment and safety plan, and we'll work with the NHS, Unions, and local healthcare to make sure all workers have access to regular, professional Coronavirus testing.
PPE needs to be the norm, not the exception. To provide adequate PPE for workers, we'll bring publicly-owned PPE production back to Scotland – creating PPE reserves by removing profiteering, and creating jobs along the way.
We Need You to Support Real Change
We don't have or want billionaire backers and big corporate donors: we only seek our support from Scottish Socialist Party members and the generosity of working-class communities. We need you to support real change.

Scottish Socialist Party members are card-carrying ambassadors for the working-class movement, and the most important resource we could ever have. Comradeship is the heart of the socialist movement.

Come rally; support real change today.